Friends,
Buyers, your "Buy Low" opportunity may have reached its lowest point. Acquire your properties before market conditions shift and competition increases in the second half of the year, as projected.
When considering the value of your low-interest rate mortgage, be sure to assess the impact of your other debt and projected capital gains.  Selling to pay off your debt, minimize capital gains exposure, and take advantage of low buyer competition may be smart tax planning and create compelling financial gains.
Nationally, some regions of the country are experiencing a rapid cooldown from the homebuying boom, while others maintain a steady market.
Click anywhere below to check out Burgess Group | Compass Boulder realtor team's current exclusive listings.
LOCAL MARKET TAKEAWAYS
BUYERS
Currently, Boulder real estate agents are happy to report that we're in a phase of favorable buying conditions, commonly referred to as "Buy Low". This rarely happens in our area. Buyers will find reduced or minimal competition, potential seller concessions, and possibly lower prices. These three positive trends create an advantageous environment for cash buyers. For those using loans, explore sales and find a loan that allows for affordable refinancing. Looking ahead, real estate pundits predict that pent-up buyer demand will likely resurge in the marketplace during the second half of the year as mortgage rates stabilize.
SELLERS
Sellers, as you contemplate the value of your low mortgage rate, assess the impact of any additional higher interest rate debts on car loans, credit cards, or home equity lines of credit as well as projected capital gains. Consolidating your debt by refinancing or selling your home to pay off all your debt could result in significant financial gains, especially when paired with the "buy low" opportunity mentioned earlier. 
If you choose to sell, please get in touch with the Boulder realtors at Burgess Group | Compass at your earliest convenience to understand the specific features and conditions that home buyers are currently willing to pay a premium for. This proactive approach will allow you to position your home strategically and maximize your selling price, even in today's market.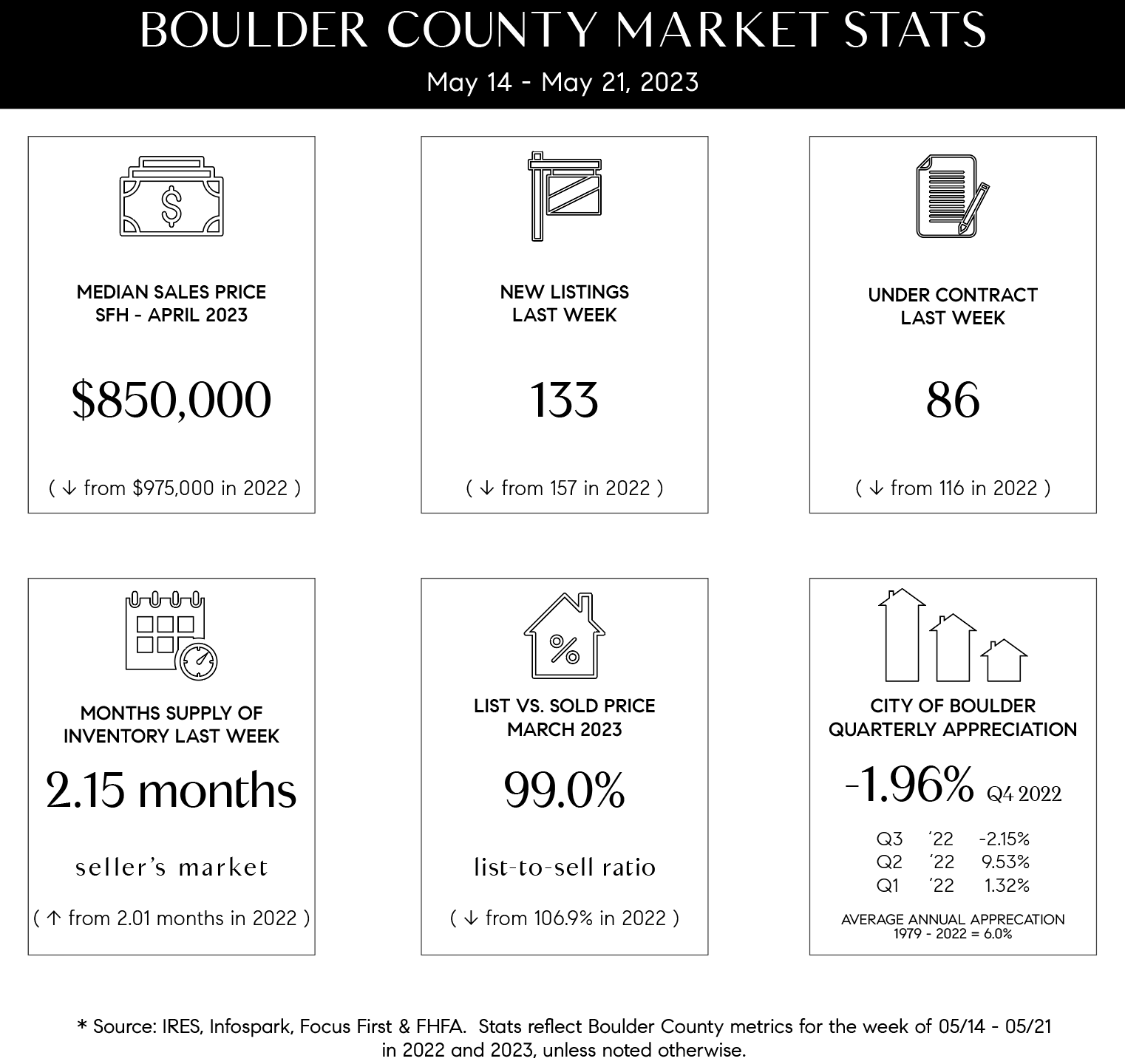 Local Market Nitty Gritty – Boulder County
Boulder real estate agents reported 133 new listings coming to market last week, vs 145 in 2018, 171 in 2019, 119 in 2020, 137 in 2021 and 157 in 2022. So, last week's number was not hugely off of the amounts of inventory that came to market in the past five years (Y-o-Y).
86 properties went under contract last week, compared with 141 in 2018, 117 in 2019, 133 in 2020, 120 in 2021, and 116 in 2022. The current figure is significantly lower compared to our stronger previous years. A limited inventory influenced last year's numbers, while this year's figure is affected by both limited inventory and higher interest rates. Buyers should take note that this presents a favorable opportunity to "buy low" with (likely) reduced competition, potentially softer prices, and the possibility of seller concessions.
Total year-to-date purchases show the difference in this year's market: we've had 1333 year-to-date sales. 2018 YTD sales = 1655; 2019 YDT sales = 1719; 2020 YTD sales = 1456; 2021 YTD sales = 1784; 2022 YTD sales = 1499.  Overall, the 2023 low sales will equate with some sellers being quite motivated and obviously less competition.
Remember that 2020, 2021, and 2022 were exceptional years and should be considered outliers. To gauge our real estate market's historical norms, refer to 2018 and 2019.
Activity By Price Band and Price Reductions- Boulder County
Boulder County realtors are continuing to see buyers buying in all categories.  The entry-level market has had particularly strong sell-through rates in the past month.
PRICE REDUCTIONS
Price reductions continue to vacillate week-over-week. The number is continuing to inch up, which is normal as a year progresses.
When sellers enter the market, they set their desired price for their homes. However, if the majority of buyers searching for a specific type of home do not perceive the corresponding value in the listed price, the property is unlikely to sell. In such cases, sellers must either enhance the condition of the property or reduce the price to sell.
It is worth noting that if the anticipated pent-up demand materializes in the third and fourth quarters, we may see a downward trend in price reductions during the latter half of the year. Typically the end of the year sees an increase in price reductions.
The Impact of Location on Home Prices: A Decade of Divergence
The disparity between the Bay Area and South Florida in terms of housing prices has reached a near 30-year high.
The dynamic nature of the housing market during the pandemic made price growth trends more localized than they have been since 2009.
This localization is evident in the divergent metro-to-metro variations in home-price growth, which reached a 13-year high in spring 2022, marking the end of the pandemic-induced homebuying frenzy.
While the variation has decreased since then, price growth continues to fluctuate significantly compared to pre-pandemic times. Some regions of the country are experiencing a rapid cooldown from the homebuying boom, while others maintain a steady market.
The considerable price-growth gap between San Francisco and Miami serves as a notable example of the localized nature of the housing market. In this case, the Bay Area is witnessing a decline in home prices by 10.1% year over year, whereas Miami is experiencing a substantial increase of 10.9% that has pushed prices close to a record high. This 21-percentage-point difference is one of the largest observed in over three decades, with a peak of 23 points recorded in August 2022.
Below you'll find the types of homes our buyers are currently seeking. Do you know someone who is on the fence about selling their home? Perhaps you've been considering it?

Please let the Compass Boulder realtor team at Burgess Group know if you or anyone you know has a home that might fit. We'd love to help!

marketingcenter–