How We'll Help You Buy A Home
The Boulder / Denver metro area is one of the most desirable and competitive real estate markets in the nation. Buying a home can be an overwhelming experience. From understanding local land value to planning closing costs— there is a lot to learn.
Why choose us?
With over 25 years experience, including building, rehab, and professional real estate services, we have a deep understanding of current and trending market activity. We help clients select the right property to achieve their long-term goals, optimizing both client time and their overall investment. Burgess Group has an exceptional success record helping hundreds of buyers win bidding wars in some of Colorado's most sophisticated and competitive markets, including Boulder, Louisville, Lafayette, Longmont, Broomfield, and Denver.​​​​​​​
Wall Street Journal - America's Best Real Estate Professionals
Best of Zillow
Founding Agent Team of Compass Boulder
Top 1% of Realtors by volume, in Boulder County, Colorado and the USA
Platinum Performance Award
In Colorado's top 100 real estate agents by volume
In top 1% of US Realtors® by volume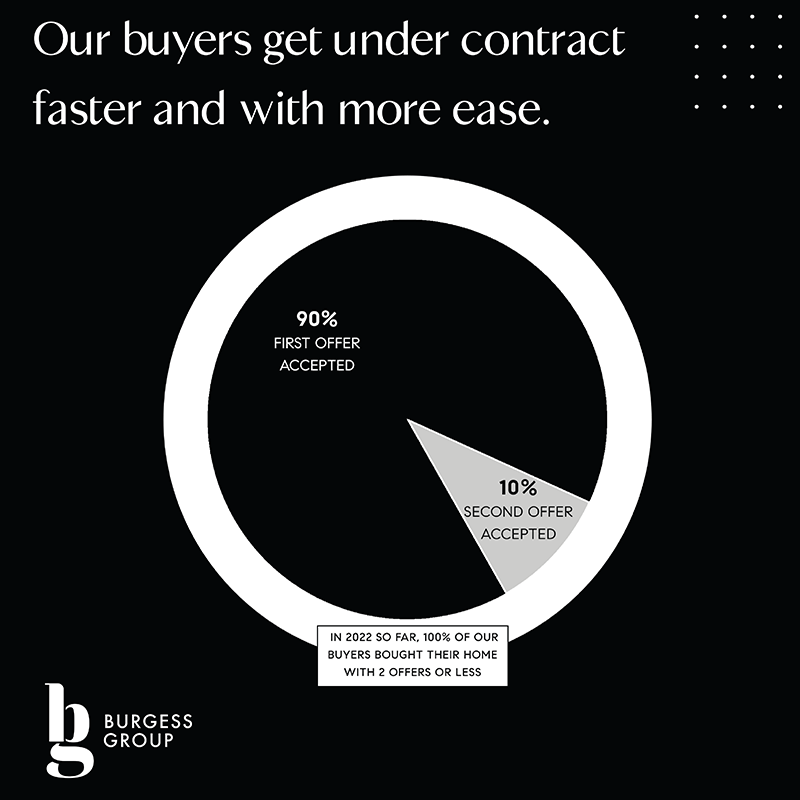 1. Get Pre-Approval
Getting your lender pre-approval letter is the first step toward buying your home. We can connect you to dependable mortgage lenders who will offer competitive interest rates, desirable financing packages, and options.
2. Find A Realtor You Trust
Interview licensed real estate professionals and sign with one. If selected, we will work as your advocate and trusted advisor from the start of our search all the way through closing – and beyond, as needed.
3. Search and Visit Properties
We will look at a range of areas and property types, per your real estate goals. Now is the time to determine your must-haves, nice-to-haves, and negotiables. During showings and open houses we will point out pros and cons of all properties, so that you can make informed decisions.
4. Make An Offer
Once you have seen a home you like, we submit an offer, which outlines the price, terms, and conditions of the purchase. We will provide advice on pricing and offer strategy, leading you through the process.
5. Home Inspection
The inspector will show you how the home works, what is not working and how to maintain the systems. He or she will also provide a comprehensive report for future reference.
6. Deliver Earnest Money Deposit
In Colorado, your earnest money deposit is usually between 1-3%, determined by the seller. Once you are under contract, you will send the EMD to the title company. These funds are cashed, held in escrow, and applied to your down payment at closing.
7. Complete Formal Loan Application
If you are financing your home, you are contractually required to make formal loan application according to dates in the contract. Application is typically completed within 1-2 days of contract execution.
8. Appraisal
Once you are under contract, and if you are financing your home, your lender engages an appraiser to verify the property's value for the lending institution.
10. Final Walk-Through With Your Agent
We walk through the property just before closing to confirming that it is in the physical condition negotiated through the Sales Contract and possibly the Inspection Resolution.
11. Closing
Congratulations, you are now a homeowner!
What We Value and Offer
Open communication

Total discretion, privacy, and confidentiality

Access to Catherine and Andy
Dedication to accomplishing your real-estate objectives
Commitment to Be Your Ongoing Advisor
Monthly market overview
Yearly property value update
Tax season settlement statements
Ongoing resource after closing
Remodeling advice: we advise on potentialvalue impact and share contractor referrals
After The Sale
After your property closes, we will be in touch to be sure that all details are squared away. After closing, please reach out with any questions that may arise, whether questions be about plumber recommendations or the current value of your property. We're happy to keep our eyes open for your next real estate dream property and will keep you posted as we make progress.
Let Us Guide You Home
Let Us Provide You With Customized Low-Stress Relocation, From Start to Finish