What Sets Us Apart
Unparalleled Reach. Extraordinary Results.
The value of experience
At Burgess Group | Compass, we commit our deep local knowledge, network, and negotiating skills to your success. As one of the top-ranking Boulder County real estate groups, we consistently uphold the highest ethical and professional standards, dedicating ourselves to our clients, our community, and passion for our profession.
With over 25 years experience, including building, rehab, and professional real estate services, we have a deep understanding of current and trending market activity.
We help clients select the right selling strategy to achieve their goals, optimizing both client time and profits, and making selling a stress-free process.
Burgess Group has an exceptional success record selling hundreds of properties in some of Colorado's most sophisticated markets, including Boulder, Louisville, Lafayette, Longmont, Broomfield, and Denver.​​​​​​​​​​​​​​
We are known for delivering highly profitable results, yielding some of the Front Range's highest-priced home sales.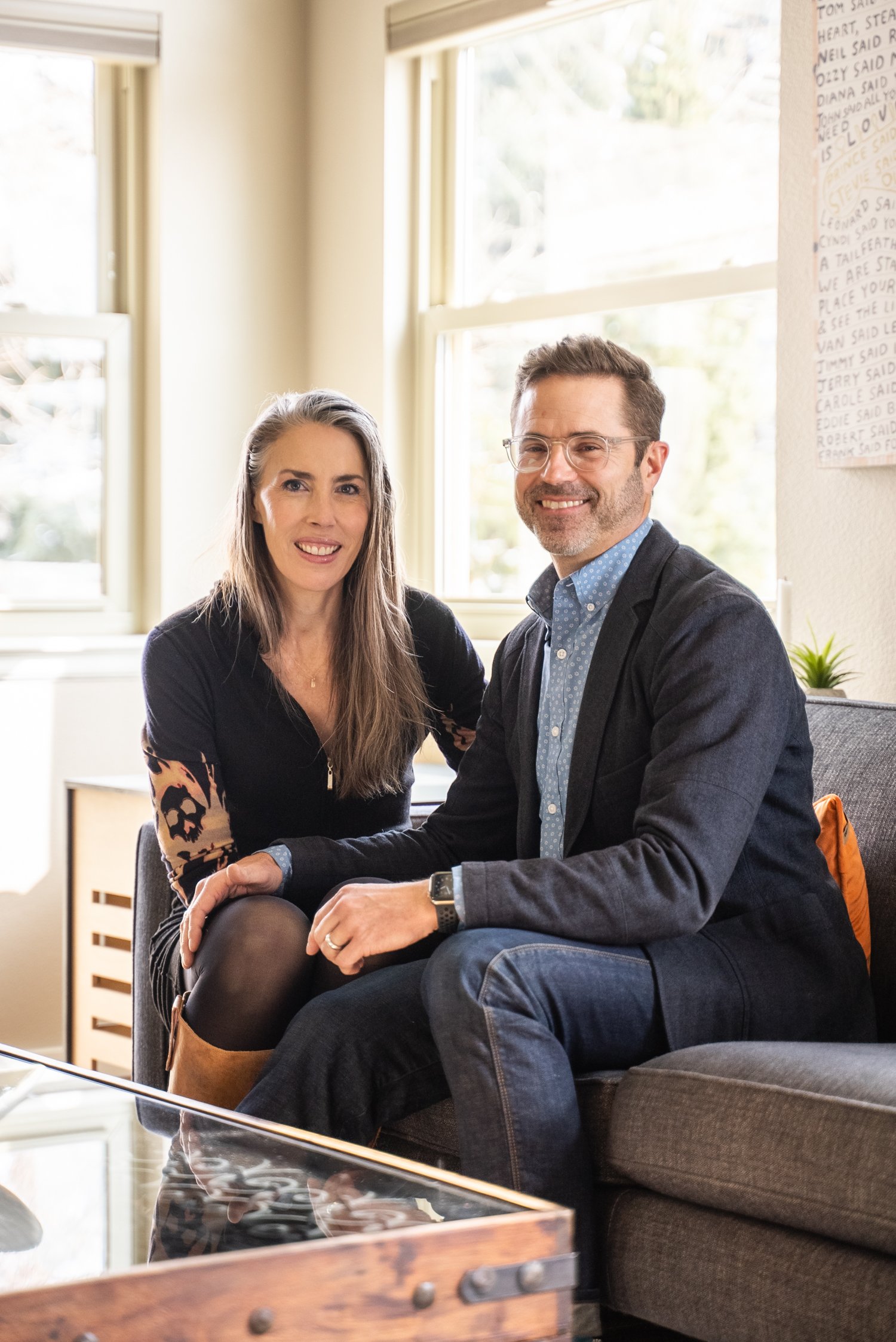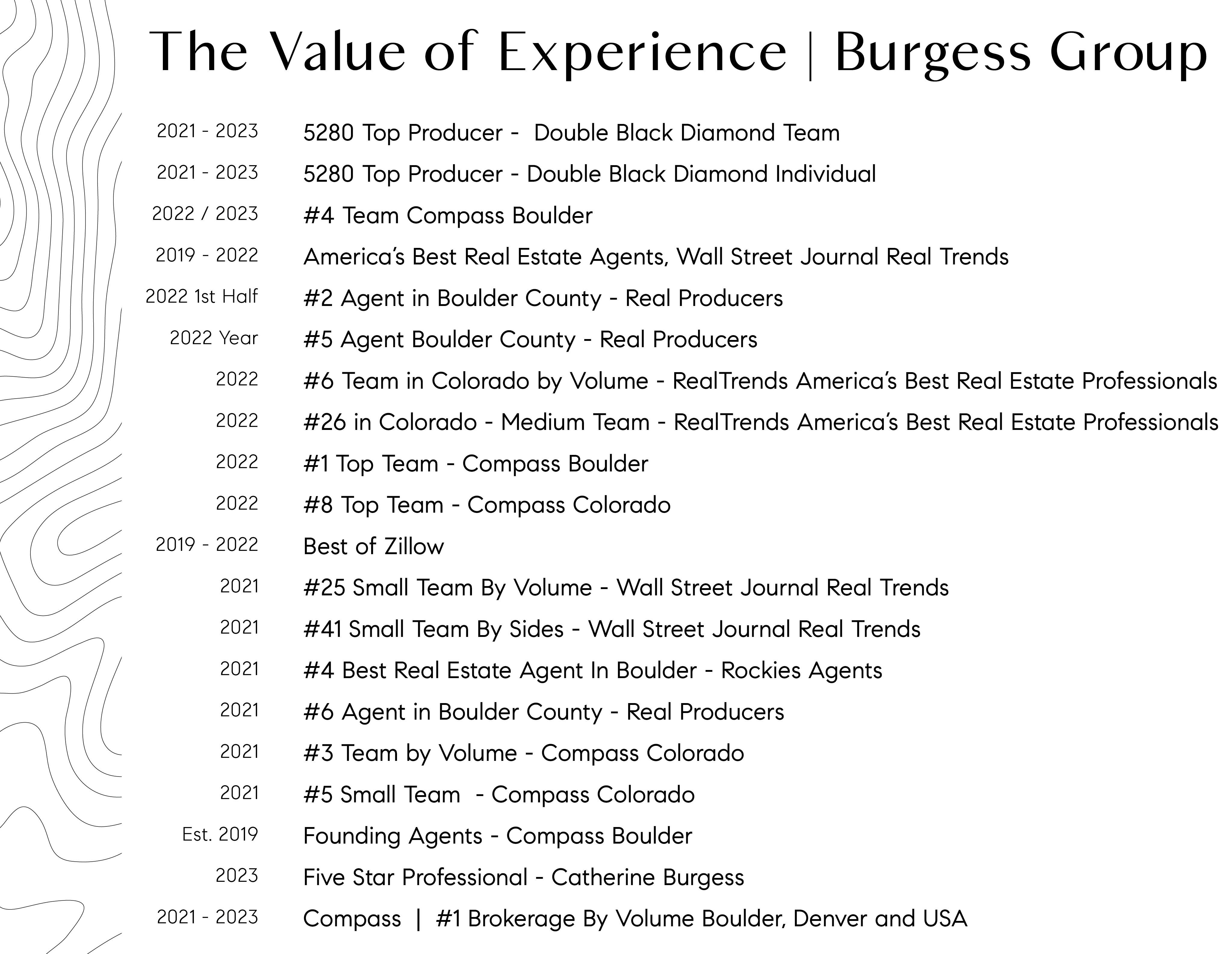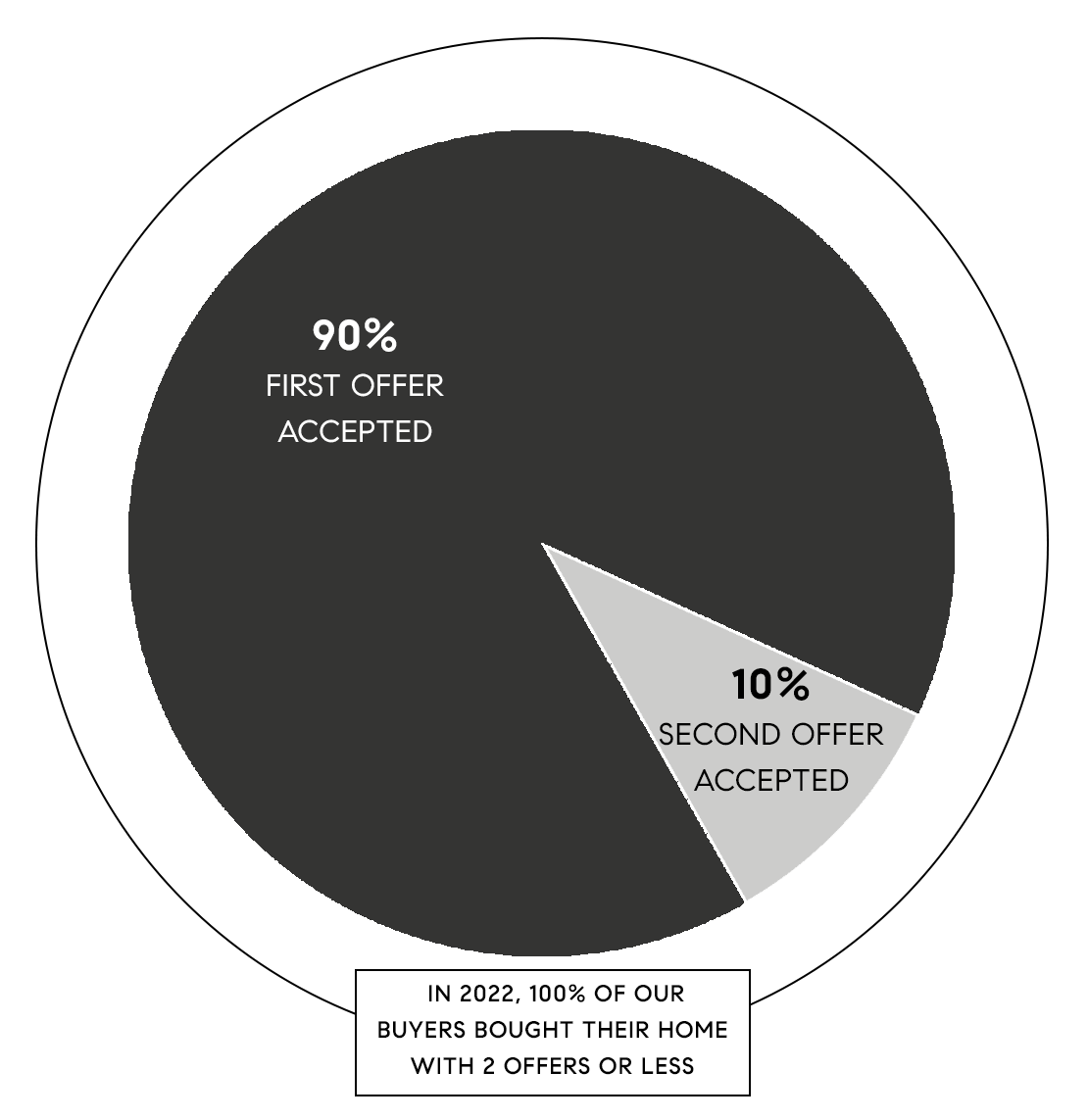 BUYERS
According to a survey done by Money Magazine, it took 56% of respondents five or more offers for one to be accepted. For more than 25% of first-time buyers, it took 10 or more offers to buy a home.
In 2022, 90% of all buyers who worked with Catherine and Andy had their FIRST OFFER accepted by sellers.
10% of Burgess Group buyers had their second offer accepted.
100% of our buyers were under contract in 2 offers or less.
Negotiating the best price is a combination of art and science best honed by doing it frequently. Catherine and Andy average 39 buyers a year. That means on average 35 of our 39 buyers have their first offer accepted. Only 4 buyers have to make a second offer.*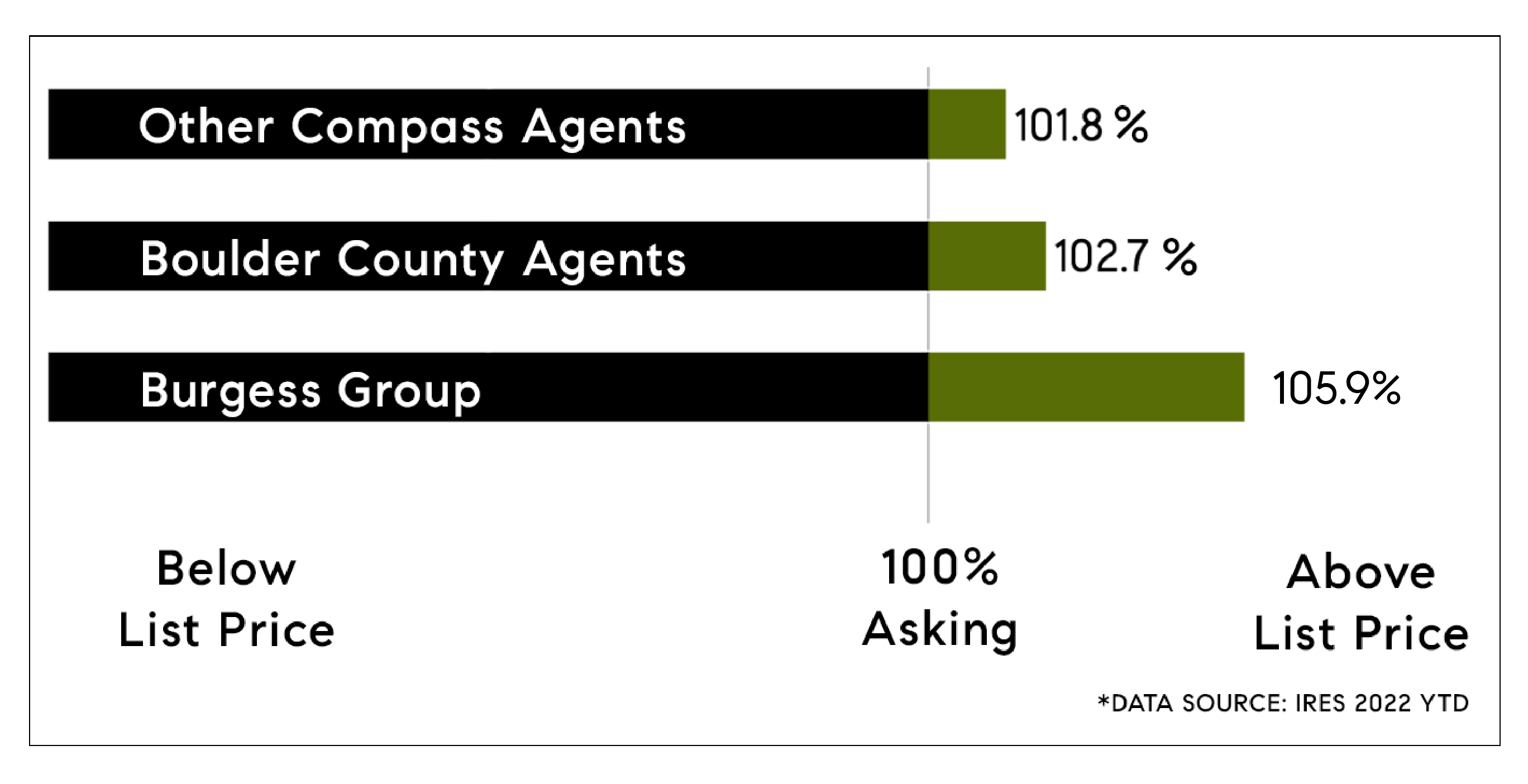 SELLERS
Our 2022 sellers averaged 105.9% of asking price. So, for the average Burgess Group sales price, our sellers netted $74,366 more than the average Boulder Compass Agent and $61,087 more than the average IRES MLS agent.*
*Data Source: IRES - January 1, 2022 - December 31, 2022. Percentages represent the average ratio of all Boulder Compass Agents VS. the average ratio of all NoCo MLS Agents VS. Catherine and Andy Burgess' average. Buyer stats are based on our own record keeping, confirmed by IRES MLS.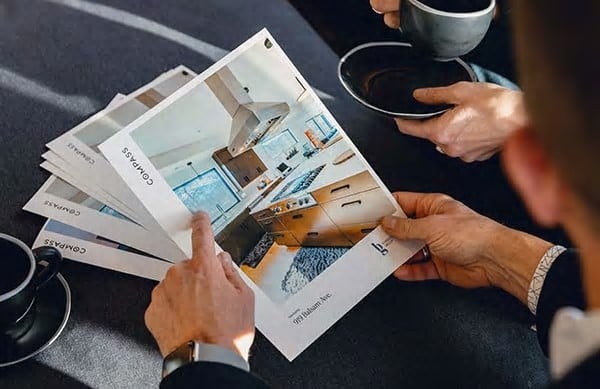 Marketing expertise
Exposure is everything. Our marketing is clean, simple, and modern, conveying quality and sophistication. We determine the optimal buying demographic- and highlight the property's strengths in language that speaks to them. Harnessing the power of high-end professional photography, enhanced online exposure, social media, and a monthly newsletter, we ensure that your listing gets as many responses as possible.
From local to worldwide, we will maximize exposure to your listing through the top digital and print media channels. More exposure means more page views, more phone calls, and more showings, which ultimately means shorter market time and a higher selling price.
Dedication and integrity
Few things are more important than transparent communication. Setting expectations, being proactive, staying in touch – these simple, vital activities are behind the successful transactions we broker every year.
Of great importance, we speak candidly. If your flocked foil wallpaper will keep you from selling your home quickly for maximum return, expect to hear honest advice, ultimately saving you time and money. Our job is to collaborate with you, occasionally challenging preconceptions of value or process. We support your best interests with advice based on our far-reaching experience and you make the final decisions. Together we achieve your personal and financial goals.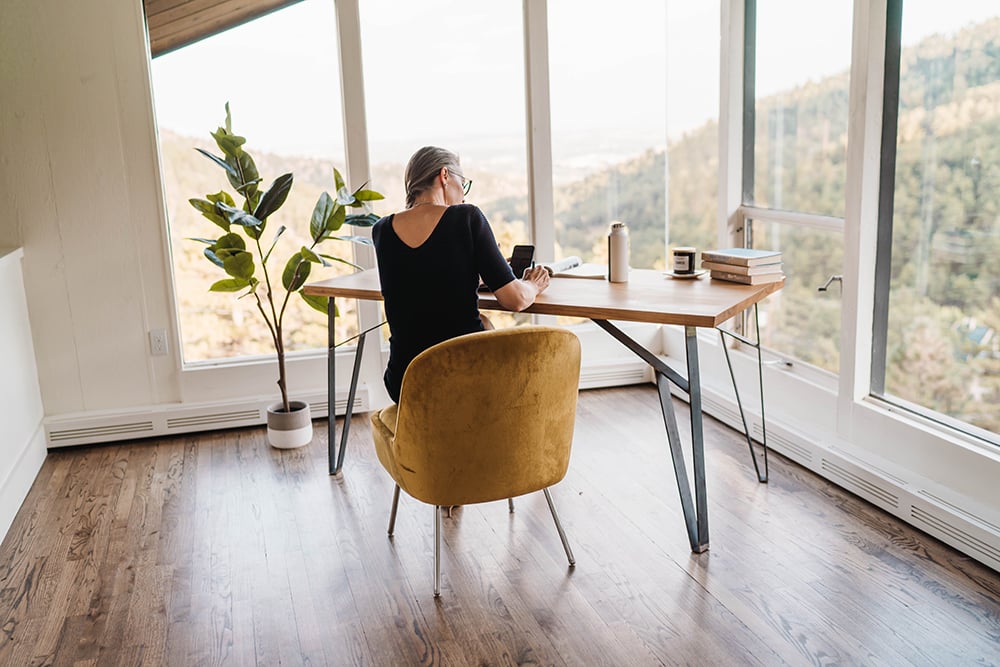 Work with us
Burgess Group | Compass is one of Boulder County's top-producing real estate firms. Burgess Group offers a boutique and customized experience for each transaction, ensuring that every client receives exceptional service.