Friends, 
This year, our under-contract rate is about 20% below our pre-pandemic average, see below. This can benefit both buyers (low competition) and sellers (low inventory).
Nationally, in some markets, properties are selling for less than they sold for the last time around; if you're looking to invest, check those markets.
Click anywhere below to check out Burgess Group | Compass Boulder realtor team's current exclusive listings.
Inventory and under-contract rates continue to be low this year.  Price reductions are happening at a seasonally appropriate rate, so there doesn't appear to be a credible threat of market decline. All price categories are seeing buyer activity.
At some point, the buyers sitting on the sidelines will return to the market, which will likely create a noticeable competition bump. At that point, the sellers sitting on the sidelines may increase inventory substantially.
If you'd like to be some of the only game in town on either the buy or sell side, the Compass Boulder realtor team at Burgess Group recommends that now is the time to consider moving forward.
Local Market Nitty Gritty – Boulder County
Boulder real estate agents report on 130 new listings coming to market last week, vs 111 in 2018, 120 in 2019, 109 in 2020, 129 in 2021, and 89 in 2022. This may reflect sellers' understanding that there is currently a shortage of inventory. We are at the start of the historic secondary selling season.
57 properties went under contract last week, compared with 65 in 2018, 78 in 2019, 120 in 2020, 90 in 2021, and 51 in 2022. Our 2023 number is smaller than all recent years, with the exception of the rapidly contracting 2022 fall market. In other words, buyers will be valued by sellers right now. It is a good time to be a buyer.
The year-to-date purchase data reveals the changing dynamics in this year's market. As of now, there have been 2592 year-to-date (YTD) under-contracts (UC). Comparing this to previous years, in 2018, the YTD UC count was 3129, in 2019 it was 3261, in 2020 it reached 3361, in 2021 the YTD sales hit 3631, and in 2022 the YTD sales were at 2881.
Consequently, this year's under-contracts are 29% below the peak market activity observed in 2021 and 10% lower than the market's lowest point in 2022. When we average the two non-pandemic years, 2018 and 2019, we get an annual average of 3195 UC per year. Comparing this to the current under-contract rate, it indicates that today's under-contract rate is 19% below what would be considered the 'average historic normal.'
2020, 2021, and 2022 were outlier years. To gauge our real estate market's historical norms, refer to 2018 and 2019.
Activity By Price Band and Price Reductions- Boulder County
Over the last two weeks, the Boulder realtor team at Burgess Group reports activity in all price bands.  The sell-through rate for many months has favored buyers in the $2.5mm+ market, indicating a lot of inventory and probably some motivated sellers. During the summer and September, the $1-1.5mm and $1.5-2mm markets sell-through rates have been fairly strong relative to the rest of the above-entry-level market; these segments will feel much more picked-over than the luxury market. If you have something to sell in these ranges, this may be a good time; contact our Boulder real estate agents to discuss in detail.
PRICE REDUCTIONS
Over the past four weeks, Boulder County realtors have observed weekly price reductions of 88, 65, 93, and 82 in Boulder County. At this time of year, sellers frequently opt to lower their prices, especially if their previous attempts to sell have been less successful. These price reductions adjustments align with the seasonal norm. It's common for many sellers to reassess their pricing strategies around Labor Day, aiming to optimize their sales performance during the secondary selling season that typically kicks off shortly after the holiday.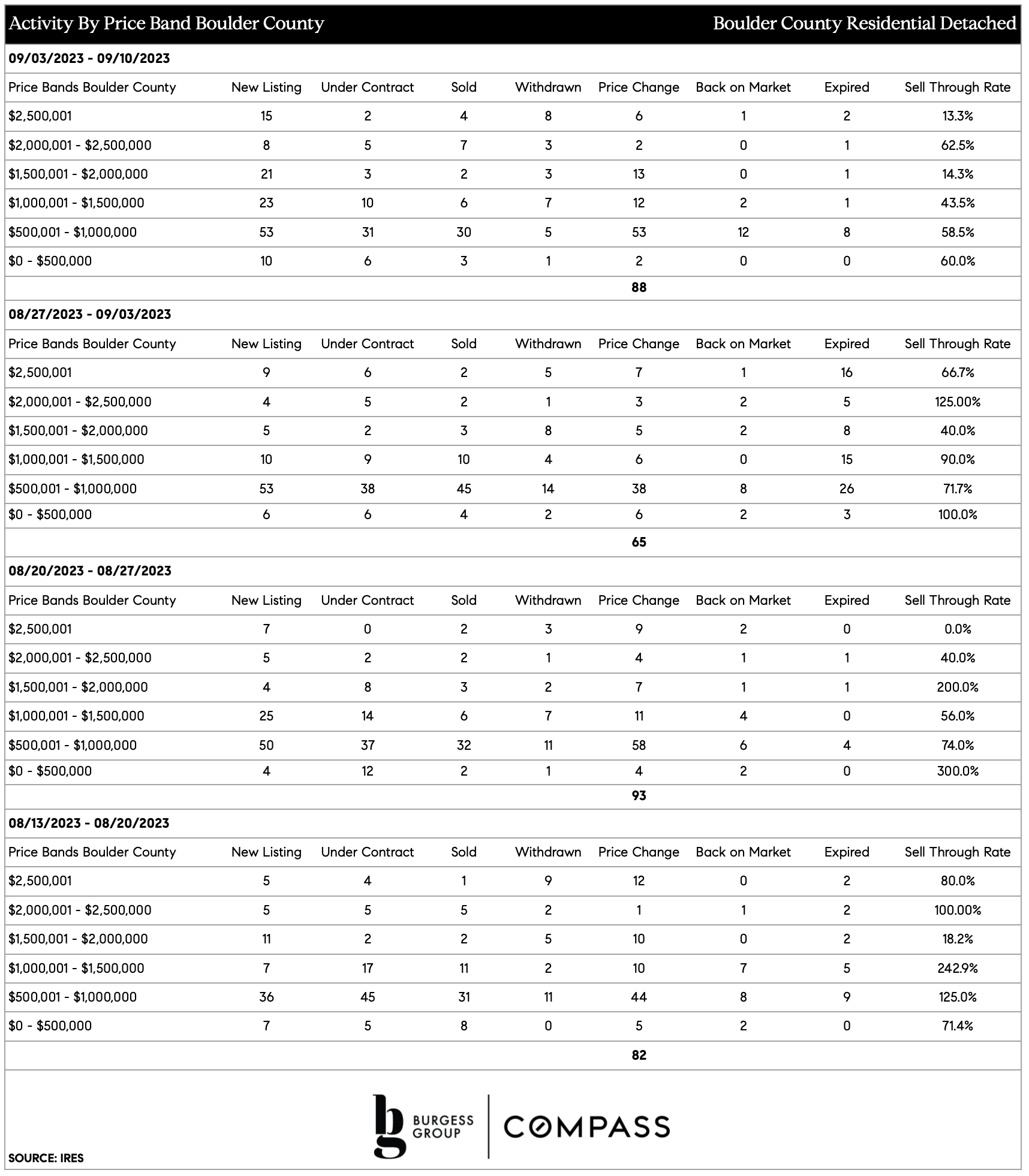 1 in 8 San Francisco Home Sellers Is Losing Money—the Highest Share in the Nation
Approximately 12.3% of homes sold in San Francisco in the three months ending July 31 were acquired for a price lower than the seller's initial purchase, which marks a significant increase from the 5% recorded a year earlier.
This percentage is notably higher than in any other major U.S. metropolitan area and is four times greater than the national rate of 3%.
Following San Francisco, other cities with notable percentages of homes sold below the purchase price were Detroit (6.9%), Chicago (6.5%), New York (5.9%), and Cleveland (5.8%).
In the case of San Francisco, the average homeowner who experienced a loss sold their property for approximately $100,000 less than its original purchase price, tying with New York for the largest median loss in terms of dollars.
Nationally, the typical homeowner who sold their property for less than the purchase price incurred an average loss of $35,538.
Below you'll find the types of homes our buyers are currently seeking. Do you know someone who is on the fence about selling their home? Perhaps you've been considering it?

Please let the Compass Boulder realtors at Burgess Group know if you or anyone you know has a home that might fit. We'd love to help!

marketingcenter–