Friends, 
Our YTD under-contract rate is approximately 20% lower than the pre-pandemic average. This slower market can be advantageous for both buyers, who face way less competition, and sellers, who may benefit from reduced inventory levels.
Nationally, mortgage applications are down and inventory is expected to rise.
Click anywhere below to check out Burgess Group | Compass Boulder realtor team's current exclusive listings.
Local Boulder realtors report that inventory and under-contract rates remain low this year. Price reductions are occurring at a typical seasonal rate, indicating no significant risk of a market decline. Buyer activity is observed across all price categories.
Anticipate increased competition when buyers return to the market, which may prompt sellers on the sidelines to list more properties.
If you aim to stand out as one of the few participants buying or selling, the Boulder real estate agents at Burgess Group advise that now could be a favorable time to take action.
 Call our Boulder realtor team soon to discuss your particular situation.
Local Market Nitty Gritty – Boulder County
Boulder County realtors reported 87 new listings coming to market last week, vs 77 in 2018, 89 in 2019, 92 in 2020, 82 in 2021, and 71 in 2022. It is currently projected that inventory will rise in the coming 6 months to year as the Fed maintains its push to reduce inflation.  Inventory is climbing, as is seasonally appropriate. When comparing back to 2013, it is nowhere close to the City of Boulder or Boulder County highs; see our chart below for visual comparisons.
When looking at this inventory chart, please remember that within the last 10 years, the City of Boulder has typically had a seller's market, with around 2-3 months supply of inventory in the non-luxury market. Historically, Boulder County has run closer to a balanced market, with a 4-5 months supply of non-luxury inventory.
In the last 10 years, we have mostly had a buyer's luxury market in both the city and county. After the Great Recession, the luxury market rebounded in 2014 and 2015; in those two years, inventory went down, and the luxury market functioned in a more balanced or seller-strong manner.  Similarly, during the second half of 2020, 2021, and the first quarter of 2022, it was a seller's luxury market in both the city and county.
Boulder realtors indicate that 85 properties went under contract last week, compared with 85 in 2018, 90 in 2019, 90 in 2020, 119 in 2021, and 59 in 2022. Our 2023 number is smaller than all recent years, with the exception of the rapidly contracting 2022 fall market. According to Boulder real estate agents, it's interesting that under-contract numbers are not as anemic as in 2022, even though mortgage rates are now substantially higher, suggesting that buyers are adjusting to mortgage rates' new normal.
The year-to-date under-contract data reveals the changing dynamics in this year's market. As of now, there have been 2806 year-to-date (YTD) under-contracts (UC). Comparing this to previous years, in 2018, the YTD UC count was 3384; 2019 was 3530; 2020 was 3657; 2021 hit 3978; and in 2022, the YTD sales were at 3094.
Extrapolating on the data above, under-contracts are 30% below the peak market activity observed in 2021 and 10% lower than the market's lowest point in 2022. When we average the two non-pandemic years we're tracking, we get 3457 UC yearly; today's under-contract rate is 20% below this 2018/2019 average.
Please remember that 2020, 2021, and 2022 were outlier years.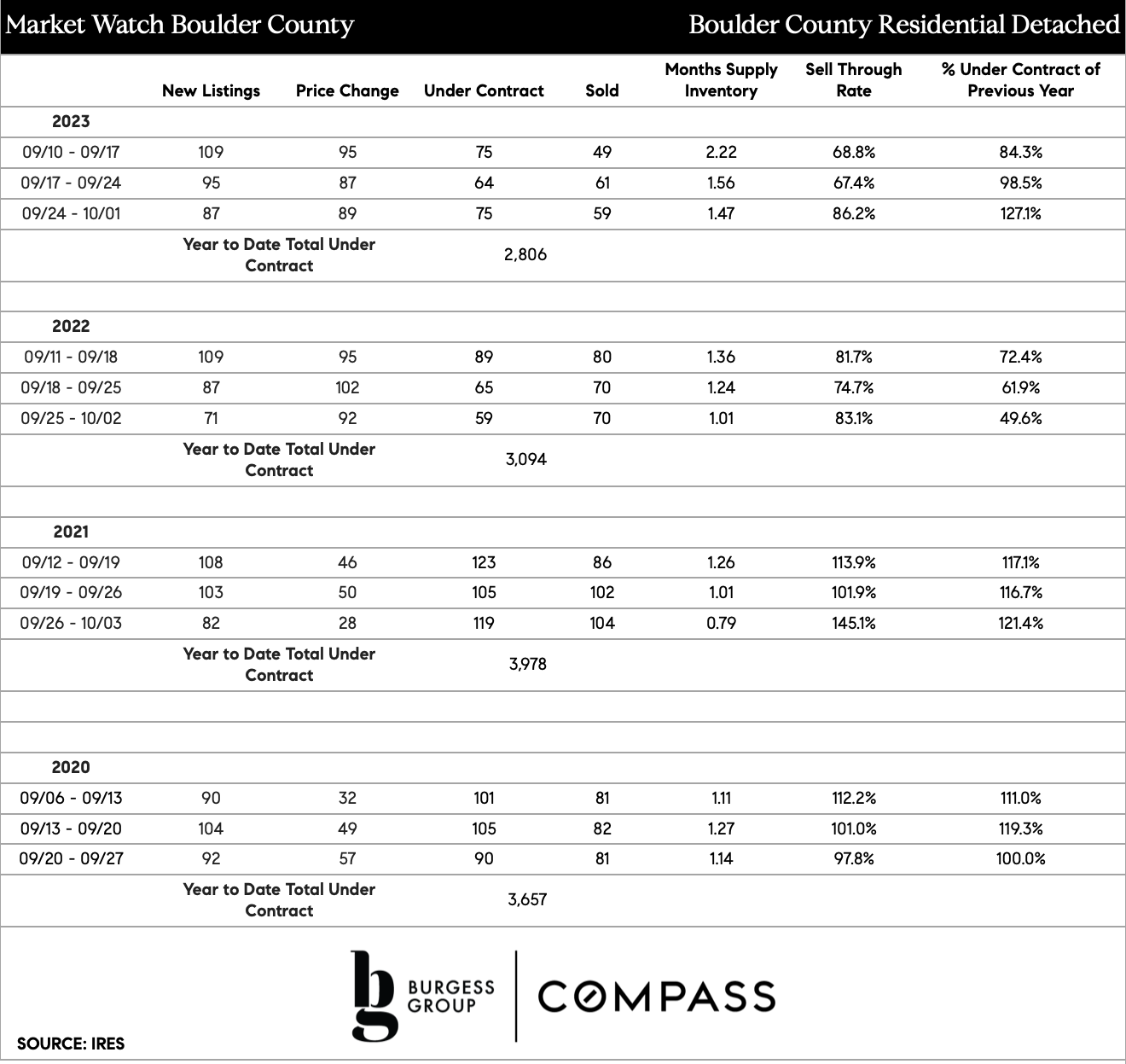 Activity By Price Band and Price Reductions- Boulder County
In the last several months, luxury has had a low sell-through rate. There is currently a great opportunity for luxury buyers; luxury sellers should be very receptive to interest.  For the last month, the $1-2mm market has had a very balanced sell-through rate, as has the entry-level market; there is less inventory in those markets currently.  The Compass Boulder realtor team at Burgess Group has seen activity in every part of the market, which shows relative health.
PRICE REDUCTIONS
Over the past four weeks, we've observed weekly price changes of 89, 87, 95, and 88, which aligns with the seasonal norm. It's common for many sellers to reduce price to try to sell before Thanksgiving/Christmas, depending on the year.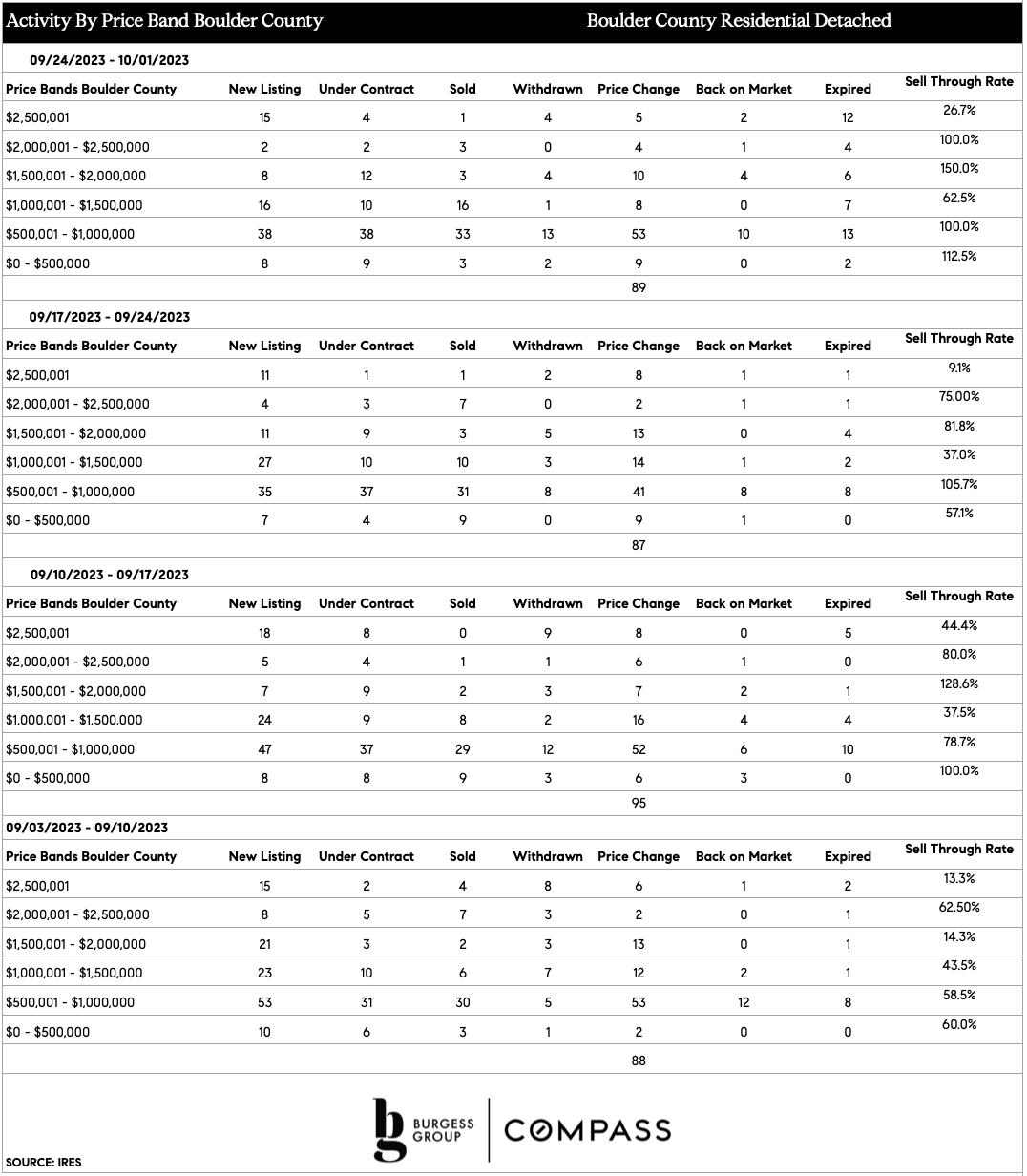 Q4 Real Estate Forecast from Altos Research
Nationally, inventory is increasing, though still below the historical norms of 2017, 2018, and 2019, but higher than 2021 and lower than 2022 year-to-date due to rising interest rates. 
The shift in interest rates to the high 6s and 7s has deterred buyers; there's now been a psychological shift in expectations, as pundits now suggest the Fed may not lower interest rates.
Consequently, fewer people are buying homes with immediate plans to refinance.
Historical data indicates that inventory tends to rise with increasing interest rates and falls when rates decline. Given the prolonged period of low rates that led to our current low inventory, it may take several years to see substantial inventory increases. If rates remain in the 7s or even climb into the 8s, we can expect inventory to continue climbing in 2024.
With rising mortgage rates, mortgage applications experienced their largest decline since mid-April.
According to the Mortgage Bankers Association (MBA), the Market Composite Index, which measures application volume, fell by 6.0 percent on both a seasonally adjusted and unadjusted basis compared to the previous week.
The Refinance Index saw a 7.0 percent drop and was down by 11 percent compared to the same week the previous year. The refinance share of mortgage activity also decreased to 31.7 percent from 31.9 percent in the previous
 week.
Below you'll find the types of homes our buyers are currently seeking. Do you know someone who is on the fence about selling their home? Perhaps you've been considering it?

Please let the Compass Boulder realtors at Burgess Group know if you or anyone you know has a home that might fit. We'd love to help!

marketingcenter–