Subject: 
"Rare Market Conditions: Low Under-Contract Rate Opens Golden Opportunity for Buyers and Sellers! 
Friends, 
Locally, low Inventory is creating high potential for turn-key properties and non-turnkey properties with a well-thought-out selling strategy. There are extraordinary buying opportunities in the $2.5mm market and significantly less competition throughout the market currently. 
Nationally, the FHFA reports that there was a 2.8 percent increase in house prices from May 2022 to May 2023 (mostly due to a lack of inventory); however, the Mountain Region remains down 2.7% year-over-year (YoY).
Click anywhere below to check out Burgess Group | Compass Boulder realtor team's current exclusive listings.
BUYERS AND SELLERS
Our market's under-contract rate year-to-date is 
currently running at about 6-21% of the transaction volume that we've seen in the past 5 years.  This low transaction volume creates an impressive opportunity for buyers and sellers who recognize this unusual time in our market.  
Inventory remains low. It can be a strong time to list your turn-key property, depending on your price point. If your property isn't turn-key, your sell strategy has to be carefully plotted for success. Call the Compass Boulder real estate agents at Burgess Group early, before you start your prep work. 

If you're in the market for a $2.5+mm property, partner with a Boulder realtor, this is an extraordinary buy opportunity! The other parts of the market can be buyer friendly as well, with far less competition than we've seen in the last 15 years.
The other parts of the market can be buyer friendly as well, with far less competition than we've seen in the last 15 years. 
Local Market Nitty Gritty – Boulder County
Boulder County realtors reported 101 new listings coming to market last week, vs 119 in 2018, 147 in 2019, 127 in 2020, 114 in 2021, and 133 in 2022, so still a chunk lower than recent years. Sellers, take note. 
92 properties went under contract last week, compared with 95 in 2018, 89 in 2019, 125 in 2020, 99 in 2021, and 89 in 2022. This number is fairly in alignment with the non-pandemic numbers. According to our Compass Boulder realtor team here at Burgess Group, when we have a normal number of under-contracts and a low amount of inventory, it can be a good time for sellers to come to market.
Total year-to-date purchases show the difference in this year's market: there have been 2121
 year-to-date (YTD) under-contracts (UC). 2018 YTD UC = 2450; 2019 YDT UC = 2549; 2020 YTD UC = 2444; 2021 YTD sales = 2664; 2022 YTD sales = 2234.  So, this year our under-contracts are 21% below the market high of 2021, and 6% below the market low of 2022.  Our two non-pandemic years average at 2499 UC per year;  today's under-contract rate is 16% below the 'average historic normal'. 
So, relatively speaking, it has been a slow year for real estate, which of course creates opportunities for both buyers and sellers. 
2020, 2021, and 2022 were outlier years. To gauge our real estate market's historical norms, refer to 2018 and 2019.
Activity By Price Band and Price Reductions- Boulder County
While many of previous weeks had lower sell-through rates, the overall market sell-through rate last week was a quite balanced 91%.  Inventory is stretched the thinnest in the entry-level market, where sell-through rates have been the strongest this year.  Again, Boulder real estate agents saw a massive number of entry-level (likely kiddie condo) sales with a 333% sell-through rate. In contrast, and reflecting the buyer's market in luxury, since the middle of May, the $2.5mm+ weekly sell-through rates have been 12.5%, 54.5%, 36.4%, 28.6%, 50%, 37.5%, 20%, 33% and 22%.  In other words, it is a great time to be a $2.5mm+ buyer. 
PRICE REDUCTIONS

The last two weeks price changes have been hovering in the high 80s.  This is the time of year that sellers often decrease price if they've not had success selling.  While these rates are not as high as what we were seeing last year, they are among the highest rates in 2023, reflecting that the number of buyers circulating in the marketplace is lower than many sellers were expecting. 
National Market Takeaways – 
Colorado Property Owners, Read Until the End

According to the Federal Housing Finance Agency (FHFA) seasonally adjusted monthly House Price Index (HPI®) report, U.S. house prices increased by 0.7 percent in May compared to April. 
Additionally, there was a 2.8 percent increase in house prices from May 2022 to May 2023.
The 0.7 percent increase reported for April remained unchanged when revisited. 
Dr. Nataliya Polkovnichenko, a Supervisory Economist in FHFA's Division of Research and Statistics, noted that the house prices experienced moderate growth in May, continuing the trend observed in the preceding months. 
However, in some regions of the country, house prices were still below the levels seen one year ago (May 2022). 
In the Pacific and Mountain regions, prices decreased year-over-year (YoY), while prices increased YoY in all the other regions. 
Notably, the year-over-year increase observed in May 2023 was smaller than the YoY increase recorded in May 2022 in all nine regions.
This data indicates that U.S. house prices showed moderate growth in May 2023, with some regional variations in the year-over-year changes. The Mountain Region is still down 2.7% year-over-year (YoY).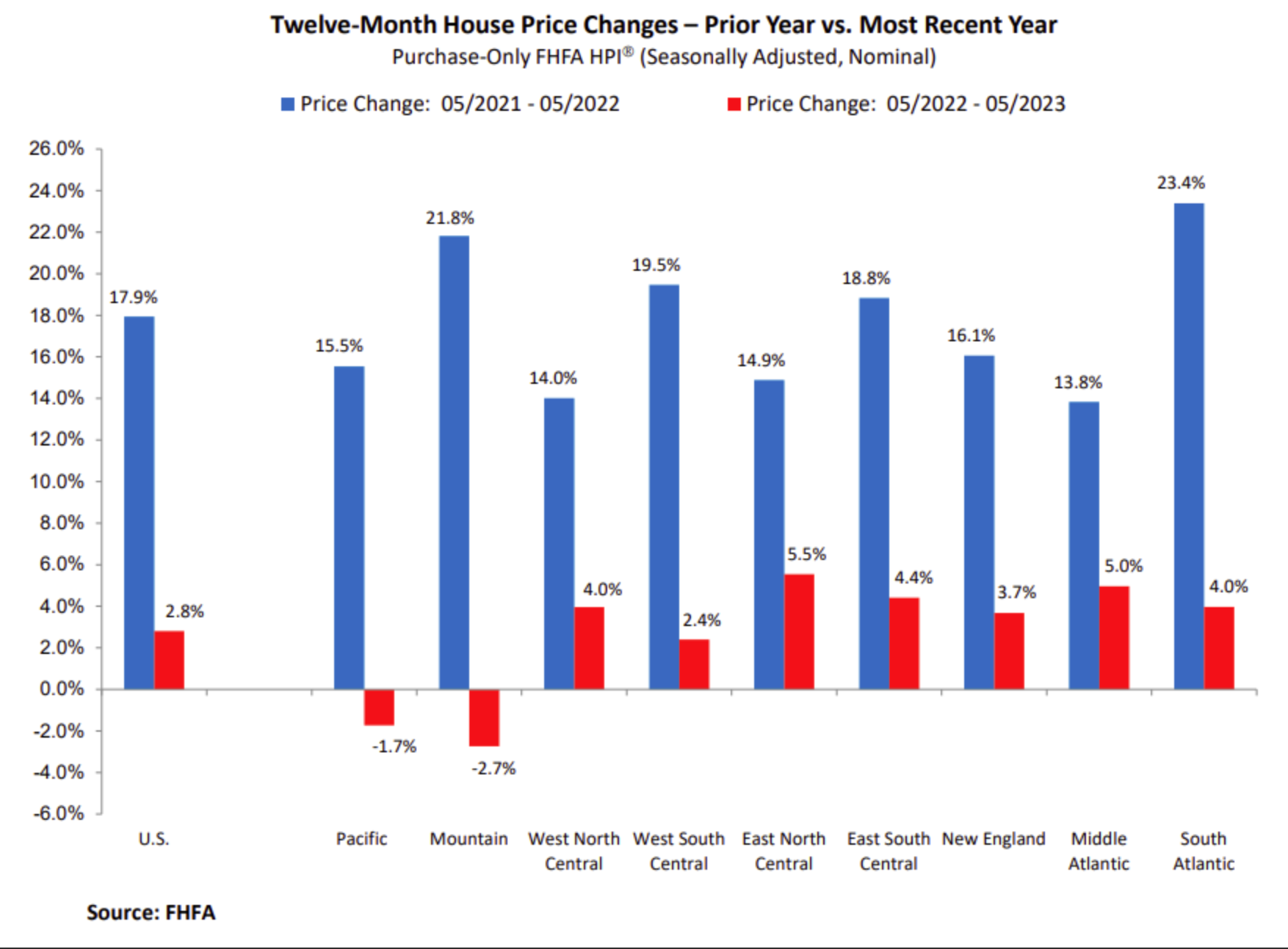 Below you'll find the types of homes our buyers are currently seeking. Do you know someone who is on the fence about selling their home? Perhaps you've been considering it?

Please let the Compass Boulder realtors at Burgess Group know if you or anyone you know has a home that might fit. We'd love to help! 

marketingcenter–