BUYERS: 
While the luxury market remains favorable for buyers, the overall market has displayed stable prices in recent weeks; prices will increase if market activity intensifies.
SELLERS:
With low inventory across many categories, the current market presents a favorable opportunity for sellers to sell during low inventory.
Click anywhere below to check out Burgess Group | Compass Boulder realtor team's current exclusive listings.
BUYERS
Buyers, it is a strong buyer's market in luxury. In the rest of the market, the sales-to-inventory ratio and prices have been relatively stable over the past few weeks.  Should the market experience increased activity, as we're seeing nationally, prices will probably resume their upward trajectory.
Boulder real estate agents report that inventory is still low in most categories, so it can be an excellent time to sell. Mortgage lock rates just went up again. a leading indicator of buyer demand. Buyers are waiting in the wings to pounce on the right property.
If you're interested in selling, contact the Burgess Group | Compass Boulder realtors at your earliest convenience. You will need a strategy that works well with your home/condition/location to sell well in this market. Our Boulder realtor team will provide valuable insights into the specific features and conditions that home buyers are presently willing to purchase and possibly pay a premium for.
Local Market Nitty Gritty – Boulder County
Boulder County realtors had 130 new listings come to market last week, vs 72 in 2018, 80 in 2019, 120 in 2020, 114 in 2021, and 124 in 2022. This is quite a surge in inventory relative to recent weeks.
64 properties went under contract last week, compared with 103 in 2018, 98 in 2019, 128 in 2020, 75 in 2021, and 63 in 2022. This lower number reflects the extremely low inventory.
Total year-to-date purchases show the difference in this year's market:
We've had 1940 year-to-date sales. 2018 YTD sales = 2355; 2019 YDT sales = 2460; 2020 YTD sales = 2319; 2021 YTD sales = 2565; 2022 YTD sales = 2145.  Overall, the 2023 low sales correlate with low inventory and lower demand because of higher interest rates.
Remember that 2020, 2021, and 2022 were exceptional years and should be considered outliers. To gauge our real estate market's historical norms, refer to 2018 and 2019.
Activity By Price Band and Price Reductions- Boulder County
Boulder real estate agents had an overall sell-through rate for the area last week of 49.2%, which indicates that there is a lot more inventory for buyers this week.  Inventory is stretched the thinnest in the entry-level market, where sell-through rates have been the strongest this year.
PRICE REDUCTIONS
Again, in the past few weeks, price changes have continued to be seasonally appropriate.  To note, they are not low, which would indicate a strong seller's market.  As you'll see in our info below about the national market, our local market is not functioning as a strong seller's market.  The luxury market continues to function as a strong buyer's market; in the rest of the market, sellers may have a slight advantage.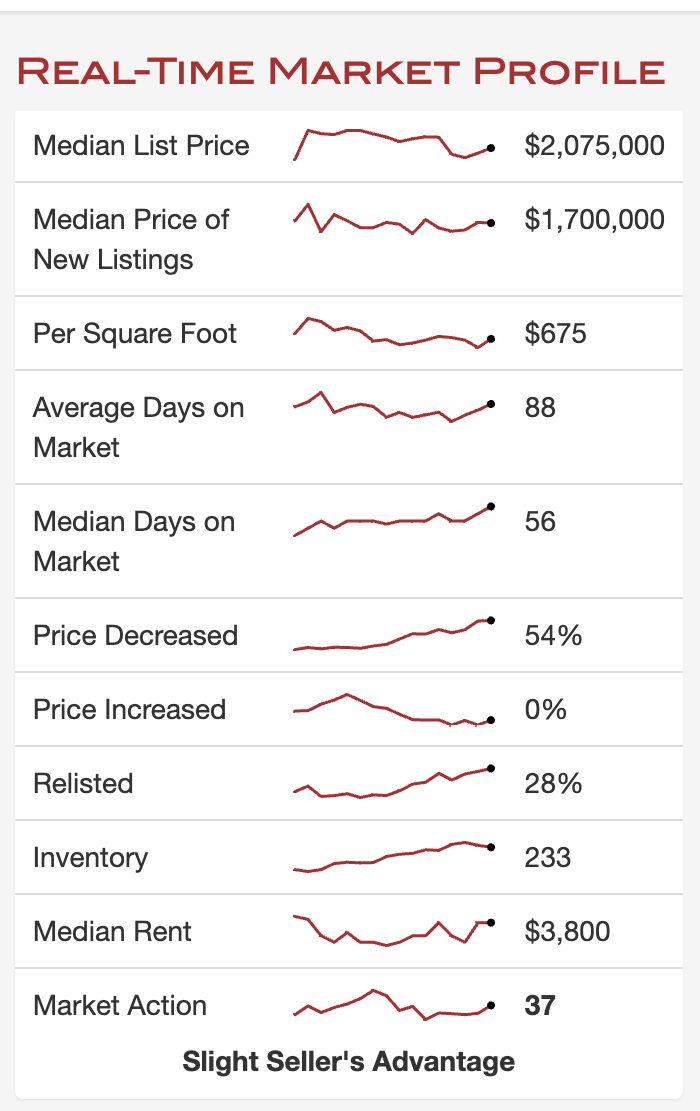 National Market Takeaways
High Demand and Low Inventory Drive U.S. Housing Market Surge
In a significant turnaround for the real estate market, nationally, the average U.S. home is now selling above its asking price, reaching a sale-to-list price ratio of 100.1% during the four weeks ending July 2.
This marks the first time in nearly a year that homes are fetching more than their initial price.
While the median home-sale price has experienced a slight decrease of just $1,000 (-0.3%) compared to last year's near-record highs, prospective homebuyers are grappling with the challenges posed by stubbornly high prices and mortgage rates hovering around 7%.
One of the primary factors driving this trend is the scarcity of homes for sale. New listings have plummeted by 25% compared to last year, and the total inventory has shrunk by 12% as homeowners choose to hold onto their properties due to favorable mortgage rates.
Despite these hurdles,
 current market conditions have intensified competition among buyers in many parts of the country. Almost every home on the market is receiving multiple offers and selling above the asking price. However, due to higher interest rates, bidding wars decrease as prices increase.
In many markets, buyers should explore options slightly below their price range to ensure they can make a compelling offer.
The housing market's surge, driven by high demand and limited supply, presents a challenging landscape for homebuyers. With prices remaining elevated and inventory tight, navigating the market requires strategic planning and acting decisively when opportunities arise.
Below you'll find the types of homes our buyers are currently seeking. Do you know someone who is on the fence about selling their home? Perhaps you've been considering it?

Please let the Compass Boulder realtors at Burgess Group know if you or anyone you know has a home that might fit. We'd love to help!

marketingcenter–