Buyers, there are some indicators that your "Buy Low" opportunity is bottoming and beginning the climb to a more balanced market. Sellers, inventory in most categories remains low, and buyers are buying in every category. Nationally, home prices rose after seven months of declines.
Click anywhere below to check out Burgess Group | Compass Boulder realtor team's current exclusive listings.
BUYERS
We are still in "Buy Low" right now, but indexes are starting to show that we may have bottomed. Boulder realtors expect that the second half of the year will be much more balanced, with a stronger market for sellers. Be brave and buy while competition is sparse and prices are softer. Lenders are offering phenomenal good deals; ask us for a list of great lenders.
SELLERS
Overall, inventory is still very low in most categories.  Buyers are buying in all categories. To be successful in this market, let's talk early about how to address buyer concerns for your property before coming to market.
Local Market Nitty Gritty – Boulder County
Boulder real estate agents reported 98 new listings coming to market last week, vs 125 in 2018, 127 in 2019, 54 in 2020, 105 in 2021 and 139 in 2022.  So, the only other year with less inventory was 2020 when we were in shutdown.  Many parts of our market still dearly need inventory.
87 properties went under contract last week, in comparison with 98 in 2018, 115 in 2019, 42 in 2020, 97 in 2021, and 82 in 2022.  This number is far lower than our more robust years.  Last year's numbers were impacted by limited inventory; this year's number is impacted by limited inventory and higher interest rates.  Buyers, remember, this is your "buy low" opportunity with less competition and hopefully softer prices.
Boulder County needs inventory in many categories; that said, much of the luxury market has dipped into a strong buyer's market.  Buyers are still buying, so let's talk in person about what this means.
Please remember: 2020, 2021 and  2022 were outliers. 2018 and 2019 are more reflective of our historic real estate normals.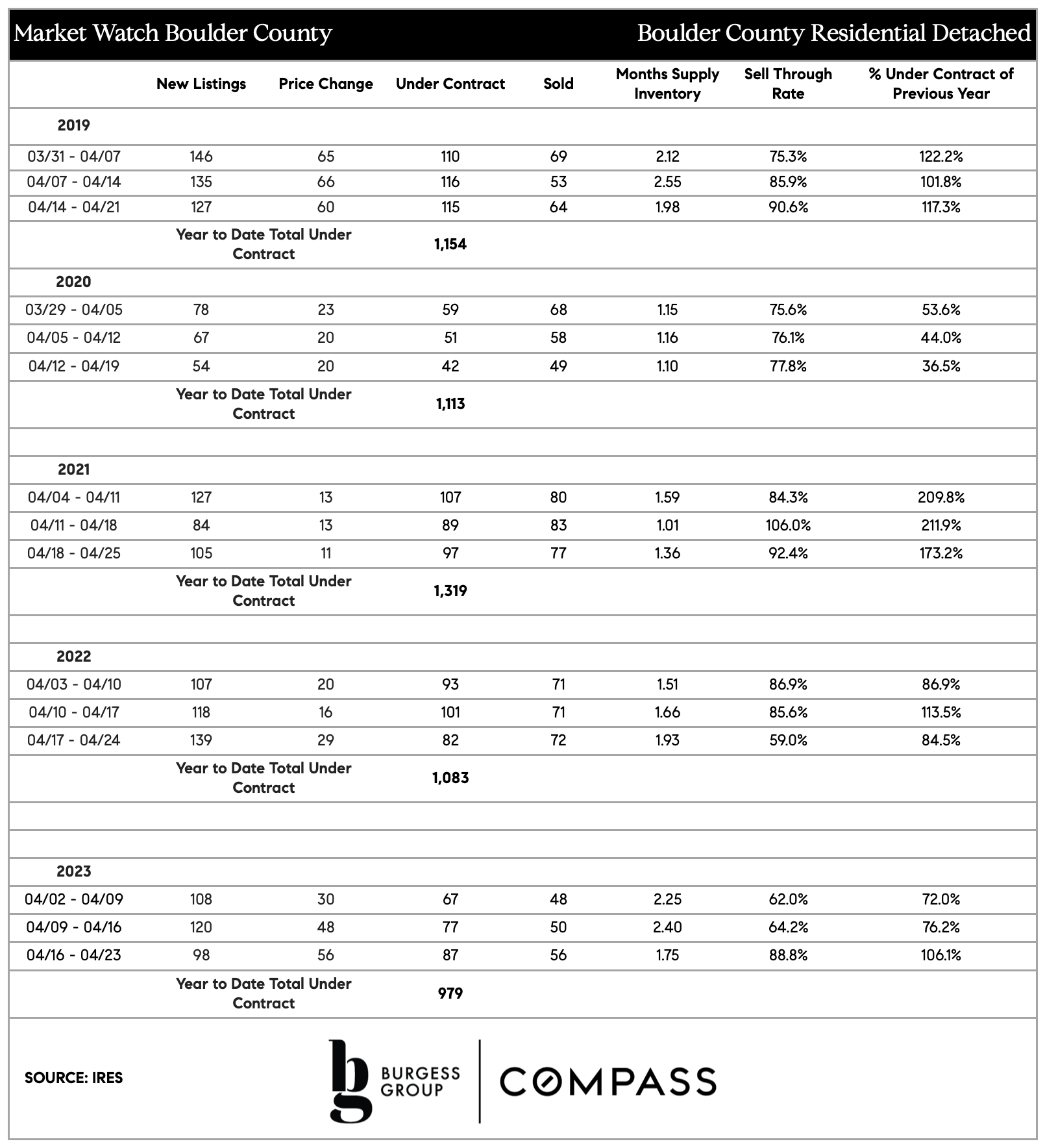 Activity By Price Band and Price Reductions- Boulder County
Over the last month, Boulder County realtors have seen good activity in all price bands. There is no section of our market that is not going under contract, which reflects the area's strong housing market.
Sellers are making a varying number of price changes from week to week.  The fact that we're not seeing a hugely upward trend like we did starting this time last year is encouraging. Price changes directly reflect seller confidence; they are a coincident indicator showing that today's market is far stronger now than it was in Q3 and Q4 of 2022. 
The combination of a slight improvement in affordability during January and early February, along with reduced inventory levels, resulted in a modest increase in home prices.
After adjusting for certain factors, prices rose by 0.16% during the month, marking the most robust monthly increase since May of the previous year. Without any adjustments, prices increased by 0.68%.
In the latest month, the annual growth rate of home prices displayed a decline of 164 basis points, dropping to 1.94%. This marks the first instance of annual home price growth falling below 2% since early 2012.
It is anticipated that price growth will enter negative territory by April, but there is a possibility of it returning to above 0% before the year's end, provided that inventory challenges persist and interest rates decrease.
Taking everything into consideration, home prices across the country have declined by 2.6% from their peak in 2022, which represents a slight improvement from January's figure of 2.7%.
In 2022, about 30% of 25-year-olds were homeowners, which is a slightly higher rate than that of millennials (28%) and Gen Xers (27%) when they were at the same age. However, it is slightly lower than the homeownership rate of baby boomers (32%) when they were 25 years old.
In 2022, Virginia Beach saw a higher percentage of Gen Z homebuyers than other parts of the country, with this group purchasing 9% of homes sold. Meanwhile, Seattle emerged as a popular destination for millennial homebuyers, as they accounted for over 40% of homes sold in job centers within the city.
Over the past several years, millennials have purchased more homes than other generations, with 25-44-year-olds accounting for about 60% of all homes sold. Among these buyers, those who purchased a home before the rise in interest rates have an advantage over their peers who missed out on buying earlier. These "mortgage millennials" have secured a more favorable mortgage rate, which can translate to significant savings over the life of the loan.
Compared to their parents, millennials are lagging behind in homeownership, with only 62% of 40-year-olds owning their home in 2022. This rate is lower than the 69% homeownership rate for baby boomers when they were at the same age.
Below you'll find the types of homes our buyers are currently seeking. Do you know someone who is on the fence about selling their home? Perhaps you've been considering it?


Please let the Compass Boulder realtor team at Burgess Group know if you or anyone you know has a home that might fit. We'd love to help!

marketingcenter-colorado-boulder