Friends,
Now is a terrific time for luxury buyers to purchase. Sellers, quality local inventory below $1.5mm is particularly needed right now. The national inventory shortage continues.
There is a silver lining for luxury buyers right now: competition is sparse and jumbo products now have lower rates than most other types of loans, as there is much less risk that high-end buyers will default on their mortgages. High-end borrowers can get further rate discounts by storing substantial funds at the bank offering the mortgage. Plus, if you purchase now, many lenders will refinance for free when rates go down.
SELLERS
Our housing shortage continues in the $1.5mm and below category. The trick for sellers right now is coming to market with a product so compelling that buyers will buy. To do that, condition, location, and price must all be in alignment. Talk early with Boulder realtor at Burgess Group | Compass about what that means for your property.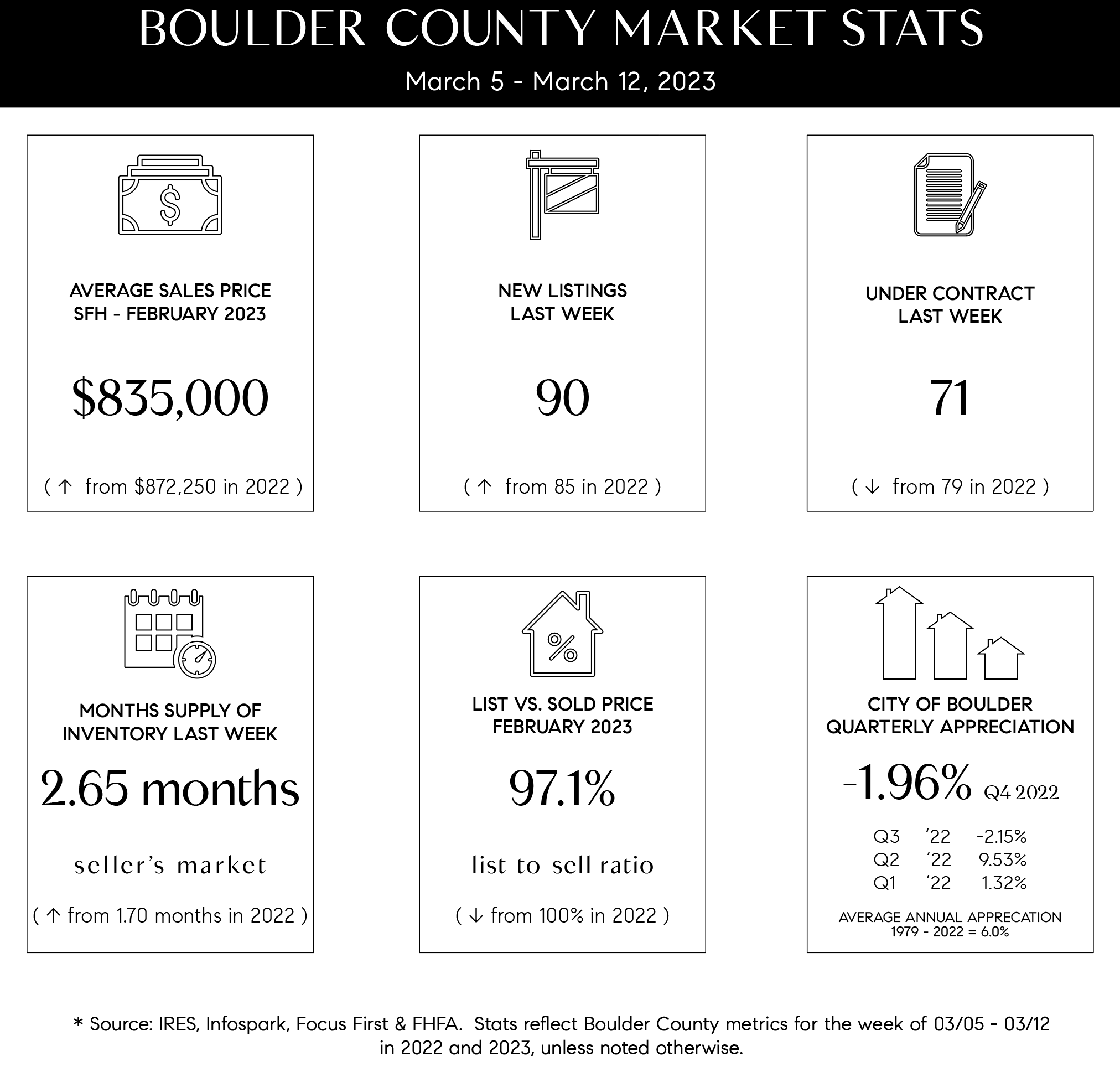 Local Market Nitty Gritty – Boulder County
Boulder real estate agents report on 90 new listings coming to market last week, vs 99 in 2018, 105 in 2019, 86 in 2020, 106 in 2021 and 85 in 2022. So, there was still a slightly low amount of new inventory last week relative to the non-pandemic numbers.
71 properties went under contract last week, in comparison with 88 in 2018, 86 in 2019, 87 in 2020, 106 in 2021, and 79 in 2022.  This is the highest number of under-contracts in 2023, with mostly week-over-week increases.
With this rate of inflow and outflow, Boulder County inventory is still considerably low.
Please remember that 2020, 2021 and  2022 were outliers. 2018 and 2019 are more reflective of our historic real estate normals.
Activity By Price Band and Price Reductions- Boulder County
Boulder County realtors last week saw the highest activity in the $1mm and below market. There is more inventory to shop above $1mm, particularly in the $1-1.5mm and $2-2.5mm price bands.
Price changes popped up to 46 week-over-week from 17.  In the weeks since January 1st, we've had 15, 32, 25, 26, 39, 25 ,38, and 17.  So, this is a substantial increase, possibly as sellers see the Fed less committed to tapering the tightening. Price changes are a coincident indicator, directly reflecting seller confidence.
National Market Take-Aways
There is still a residual shortage of housing, Says The National Association of REALTORS Chief Economist.
National Market Nitty Gritty
According to NAR chief economist Laurence Yun, there was a housing shortage before the pandemic.  In the low interest rate housing boom years of 2020 and 2021, the shortage intensified.  In 2022, home sales declined, then declined further, because of rising mortgage rates. Said Yun, "Furthermore, apartment building went gangbusters, 40-year high activity. So, we still have a residual shortage of housing. So, before 5 million, now 4 million in my estimation."
So, the trick right now for sellers nationwide is coming to market with a product so compelling that buyers will buy.
Speaking of low inventory, below you'll find the types of homes our buyers are currently seeking. Do you know someone who is on the fence about selling their home? Perhaps you've been considering it?


Please let our Boulder realtors know if you or anyone you know has a home that might fit. We'd love to help!
Click anywhere below to check out Burgess Group | Compass Boulder realtor team's current exclusive listings.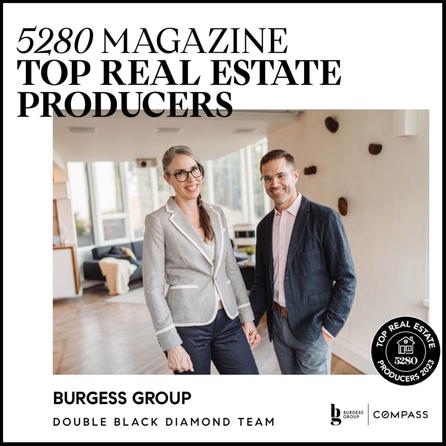 🏆  5280 Magazine Double Black Diamond Award 

Our Compass Boulder real estate agents are proud to once again be named a Double Black Diamond Team by 5280 Magazine! (This means we sold over $40 million! It's the highest award!)
We could not do this without your support and referrals.
Do you know someone curious about buying or selling real estate? We'd be grateful for an introduction — let's all grab lunch together!
🏆  #4 Boulder Compass Team
Proud to announce that we've been named the #4 Team by Sales Volume at Compass Boulder in 2022! That's up one spot from #5 in 2021 — we love making progress and challenging ourselves to be better every year!
Our deepest gratitude goes out to all of our friends and clients who trust us with their real estate needs…and refer their friends to us as well!

marketingcenter-colorado-boulder