In a mostly low inventory market, sellers have opportunities. Buyers should monitor fluctuating interest rates and lock wisely; cash buyers hold a strong position.
Nationally, the jobs report came in slightly lower than
expected; hopefully mortgage rates will see some downward movement as a result.
Click anywhere below to check out Burgess Group | Compass Boulder realtor team's current exclusive listings.
Local Boulder realtors indicate that all segments of the market are seeing successful buying and selling.  We continue to be in a (mostly) low inventory environment, which can create opportunities for sellers. Interest rates fluctuate, so buyers, watch carefully and lock in when you see a good rate. Cash buyers are in an extremely strong position.
Local Market Nitty Gritty – Boulder County
Boulder County realtors reported 55 new listings coming to market last week, vs 84 in 2018, 95 in 2019, 97 in 2020, 85 in 2021, and 72 in 2022.
67 properties went under contract last week, compared with 84 in 2018, 95 in 2019, 108 in 2020, 93 in 2021, and 72 in 2022. Low under-contracts this year, which puts buyers in a stronger position in this market. Check the "Activity By Priceband" section below to see where buyers are in the driver's seat.
The year-to-date under-contract data reveals the changing dynamics in this year's market. As of now, there have been 3049 year-to-date (YTD) under-contracts (UC). Comparing this to previous years, in 2018, the YTD UC count was 3632; 2019 was 3792; 2020 was 3970; 2021 hit 4272; and in 2022, the YTD sales were at 3299.
Like our last Boulder real estate news findings, under-contracts are 29% below the peak market activity observed in 2021 and 8% lower than the market's lowest point in 2022. When we average the two non-pandemic years we're tracking, we get 3625 UC yearly; today's under-contract rate is 18% below this 2018/2019 average.
Please remember that 2020, 2021, and 2022 were outlier years.
Activity By Price Band and Price Reductions- Boulder County
Be sure to check our charts that illustrate the sell-through rates.  Earlier this fall, we saw markets with sell-through rates favoring buyers; for the past couple of weeks, our sell-through rates have indicated a fair amount of balance in our various price bands. Last week Boulder County's cumulative sell-through rate was 121.8%, which indicates a slight skew towards sellers.
To get more granular on inventory, in two weeks, our Compass Boulder realtor team will publish info on the amount of inventory in each price band we cover in Boulder County.
PRICE REDUCTIONS
Over the last four weeks, the Boulder real estate agents here at Burgess Group have observed weekly price fluctuations of 82, 73, 94, and 107, in line with the usual seasonal trend. It's common for numerous sellers to reduce their listed prices before Thanksgiving or Christmas to incentivize prospective buyers to make a purchase.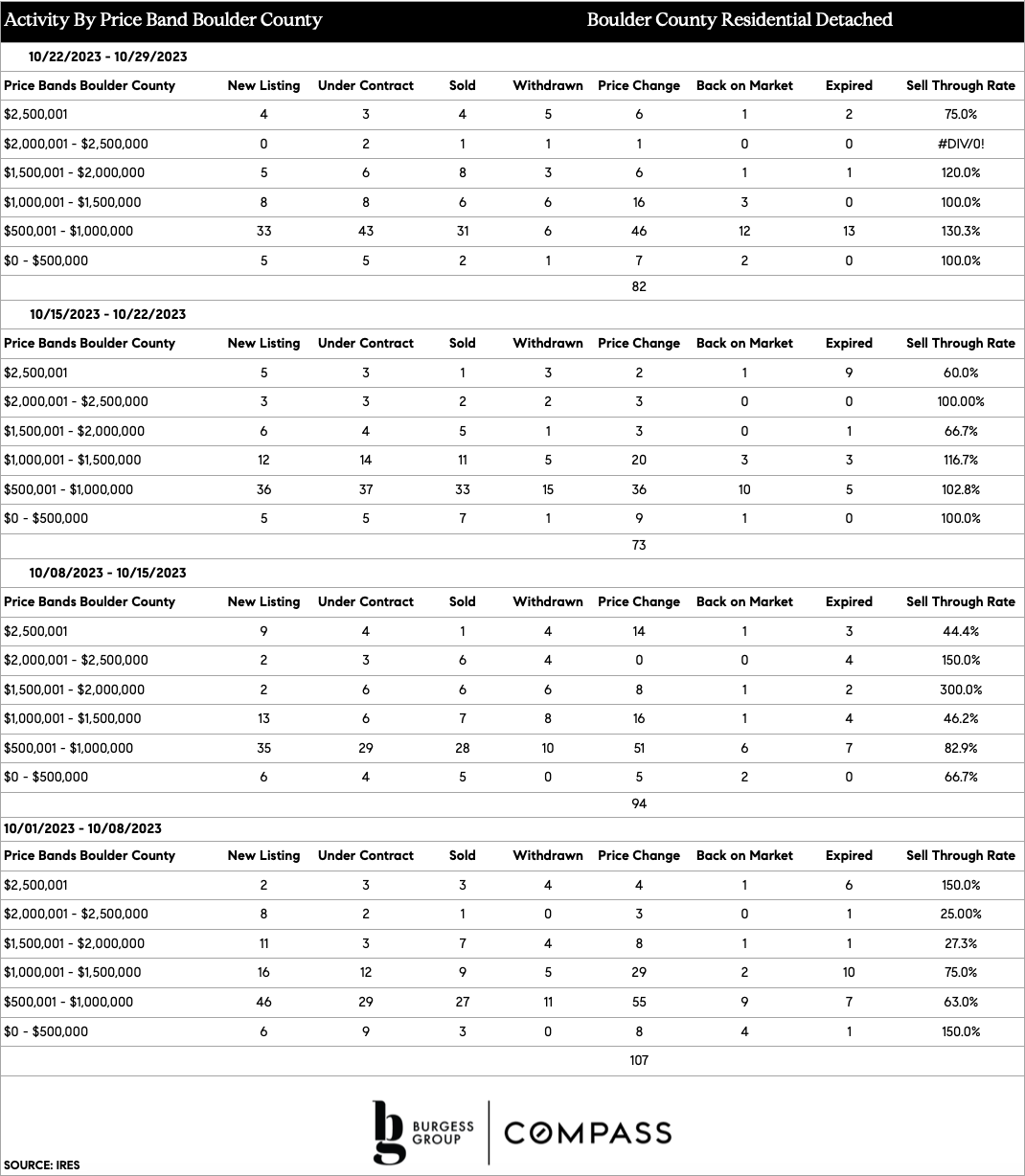 MORTGAGE RATES DIP DOWN BUT COULD DIP BACK UP TODAY/SOON
Mortgage rates experienced a modest decline this week, with the daily average 30-year rate dropping to 7.69%, marking its lowest point in approximately three weeks.
This decrease follows a peak of 8.03% on October 19. Prospective homebuyers considering when to secure a mortgage rate may have taken action to secure a loan.
There are two key economic factors contributing to this temporary decline in mortgage rates:
The treasury refunding announcement made a more significant impact than usual. The quarterly refunding statement, which outlines the government's funding strategy, typically goes unnoticed, but this month it garnered attention because it could influence interest rates.
The treasury revealed smaller-than-expected increases in the sizes of 10-year and 30-year auctions, meaning they will issue less long-term debt than the market had anticipated while increasing short-term debt issuance.
This is a reversal from an earlier announcement this year, which surprised markets by favoring more long-term debt issuance. That prior announcement contributed to rising long-term rates, including mortgage rates, in recent months. This shift is now contributing to a decline in rates.
In its November 1 meeting, the Fed maintained interest rates at their current 22-year high, as expected, without further increases. The Fed signaled its intention to keep rates elevated into 2024 as part of its strategy to combat inflation and cool the economy. They also left open the possibility of one more rate hike this year.
While this announcement didn't significantly impact the markets, it did play a role in driving down bond yields, thereby exerting downward pressure on mortgage rates. Additionally, some investors may have waited until after the Fed announcement to respond to the treasury refunding news.
Thus, interest rates, including mortgage rates, saw a slight additional decline due to the Fed's stance.
However, it's important to note that economic data can fluctuate, and most reports have the potential to influence mortgage rates. The new jobs report just came in slightly lower than expected, which could have a positive ripple effect on mortgages.
Prospective homebuyers should watch rates carefully right now, as mortgage rates will likely react to the jobs report and then settle for a bit.
Consult with your mortgage broker for personalized advice, as everyone's financial situation is unique.
Below you'll find the types of homes our buyers are currently seeking. Do you know someone who is on the fence about selling their home? Perhaps you've been considering it?

Please let the Compass Boulder realtors at Burgess Group know if you or anyone you know has a home that might fit. We'd love to help!

marketingcenter–