Friends,
In a low-inventory market, sellers find opportunities; buyers should track interest rate changes and secure wisely, while cash buyers maintain a strong position.
Nationally, growing demand (because of lower interest rates) and increasing home listings are creating a cyclical dynamic for buyers and sellers.
Click anywhere below to check out Burgess Group | Compass Boulder realtor team's current exclusive listings.
The market is active across all segments despite mostly low inventory. Sellers can find strong opportunities in this environment. Interest rates have come down; buyers, monitor fluctuating interest rates closely and secure a favorable rate when available. Cash buyers hold a strong position.

Local Market Nitty Gritty – Boulder County
Boulder real estate agents reported 51 new listings coming to market last week, vs 49 in 2018, 67 in 2019, 79 in 2020, 54 in 2021, and 37 in 2022.
68 properties went under contract last week, compared with 77 in 2018, 83 in 2019, 75 in 2020, 78 in 2021, and 51 in 2022. This small surge in buyer demand reflects the recent drops in mortgage rates to recent lows.
The year-to-date under-contract data reveals the changing dynamics in this year's market. As of now, there have been 3233 year-to-date (YTD) under-contracts (UC). Comparing this to previous years, in 2018, the YTD UC count was 3927; 2019 was 4086; 2020 was 4365; 2021 hit 4589; and in 2022, the YTD sales were at 3511.
Like our last newsletter's findings, under-contracts are 30% below the peak market activity observed in 2021 and 8% lower than the market's lowest point in 2022. When we average the two non-pandemic years we're tracking, we get 4006 UC yearly; today's under-contract rate is 20% below this 2018/2019 average.
Our Boulder realtors want you to remember that 2020, 2021, and 2022 were outlier years.
Activity By Price Band and Price Reductions- Boulder County
Be sure to check our charts that illustrate the sell-through rates.  Earlier this fall, we saw markets with sell-through rates favoring buyers; for the past couple of weeks, as buyers saw a reduction in interest rates, many sell-through rates have favored sellers.  Last week Boulder County's cumulative sell-through rate was 133%, which, according to Boulder County realtors, indicates a slight skew towards sellers.
PRICE REDUCTIONS
Over the last four weeks, we've observed weekly price reductions of 69, 56, 79, and 82, in line with the usual seasonal trend. This is not the massive rise in price reductions Boulder real estate agents saw at this time in 2022. It's common for numerous sellers to reduce their listed prices before Thanksgiving or Christmas to incentivize prospective buyers to purchase.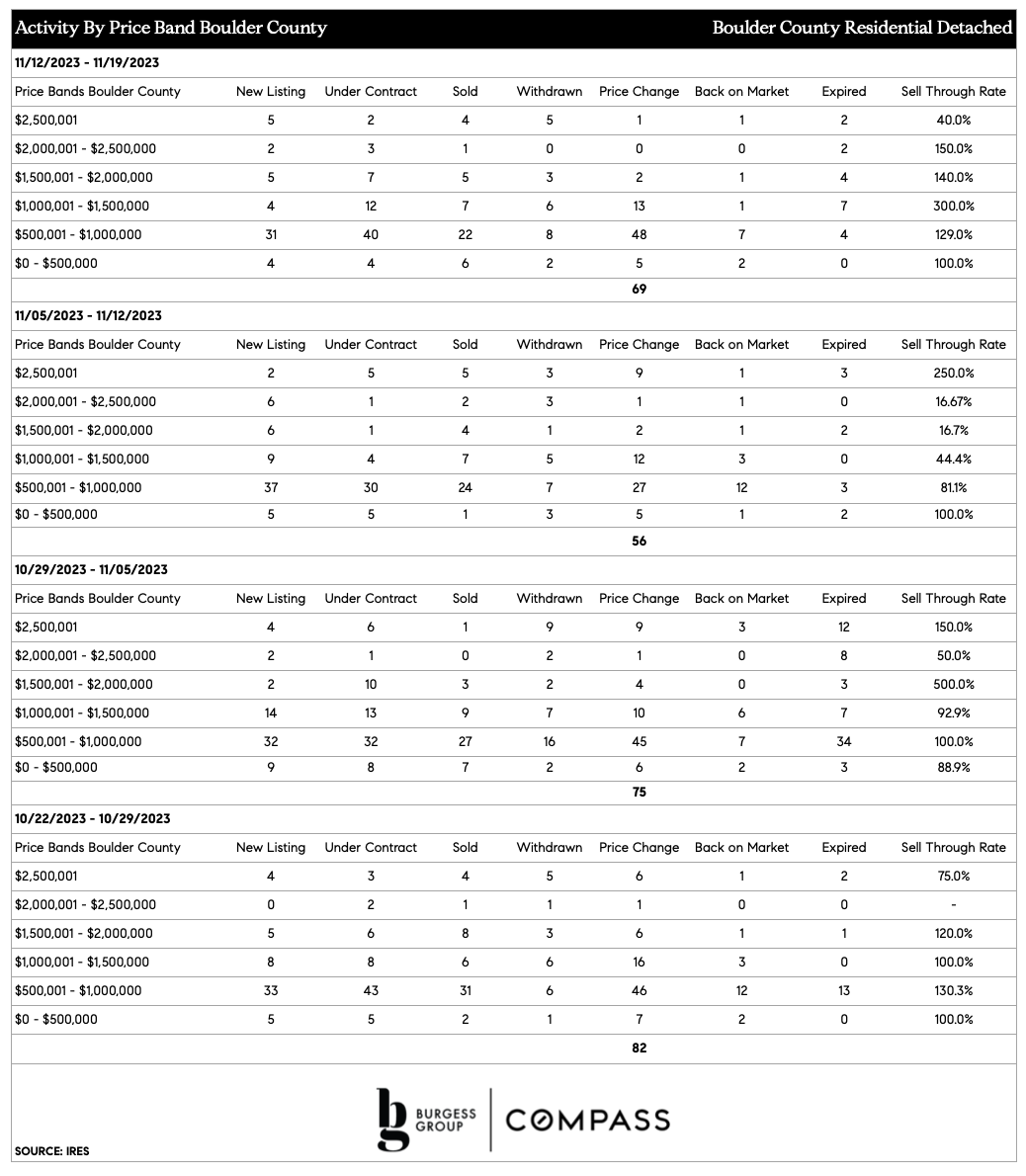 Growing demand and increasing home listings are creating a cyclical dynamic for buyers and sellers.
Mortgage-purchase applications have surged, reaching a five-week high with a 3% increase in the past week. Despite a year-over-year 8% decline in pending home sales, this is one of the smallest drops since April 2022.
The recent decline in mortgage rates from the recent peak of 8% to around 7.4% has prompted more buyers to enter the market.
A positive inflation report is contributing to the decline in mortgage rates. The easing of inflation, as indicated by the recent CPI report, suggests that the Federal Reserve is unlikely to raise interest rates this year and may even consider rate cuts sooner than anticipated. (See inflation-related links below.)
Sellers are also becoming more active, with new home listings up by 3% compared to the previous year. This marks the largest increase in two years, and the total number of homes for sale is nearing its highest level since the beginning of the year.
Various factors are motivating homeowners to list their properties, including the growing demand from buyers, concerns about potential declines in home prices, and a realization that waiting may not result in lower mortgage rates similar to those seen during the pandemic.
Below you'll find the types of homes our buyers are currently seeking. Do you know someone who is on the fence about selling their home? Perhaps you've been considering it?

Please let the Compass Boulder realtors at Burgess Group know if you or anyone you know has a home that might fit. We'd love to help!

marketingcenter–