With Fake Spring #3 behind us, and more snow in the forecast for the first week of April, Boulder realtors Catherine and Andy Burgess are back with some tips on how to get outside and enjoy nature, even if you're not into skiing and snowboarding.
There are so many joyous ways to experience the winter (and snowy Spring!)
Getting outdoors and finding adventure is a sure-fire way to shake off the cobwebs of Seasonal Affective Disorder. Our beautiful landscape provides us with so many opportunities for snow day fun. If skiing/ snowboarding isn't your thing, our Boulder real estate agents recommend a few amazing snowventures to try this winter:
---
Cross Country Skiing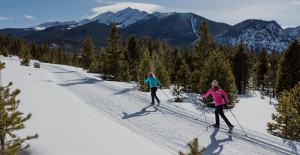 Cross country skiing gets you out on the powder, without the risks of downhill skiing.  It's slower and more controlled. You're not harnessing the power of gravity down a mountain. Instead, you're powering yourself through your own locomotion.  It's a fun, easy, and safe way to stay active during the winter months.
Many of your local downhill ski resorts offer cross-country skiing and snowshoeing routes. So if you're going on a group ski trip with friends or family, and don't downhill ski… this is a great option for you.
Here, our Boulder realtor team lists some local ski resorts that offer cross country skiing options:
If you fall in love with the sport (trust us- it's easy too!) there's no need to drive out to a resort to get a cross-country skiing fix. Here's a list of local trails that allow Cross Country Skiing in the winter months:
---
Dog Sledding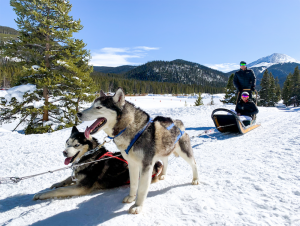 The Compass Boulder real estate agents here at Burgess Group have been fascinated by dog sledding ever since seeing Cuba Gooding Jr's 2002 comedy Snow Dogs.
Dog sledding is possibly the coziest outdoor sport. The mushers will pile you with blankets so that you're nice and cozy for your ride. You'll glide over the snow, racing past views of the Colorado Rockies, led by a team of gorgeous and gentle huskies. The experience is simply unlike any other. Colorado is world-renowned for its snow dog experiences.
Here are some of the best Dog Sledding Companies near Boulder:
---
Ice Climbing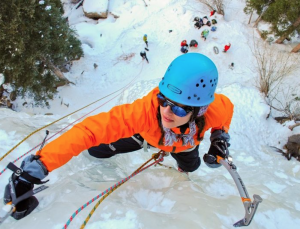 This one is for all you rock climbers out there! Boulder has some of the best climbing conditions in the world. But unfortunately, because of our long winters, the rock season is relatively short. But that doesn't mean your gear has to collect dust. Ice climbing can easily fill the winter void. It's a true adventure. It's very different from rock climbing.  You're not searching for and utilizing the hand/footholds made available by the crag. Instead, you're using crampons and pickaxes to spike your way up the glacier. Many safety mechanics are similar to rock climbing. But ice climbing is a totally different type of climbing technique. 
Seasoned ice climbers can find adventure at these local crags:
If you're new to the sport, our Compass Boulder realtors recommend a few lessons or try top roping at one of these local outfitters:
---
Ice Fishing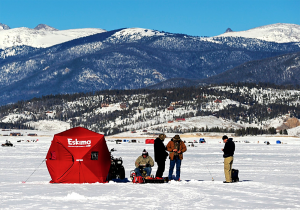 Some people say there's nothing more relaxing than fishing. Some of the best ice fishing in Colorado is found near Boulder. It's a great hobby for those who value self-sufficiency and gaining skills that help them live off the land. At most of these local locations, you can catch trout, salmon, pike, lake trout, and crappie.
Ice Fishing season is from December to late February. This is for a very specific reason- this is when the ice is most solid and at its thickest. Ice fishing is only relaxing when you stay out of the water, after all!
---
Ice Skating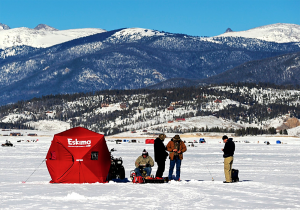 Ice skating is a classic winter pastime. There is a simple joy that comes with a day on the rink, and a cup of hot chocolate in hand. You don't need to be Michelle Kwon to enjoy a day on the ice. Even if you have to hold on to the railing the whole time… it's fun to get your body moving in a new way. And once you do finally hit a glide-stride… there's no better feeling on earth!
Here are the best ice rinks near Boulder to check out:
If natural rinks are your thing, check out the frozen skating ponds in these Colorado State Parks:
---
Colorado Sleigh Rides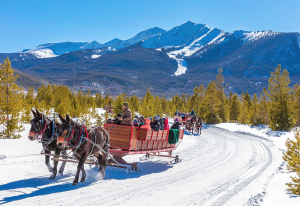 A snowy evening in a one-horse open sleigh. It's in the holiday songs for a reason. There's nothing more romantic. A snowy carriage ride is a real memory maker. Many Colorado sleigh outfitters go above and beyond for their customers. They'll provide you with warm drinks, pile you with blankets, and drive you past scenic snowy mountain scenes. You may even finish the evening with dessert and a show. Here are some of the top sleigh ride companies in the area to check out: 
---
Snow Tubing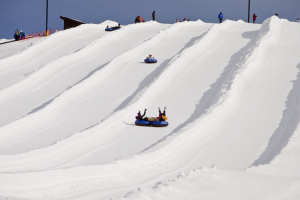 If you like water slides, you'll like snow tubing. This is the winter version!
No skills required for this adventure. You just pop onto the tube and SLIDE. As long as you can hold on tight, you'll be golden. The higher the hill is? The more fun you'll have! It's a lot like sledding, except no steering is required. The plushy nature of the tube makes for a more comfortable ride too. This is an inexpensive activity. Most resorts only charge between $20 and $30 for an hour of tubing. Or you can invest in your own tubes and slide whenever you feel like it!
Here are the best hills to slide down in Boulder:
Best resort snow tubing near Boulder:
---
Snowmobiling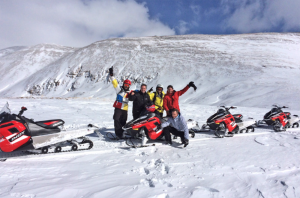 Snowmobiling is the best way to get into the backcountry during the winter. If deep wilderness adventures bring you joy, snowmobiling can take you there. Until you're the owner of a snowmobile, you'll need to rent your snowmobile through a guide company.
Check out these great local snowmobile rentals:
---
Feeling Excited About Winter Yet?
For more ideas or information about Non-Downhill Snowsports in Boulder, feel free to reach out to your favorite Boulder Real Estate Agents! The Boulder realtors here love a good snowventure and can offer extensive insight into community activities.