How To Experience Lovely Louisville Like A Local
Louisville, CO has a trophy shelf full of awards. It's extremely livable— in all the right ways. You can spot Louisville in:
Experiencing Louisville means more than just strolling along rolling prairies and mountain paths. Louisville has a vibrant community and culture. Working as Boulder County Realtors puts us in a unique position. We get to know many residents personally. This has been a great honor. We are constantly inspired by the energy in this community and even have a full web page dedicated to area highlights and influential metrics. Here's a taste of everything Louisville has to offer according to our Boulder realtors:
Louisville History Is A Bit Ironic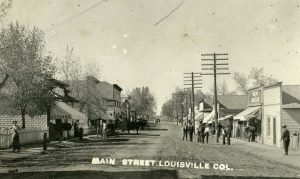 Colorado has a cultural focus on green practices and sustainability. Because of this, it may be surprising to hear that Louisville was founded by the coal mining industry. In 1877 the first coal mine was opened by local landowner Louis Nawatny. He divided up his expansive tract of land to open up the Welch Mine and form a town. Louis named the town after himself, of course. The town quickly gained a reputation as a safer mining experience. This brought immigrants from all over America and Europe to the area. Miners lived in town and walked to their jobs at the mines.
The last coal mine closed in 1952. But the town's history is memorialized through the Miner's Memorial Statue at City Hall. This monument celebrates the people who created the lovely town of Louisville.
Hike Like A Local
There are over 1,700 acres of green space in Louisville. This means fresh air and adventure are always convenient. See for yourself. Check out Louisville's most popular trails. 
Davidson Mesa Loop Trail
This 3.3-mile loop trail is breathtaking. The trail is flat and well maintained.  It's accessible for wheelchairs, strollers, and road bikes. But it will wind you through the prairie and grant inspiring mountain views.  Keep an eye out for wildflowers and wildlife on your journey.
Dirty Bismark Loop Trail
The Dirty Bismark is a longer 13.8 loop but only sees a moderate elevation change. You'll pass cow pastures, meadows, lakes, and experience mountain views. This trail is suitable for bikers, hikers, runners, and even cross-country skiers.
Meadowlark Trail
This trail has great views of the FlatIrons. It's accessible from several Louisville residential neighborhoods. It's a short 5.5-mile loop but is sure to get your heart pumping.
Hecla Lake to Waneka Lake Loop
Hecla Lake is a great urban adventure. This is a paved trail, with great views of Indian Peaks and the Flatirons. Venture out into the water by renting a canoe or pedal boat during the summer.
Immerse Yourself In The Community
The People of Louisville
Naturalists. Entrepreneurs. World Travellers. Philanthropists. Veterans. Musicians. The people of Louisville are as diverse as they are wonderful. David Trow, a Boulder realtor here at Burgess Group | Compass writes a blog about the people of Louisville. Click here to read the Faces of Louisville and Lafayette.
Historic Downtown
100-year-old wooden buildings line the streets of Historic Louisville. It has a classic western feel with a hint of small-town-American charm. Top-rated eateries and pubs line the charming streets. Head to historic downtown Louisville for a date night. Grab some food then take a stroll through the square.
Annual Events 
Louisville Street Faire
One of our Boulder realtors' favorites! Catch (free!) live music in downtown Louisville every Friday night in July-September. Grab some food from a street vendor, and sway to the sweet sounds of local talent. Genres from country, punk, funk, bluegrass, and even zydeco. The Street Faire is a zero-waste event. 93% of event materials are composted or recycled.
Fourth of July
Every year the whole town gathers at Coal Creek Golf Course for a huge celebratory fireworks display.
Bocce Tournament
A Bocce Tournament is held in Memory Square Park each September. Sixteen teams battle it out for the prize. No experience necessary!
Farmers Market
Support local Colorado farms. Buy local, organic produce at the Louisville farmers market. The market runs every Saturday from 9 AM-1 PM May-October.
Try the Best Louisville Breweries and Restaurants
Gravity Brewing
Gravity Brewing is home to an award-winning tasting room and Biergarten. They have rotating specialties (even their version of a hard seltzer!).  Gravity prides itself on its expert craftsmanship and a down-to-earth environment.
Biscuit Bar
A local favorite for brunch. Their specialties are their biscuit breakfast sandwiches and their fresh-baked cinnamon rolls. But that's not all they have! You can also opt for burgers, wings, or creative features like "armadillo eggs".
740 Front
Thirteen saloons lined historic Front Street during the mining era. 740 Front is the last one standing. They also have some of the most beautiful outdoor dinings in town. The menu is upscale American with a Colorado twist. Special features include a Bison Filet and Wagyu Flat Iron Steak.
Homes For Sale in Louisville
Of course, the only way to truly experience Louisville like a local is to live here! Buying a home in Louisville is a safe investment.Our Boulder real estate agents are pleased to report that the local market has grown by 6.21% in the last year. The primary architectural aesthetic in Louisville is a craftsman-traditional home. This style fits easily into homey neighborhoods and natural landscapes.
Search for homes in Louisville.
Learn more about Louisville here.