Happy National Coffee Day! Try The Best Coffee Shops in Boulder County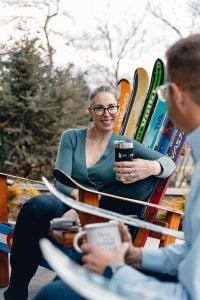 It's no secret that Boulder is an active community. The average Boulder resident has too many hobbies. We're constantly biking, hiking, dog-walking, trail running, and skiing. A community like ours requires a vibrant coffee scene to keep us going. It's crucial that we stay caffeinated. Boulder coffee shops all have one thing in common:
They're as unique as they are well-brewed.
So before you start searching for things to do in Boulder this weekend, fuel up at one of these local spots.
---
Rapha Boulder 
Rapha has a creative concept. It's a combination bike shop, cafe, and cycling club. If you've recently relocated to Boulder, we highly recommend spending some time at Rapha. The friendly, laid-back atmosphere makes it an easy place to meet new people. Join the club to:
Attend weekly group bike rides

Sip delicious discount coffee

Score discounted biking gear.
There are over 20 Rapha Clubhouses around the world (including Seol, Amsterdam, Melbourne, and Mallorca!). A club membership grants you access to all these communities. It will connect you to a global network of coffee-loving cyclists.
Of course, if you're not a cyclist you're still welcome to swing by for a caffeine fix. The iced maple latte is the stuff of daydreams.
Keep an eye out for our very own Boulder Realtor Andy Burgess when you go. Andy is a member of the cycling club and loves meeting new people!
---
OTIS Craft Collective 
OTIS was named after proprietor Matt Bolton's grandfather. Otis (the man) was someone who valued fine craftsmanship, fixing things himself, and teaching others how to do the same. Matt's goal is to honor his grandfather by channeling these values into his cafe. The result? Expertly roasted coffee blends. And a unique menu that includes coffee cocktails and creative additives options.
Want to add 10 mg of CBD to your drink to balance out the caffeine buzz? You got it! Want to add a lavender whipped cream topper? Yes, please!
OTIS has mastered the chic rustic-industrial ambiance. Natural light and ample table space make this an ideal spot for productivity.
---
Cannon Mine Coffee 
Cannon Mine is a combination coffee shop and music venue. This is a place that has quality coffee and food but doesn't take itself too seriously. It's easy to feel at home here. It's often referred to as Lafayette's "Community Living Room".  Oversized couches and chairs give it a cozy feel. There's also a great patio area where you can enjoy pedestrian bustle along S. Public Road.
Cannon Mine is fiercely supportive of local talent. Paintings created by local artists are for sale on the wall. They host an open mic night every Wednesday. Concerts are hosted here as often as possible.
---
Brew Due South 
If all your happy places involve house plants… this is the coffee shop for you. Fiddle leaf figs, palms, and snake plants stretch towards the ceiling. Exposed brick peeks out from behind a living moss wall. These elements make Brew Due South highly instagramable. Their wildflower-garnished herbal elixirs don't hurt either. This Lafayette spot feels decadent, even indulgent. They have perfected the classic coffee shop menu…but they also get pretty creative. Any keto-lovers should try the bullet-brew. If you're hungry, choose from two different acai bowls or homemade sweet and savory pastries.
---
Read Queen 
Is there anything cozier than sipping a warm drink while surrounded by shelves of good books? The warm and relaxed nature of this shop makes it a go-to for snowy days. Grab a book off the shelf, order a cup of espresso, and spend all day in a comfortable chair reading.
This cafe is owned by two local literary queens. Barbra and Deirdre frequented The Book Cellar in Louisville for years. They mourned the loss of the bookstore when it closed. They quickly took action in acquiring The Book Cellar's collection. They found a great spot in historic Old Town Lafayette.  The two friends worked hard to renovate a 1900s building into the gorgeous coffee house it is today.
Enjoy espresso, coffee, chair, Italian soda, and pastries while you browse the store. Or situate yourself in a chair and spend the afternoon reading.
If you have any books you'd like to retire, The Read Queen will gladly take them off your hands. Trade them in for a new novel to get lost in.
---
Boxcar Coffee Roasters
This Pearl Street shop is famous nationwide for the quality of its roasts. Many locals will pop by Boxcar during their weekly errands to pick up a bag of fragrant beans. But if you'd like to stay and enjoy an in-house drink, the atmosphere is sunny and relaxed. Even though Boxcar can get busy, the staff does a great job at working efficiently. Boxcar shares space with Cured, which creates a lovely balance of artisan food +coffee. Pick up some gourmet cheeses for charcuterie while you wait for your caffeine fix.
---
The Laughing Goat 
The Laughing Goat is popular enough to have three locations around Boulder. It's the go-to fueling spot for University of Colorado students. The downtown location has a great patio that will immerse you in the Pearl Street atmosphere. You can also enjoy live music here nearly every night.
The Laughing Goat is exceptionally accommodating. If you're low on time, they offer an online ordering option so that you're in-and-out as quickly as possible.
Order Online Here.
---
Let's Celebrate National Coffee Day Together!
National Coffee Day is September 29th. Let's celebrate this life-sustaining beverage together. Tag us on Instagram if you try out any of these coffee shops. Or… shoot us a DM! We'd love to grab coffee with you. Cheers!