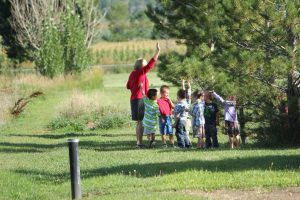 A child's education is one of the most important decisions a parent has to make. There are so many different educational styles in Boulder. There are:
Highly-rated public schools

Plus systems

IB primary years programs

Total immersion Spanish schools

Gifted schools

Public Montessori schools

Public Waldorf schools

And more!
Sifting through the heaps of options available can be pretty intimidating, even for our Boulder real estate agents who are parents themselves! But some families feel confident that a foundation of religion is important in schooling. If this sounds like you, you're in the right place. The Burgess Group | Compass Boulder realtor team has broken down everything you need to know about the religious private schools in Boulder.
Rocky Mountain Christian Academy
Grades: Preschool- 8th
The mission of this institution is "to inspire students to form a lifelong passion for truth, goodness, and beauty".
RMCA avoids giving their students busy work. Curriculums involve worthwhile and engaging subjects. Teachers expose students to authors, composers, artists, scientists, and mathematicians who have shaped our modern world. RMCA uses Charlotte Mason's approach to schooling. Mason was a twentieth-century education reformer. Her methods are three-tiered:
Surrounding a child in a positive environment is paramount. Mason believed a child's main environments (home and school) make up 1/3rd of the child's education.
This is more than just discipline. Positive and productive daily habits are crucial in the child becoming a successful adult.
Children don't memorize dry facts. Discussing ideas, theories, and thoughts are prioritized instead.
Dry textbooks are not favored. Mason believed education is more effective through storytelling. For example, instead of assigning students a few pages to read in a textbook… then completing a worksheet. She would have students read a piece of literature and then explain (or even act out!) what they just read.
Charlotte Mason's philosophies are organized and applied through Ambleside Schools International. Rocky Mountain Christian Academy is a member of ASI and is accredited through Accreditation International.
Sacred Heart of Jesus Catholic School 
Grades: K-8
This institution is the oldest and most established private school in Boulder. It opened for the fall semester in September 1900 on a limestone brick building on 13th and Mapleton. This building was closed in 1983, but the school has continued to thrive.
Sacred Heart has attained AdvancED accreditation, which ensures that it is constantly improving. They provide quality education to every type of learner. It's their goal for every student to be prepared to enter our diverse and constantly changing world.
Sacred Heart has great academics and a renowned athletic program. Students can also participate in local community service projects, drama clubs, and choir.
Longmont Christian School
Grades: PreK-12
Longmont Christian School is the only K-12 religious-affiliated private school in Boulder. LCS places a high value on technology. Every high schooler will receive a new Chromebook. Most coursework is assigned, completed, and submitted digitally.  This technology initiative will be active in LCS middle school in the next few years.  Students at LCS see consistently high test scores. Using their faith as a benchmark, LCS strives to create strong moral character within their student body. They value compassion, gratitude, integrity, humility, and self-control. They strive to build a community that values lifelong learning. Students are resilient, creative, curious, and have a strong sense of accountability. 
St. John the Baptist Catholic School 
Grades: PreK-8th
St. John was established in 1920. From the start, one of its main goals has been to acquire a diverse population of students. St. John the Baptist serves a wide range of socio-economic groups from all over Boulder County. They offer many financial aid programs. One of their main goals is to provide a Catholic education to any child who wants one…regardless of their background.
St. John's is proud of its nurturing community. They foster the values of respect, dignity, sacrifice, and service. The faculty at St. John's is dedicated to academic excellence, strong morals, and community service initiatives.
St Louis Catholic School 
Grades: K-8th
St. Louis Catholic School follows a liberal arts curriculum. Their goal is to create classrooms where students can be the best version of themselves. St Louis has a full docket of extracurriculars, including some a-typical options. Robotics, sign language, and chess are offered alongside sports and music clubs. St. Louis also has a preschool option and after-school care options for busy parents.
These aren't the only private schools in Boulder County! 
There are 55 private schools, serving over 5,000 students in Boulder County. To learn more, check out this relocation guide put together by the Burgess Boulder realtor group. It will tell you everything you need to know about options for non-religious private schools in Boulder County.