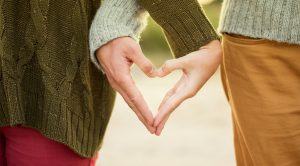 (Psst, our Boulder real estate agents are giving away a coveted Valentine's Day Reservation + $150 gift card to the Kitchen…scroll to the bottom for more details!)
Our Boulder realtor team has their favorites…What are your Valentine's Day traditions?
Will you slap on a pair of heart-shaped glasses? 
Send cute Valentine's cards to all your colleagues and friends? 
Buy a box of truffles and snag a limited reservation at one of Boulder's fine dining eateries? 
Prefer to cook a nice, quiet meal at home? 
Protest any celebrations based on discouraging the quintessential "Hallmark Holiday"? 
We have a friend who sends flowers to his wife's workplace every year on Valentine's Day. His wife doesn't particularly crave flowers. But, without missing a beat, her coworkers always croon over how sweet and thoughtful her husband is. "Aww, I wish my partner would do something like this!" they tell her. And even though she's pretty indifferent about the bouquet…something in her psychology is triggered. It makes her feel lucky and loved. Her husband knows this. He told us he aims to be the standard to which his wife's friends hold their partners accountable. 
I think our friend may be on to something here… 
But also, for this reason, Valentine's Day can be a lot of pressure. We all want to make our loved ones feel special. But not everyone wants roses and a 6 ft tall teddy bear. 
Romance is born when the person we love treats us to something out of the ordinary. But the pressure to think of something creative can be intense. So, the Boulder realtor group at Burgess has put together a list of unique local Boulder Valentines date night ideas for you. There's no need to stress about planning!
Ice Skating 
It doesn't matter if you haven't ice skated before. In fact, it's better if you haven't. Wobbly legs mean more opportunity for hand-holding! Bundle up and take your partner to WinterSkate in Downtown Louisville. Skate under dazzling twinkle lights. When you're finished, take a romantic stroll through historic downtown Louisville. Grab coffee and dessert afterward. 
If you're feeling up for it, take your sweetie to a nearby natural lake rink. There are some breathtaking natural lakes 1hr- 1 hour and 45 minutes away. Since it's a bit of a trek, this is better for a day date (Dare you to say "day-date" 10 times fast!). But who said Valentine's dates must take place at night? Make an adventure out of it!
Take A Night Hike and Picnic 
The next full moon is on February 16th. That means that on Valentine's Day, the moon will only be a few slivers away from max brightness. Treat your date to a moonlit hike. Find a rock to perch on, and enjoy a cheese and crackers picnic while taking in the sparkling city lights below. Be sure to bring a cozy blanket to snuggle under, some hand warmers, and maybe even a thermos of hot cider. 
Here are the best hikes for viewing city lights: 
*Quick disclaimer: 
Night hiking can be dangerous. And nothing ruins a romantic evening like a trip to the ER. Here are some best practices for night hiking:
Take N' Bake A Special Meal
Several Boulder restaurants are offering special "take n bake" options just for the holiday. This way, you'll enjoy a special meal together, while cozied up in your private space at home. Here are the local restaurants offering this treat:  
Pottery Night 
Yea, yeah… we know… this is where we're supposed to insert a joke about that one scene from Ghost.
But pottery is super fun! It can be incredibly romantic to try a new craft with your partner. Get a little messy. Make a few mistakes. Laugh at your lopsided bowl.
Experienced instructors at Boulder Pottery Lab will get you set up on a potter's wheel. When you're finished with your creation they'll glaze and fire your creations. Lessons start at $55 a person. Who knows? Maybe you'll find a new hobby!
Sample Wine and Chocolate Pairings
Pop into Bookcliff Vineyard's tasting room for a special wine and chocolate pairing. Enjoy a trio of perfectly paired decadence. This is a great pre-dinner option. No reservations required. 
Or you can opt for home wine and chocolate pairing through a take-out option with Settembre Cellars.
Reserve A Romantic Dinner 
A dinner date is certainly a timeless option. And it's always fun to dine at a "special occasion restaurant". Order a really nice bottle of wine. Order a bunch of small plates and try a slew of new things. Treat yourself and your partner to whatever decadent dish you've been craving. Here are some local fine dining spots our Boulder real estate agents recommend with special Valentine's offerings:
The Chautauqua Dining Hall 
The dining hall sits at the base of the Flatirons. They're serving a special 4 course Valentine's menu for $55/ person. Or you can opt for an elegant Valentine's Afternoon Tea for $30/ person.
Frasca Food and Wine
Experience an elegant 4-course meal and wine flight at Frasca Food and Wine. Reserve a spot in the indoor dining room… or opt for a unique private dining experience in their heated Alpenglobes.
Flagstaff House
This eatery is so beautiful it's often rented out as a wedding venue. Gorgeous views of the Flatirons and sparkling city lights will be the background for your Valentine's dinner. The chef has prepared a special tasting menu for the occasion.
---
CONTEST TIME
---
Have An Amazing Dinner Date Date… On on Boulder Realtor Team!
To celebrate Valentine's Day we're giving away a $150 dollar gift card to The Kitchen. The winner will also receive a coveted 6:30 reservation. If you've never been to The Kitchen, you're in for a real treat. It has an incredible farm-to-table menu and a city-chic atmosphere. It's the perfect spot for a special occasion.
2nd and 3rd place will win a Burgess Group Swag Bag + Chocolates from Piece, Love and Chocolate
Here's how to enter:
Want To Earn Extra Entries?