Friends,
The Headlines: Locally and nationally, our Boulder realtor team is pleased to report that we've had a lot of new inventory come to market, especially luxury properties.
Buyer demand has been somewhat curbed by higher interest rates. A much calmer real estate market may be ahead.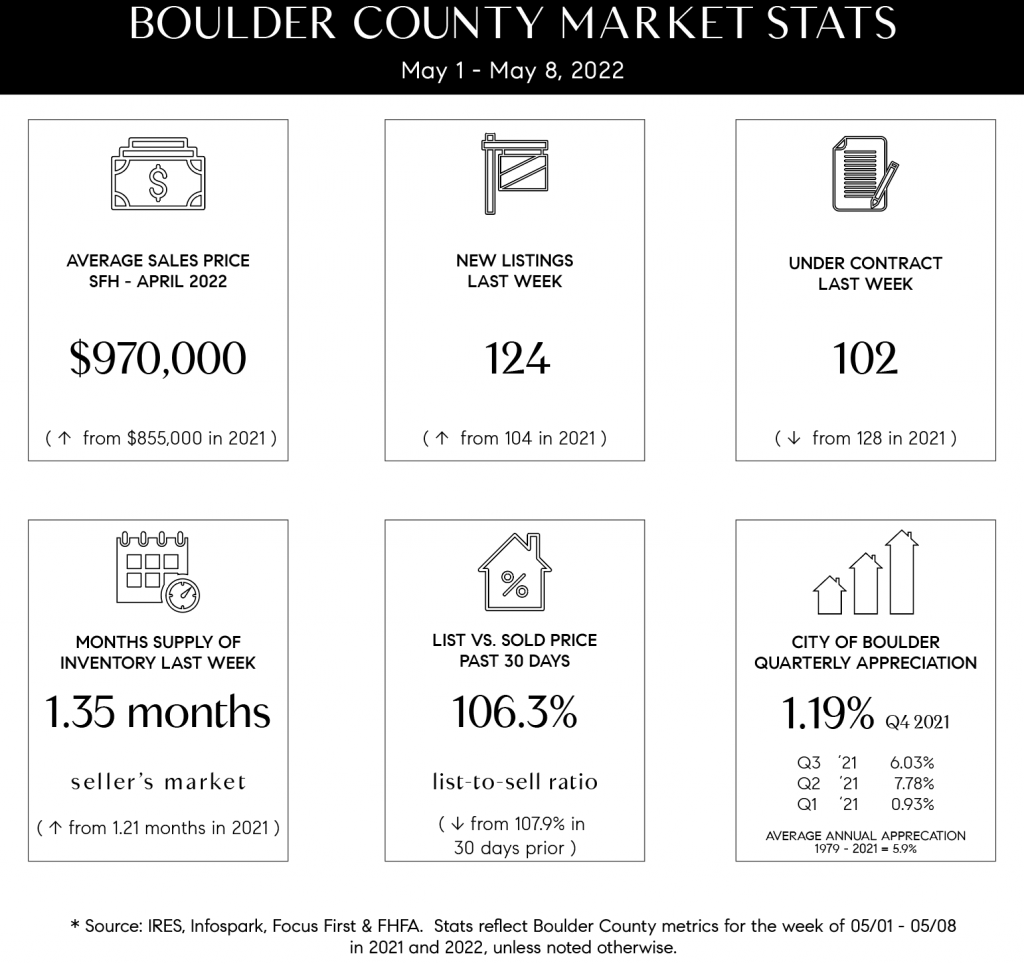 Local Market Update – Boulder County
A big boost for Boulder realtors is indicated with 157 new listings last week, vs 108 in 2018, 86 in 2019, 159 in 2020, and 137 in 2021. We'll discuss what this means below in the price band section.
116 properties went under contract, very much in alignment with 116 in 2018, 120 in 2019, 99 in 2020, and 120 in 2021.
We had 2.01 months' supply of inventory, in comparison with 2018's 1.44, 2019's .97, 2020's 3.18, and 2021's 1.54 MSI. This number quantifies the supply of housing inventory at the current monthly sales pace.
Year-to-date under-contracts for Boulder real estate agents remain lower, with 1499 thus far in 2022.  At this time in 2018, there were 1771 under-contracts; 2019 had 1839; 2020 had 1534; and 2021 had 1784 under-contracts. So, again our total this year is 35 lower than the number we had in 2020, having had 2 months of shutdown under our belts. This reflects the lower inventory that we've had as well as a decrease in buyer demand starting in late April/early May.
Note that inventory is still historically low, but is starting to rebound.
Activity By Price Band – Boulder County
Okay, the really big news here is that the $2.5mm+ market has had 37 new listings in the past two weeks, where 6-15 would be more typical for Boulder County realtors.
Since the great recession, we had many years in which we functioned overall as a seller's market, but when you examined the numbers, the high-end was actually a buyer's or a strong buyer's market.
The 30 and 40% sell-through rates in the past two weeks for $2.5mm+ market show us that buyers are not going under contract at nearly the rate that new listings are coming to market. FYI: a sell-through rate of 100% indicates that there were an equal number of new listings and under-contracts during that week.  A number higher than 100% tells us that more properties went under contract than came to market.
Throughout the various price bands, the under-contract rate has been soft in the past two weeks relative to new listings.
The Boulder realtors at Burgess Group | Compass will keep an eye on the high-end and overall market to keep track of what shifts are occurring.
Also important, the number of price changes keep going up.  Last week we had 55, which is much higher/more normal than the extreme lows of previous months. We typically see the most price changes in the $500k-1mm and $1-1.5mm ranges, as within this data set of single-family residential homes, that is where we have the most inventory. This held true over the last 2 weeks, but every price range had price changes.
Expect our local list-to-sale price ratio to start declining and fewer multiple offer scenarios (down from 66% to 60%).

NAR Reports Existing-Home Sales Retracted 2.4% in April.
Resale homes fell for the third month in a row.
Sales were down 2.4% month-over-month and 5.9% year-over-year.
With fewer buyers going under contract, the national housing inventory of active existing homes climbed to 2.2 months' supply of inventory by the end of April. The
median price for existing-homes is now $391,200.
(Remember that a balanced market has 5-6 months supply of inventory; nationally our overall housing supply still puts us in a seller's market, though a slower-paced and less effervescent seller's market than previously.)
According to Lawrence Yun, the NAR chief economist, "Higher home prices and sharply higher mortgage rates have reduced buyer activity. It looks like more declines are imminent in the upcoming months, and we'll likely return to the pre-pandemic home sales activity after the remarkable surge over the past two years."
Distressed sales – foreclosures and short sales – represented less than 1% of sales in April, equal to the percentage seen in March and down from 2% in April 2021.
Pundits are not expecting a huge increase in foreclosures and short sales due to higher homeowner savings rates and higher home equity.
Second home sales are now on a downward trend and rental rate increases are slowing.
The take-away: the Fed's efforts to slow the economy are working from a housing perspective.  Even though mortgage rates settled lower in the past two weeks than they had been recently, buyer demand is slightly down.  Combine this lower demand with the increased inventory, and we see buyers with a little more power than they've had in the past couple of years.

4843 Country Club Way, Boulder
5 Bed | 4.5 Bath | Sold for $5,500,000
Congratulations to Boulder realtor Tricia Dessel who's recent sale of 4843 Country Club Way broke the Gunbarrel Green record for highest price sold!

With three teenaged boys, Tricia's clients were quickly outgrowing this house.

She developed a comprehensive marketing plan to promote this spectacular home on a premier lot with views.
The home was under contract in 3 days with multiple offers for $300K over the list price. This sale sets a record price point for Gunbarrel Green.
Click here to watch a video recap of this gorgeous home.
Click anywhere below to check out Burgess Group | Compass Boulder realtor team's current exclusive listings.

marketingcenter-colorado-boulder