Friends,
The Headlines: Locally price reductions are increasing; nationally (and locally), buyer demand is waning.
Local Market Update – Boulder County
Our Boulder realtor team reports that 124 new listings came to market last week, vs 135 in 2018, 119 in 2019, 141 in 2020, and 104 in 2021.
Boulder real estate agents had 102 properties go under contract, in contrast with 101 in 2018, 110 in 2019, 74 in 2020, and 128 in 2021.
We had 1.35 months supply of inventory, in comparison with 2018's 2.14, 2019's 1.68, 2020's 2.94, and 2021's 1.21 MSI.
Year-to-date under-contracts remain lower, with 1297 thus far in 2022.  At this time in 2018, there were 1514 under-contracts; 2019 had 1602; 2020 had 1302; and 2021 had 1561 under-contracts. So, our total this year is lower than the number we had in 2020, having had 2 months of shutdown under our belts. This reflects the continued overall lack of inventory in the market; this amount of inventory is improving.
Let's look at inventory from one more perspective.
What is our total single family home inventory?
Activity By Price Band – Boulder County
The sell-through rate in the $2-2.5mm range was slow; shopping in this range may be easier this week according to Boulder County realtors.
Again, our most important indicator here right now is the price change column.  In the last two weeks, Boulder realtors have seen steady increases in price reductions. These price changes are occurring in proportion to the amount of inventory in each price category, with no one segment showing it is slower than the others.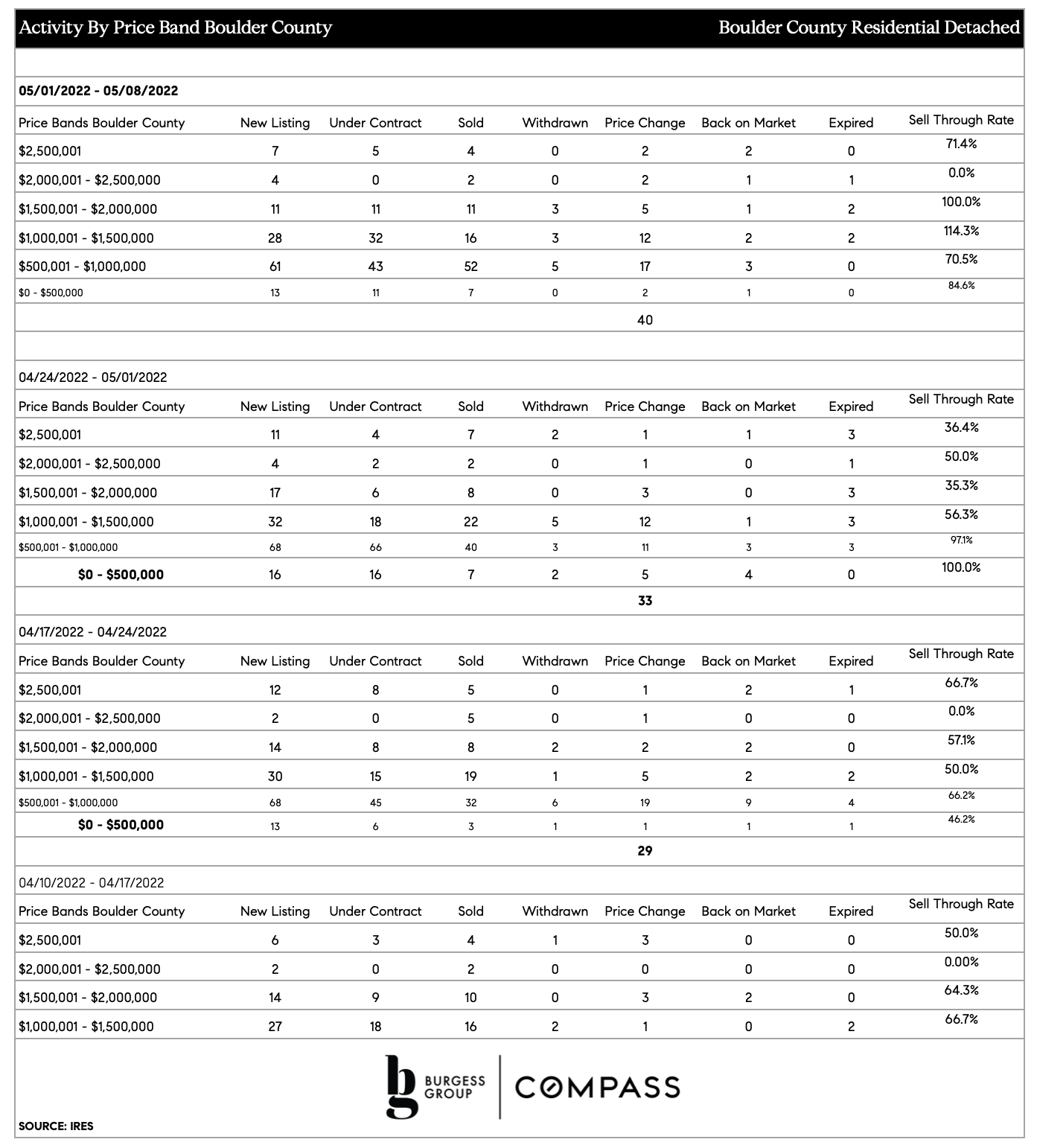 Nationally, buyer demand is on the decline according to the following leading indicators:
Year-over-year, 6% fewer people searched Google for "homes for sale" during the week ending May 7.
According to home touring company ShowingTime, touring activity from the first week of January through May 8 was 30 percentage points behind the same period in 2021.
Mortgage purchase applications were down 8% from a year earlier, while the seasonally-adjusted index increased (as mortgage rates decreased slightly) 5% week-over-week during the week ending
This chart illustrates the decrease in buyer activity that Redfin has found:
Click anywhere below to check out Burgess Group | Compass Boulder realtor team's current exclusive listings.

marketingcenter-colorado-boulder