Friends,
Burgess Group | Compass Boulder realtors report that the real estate market is showing signs of bottoming out and has begun to bounce up, both locally and nationally.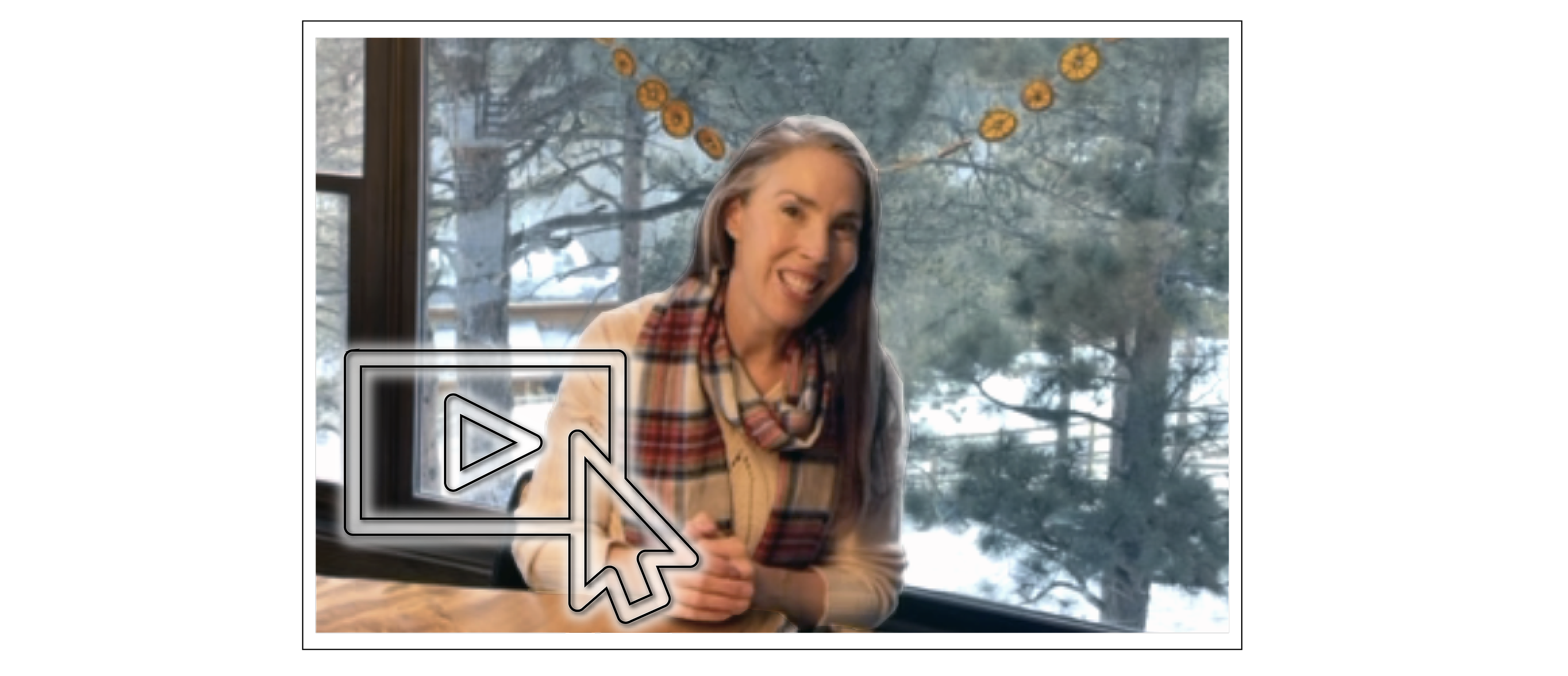 BUYERS
Buyers have a tremendous opportunity right now. Nationally mortgage applications and pending sales are trending up, indicating we've bottomed and are now in a rising market.  Look at the history of the 30-year fixed below going back to 1971. At 6ish % (often lower, ask us for lender info), we're near historic lows. Additionally, look at the chart below of the history of home prices below.
The market hasn't made its full comeback yet, but it will go up again as it has after every slowdown and recession since 1963.  Census data shows a huge bubble of volume of first-time buyers ahead; we still have limited supply. Buyers, get organized and take advantage of the lower competition and prices – this lull may last until the end of the Fed's quantitative tightening is finished, likely in early March or by the end of the spring.
The demanding seller's market will likely be back in place by the end of 2023, with an inventory-short market.
Sellers, the market is looking a little rosier for you.  We still have quite low inventory in most categories and buyers are starting to try to get ahead of the market.
How you prepare your home for market is super important, as there is more competition for buyers right now than we've seen in recent years. That said, our Boulder realtor team is seeing more recent buyer activity and some multiple offers. Let's connect early so that you come to market poised to sell well.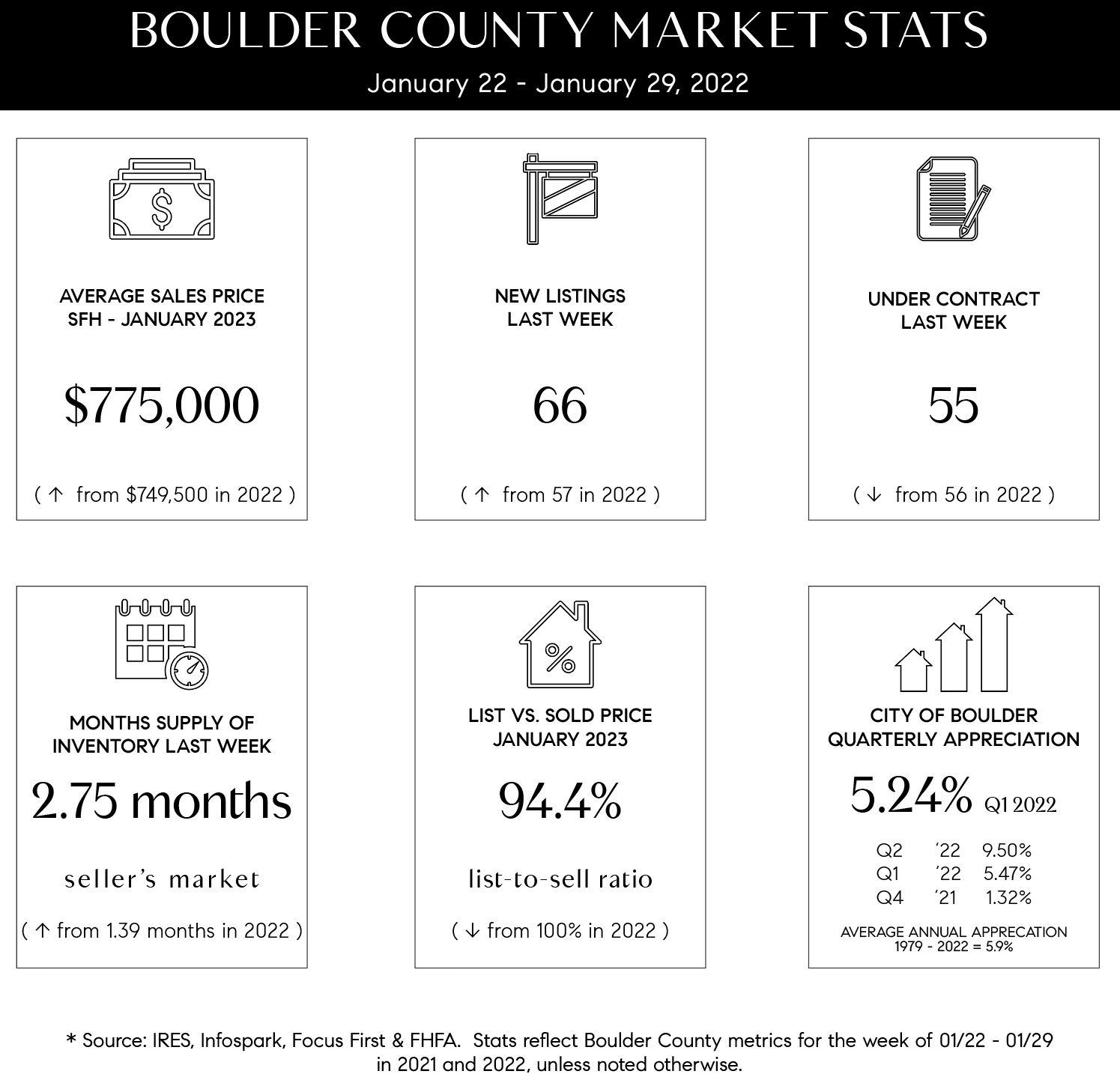 Local Market Details – Boulder County
Boulder real estate agents report on 66 new listings coming to market last week, vs 70 in 2018, 76 in 2019, 93 in 2020, 57 in 2021 and 57 in 2022.  So, last week's new listings were a little better than our inventory starved 2021 and 2022, fairly close to 2018's numbers.
55 properties went under contract, in comparison with 73 in 2018, 76 in 2019, 84 in 2020, 69 in 2021, and 56 in 2022.  So, our under contracts are still lower this year, but if we look at our January 2023 week-over-week numbers, we see an improvement in buyer confidence / stabilization of mortgage rates, as under-contracts have progressed as follows:
25,
48,
42, and last week to
55.  To note, 2022's lower under-contract rate was a result of limited inventory, not low buyer confidence.
Please remember that 2020, 2021 and  2022 were outliers. 2018 and 2019 are more reflective of our historic real estate normals.
Activity By Price Band and Price Reductions- Boulder County
Since the beginning of the year, we've had good activity in all the price bands. Boulder County realtors indicate that the market looks pretty healthy, with buyers active from the very high end down into the condo market.
Price change information will be an important way to assess if the real estate market locally has bottomed and is beginning to improve.
Each week since January 1st, we've had the following price reductions: 15, 32, 25, and 26.  We saw similar numbers in March of 2022, when the market was still very hot and beginning the downturn.  These are a far cry from the 80-100+ weekly price reductions we saw through the summer and fall. Hopefully, these lower price change numbers together with the national trends noted below, indicate that our local market has moved past its lowest point and begun its recovery.
Nationally, there are signs the housing market has bottomed and perhaps is in the beginning of its bounce.
Mortgage rates appear to have stabilized a bit.  As a result, mortgage applications are up.
The National Association of Realtors just released Pending Home Sales data; this data also quantifies this potential shift. As we can see in the chart below, pending home sales have risen at the fastest pace since October 2021.
According to NAR chief economist Lawrence Yun, "This recent low point in home sales activity is likely over. Mortgage rates are the dominant factor driving home sales, and recent declines in rates are clearly helping to stabilize the market."
In addition to applications and pending home sales, United States Census data shows us that there will be a tremendous burst of buyers coming to market soon.
As seen in the chart below, there are 15.3 million adults aged 35 and below who are expected to move from renting to owning in the near future!
What's going on with Mortgage Rates?

Leading Boulder realtor Catherine Burgess sits down and chats with SVP of Mortgage Lending & Branch Manager of Origin Point, Karen Hope to discuss where rates are this week, and where they could be going.

<- Click here to watch the video (less than a minute!)
Click anywhere below to check out Burgess Group | Compass Boulder realtor team's current exclusive listings

marketingcenter-colorado-boulder