Friends,
The Headlines: Locally inventory is improving, and buyer demand is fairly quiet. According to Boulder real estate agents, a soft landing is predicted.
Watch the video below to learn more.
Local Market Update – Boulder County
Our Boulder realtor team is reporting on 102 new listings coming to market last week, vs 85 in 2018, 105 in 2019, 110 in 2020, and 119 in 2021 – a decent amount of listings for late July/early August and in alignment with 2018 and 2019.
71 properties went under contract, in comparison with 70 in 2018, 96 in 2019, 102 in 2020, and 99 in 2021. This is similar to 2018, but substantially below the following three years, reflecting a more temperate buyer approach right now.
Year-to-date under-contracts remain lower, with 2470 thus far in 2022.  This info totally coincides with the local chart below and the chart in the national section below, showing that although inventory is rising, overall we still have low inventory.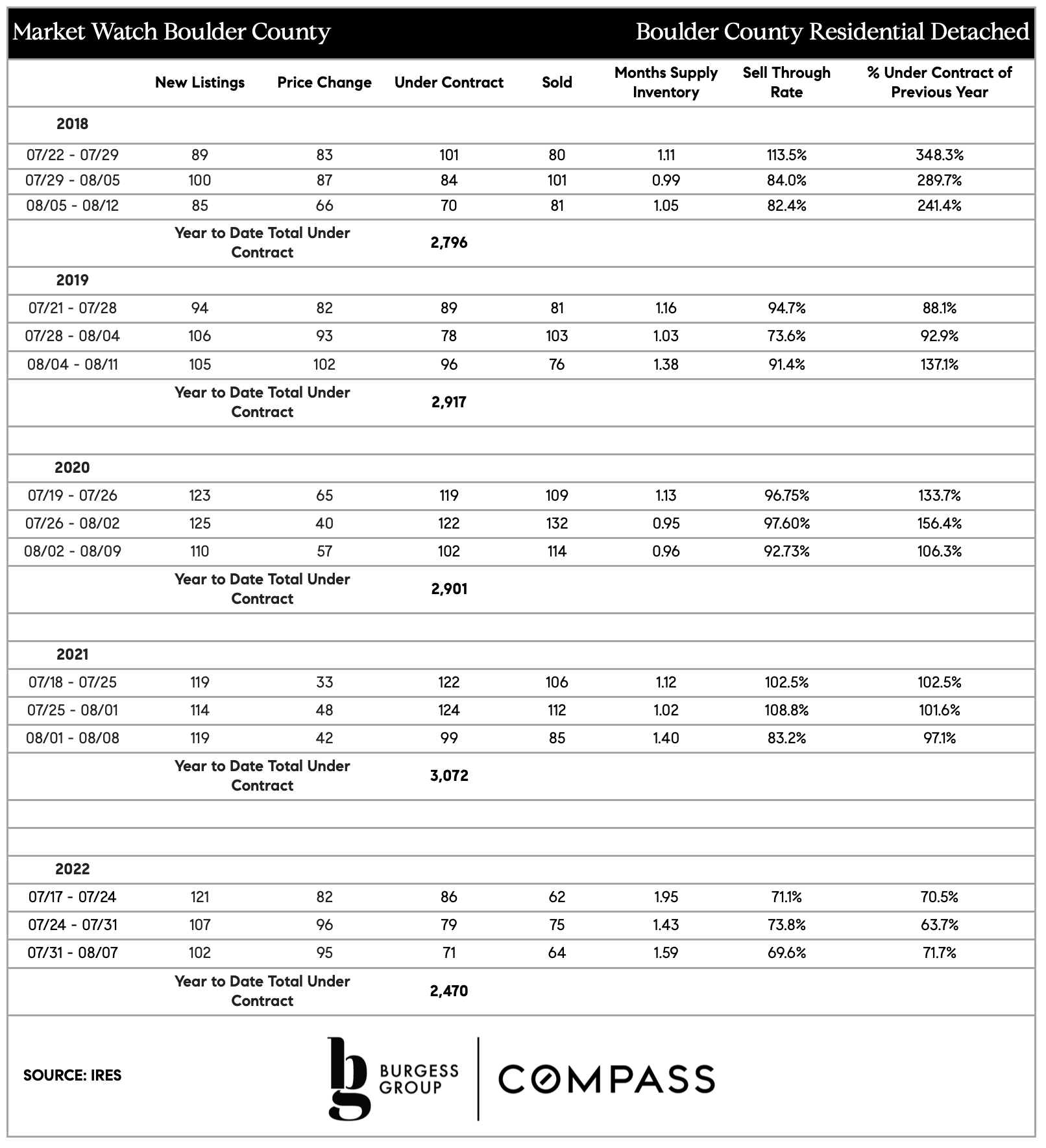 Activity By Price Band – Boulder County
Happily, last week we had a sell-through rate favoring sellers in the $2.5mm+ category.  In other words, the number of under contracts was higher than the number of new listings.  This is hopefully a vote of confidence in our housing market among savvy luxury buyers. Anecdotally, the number of showings in the $2.5mm+ market has increased in recent weeks as well.
Boulder County price changes were close to 100 for the past two weeks. From a trending perspective, the rapid rise in price reductions (that resulted from the abrupt decrease in buyer demand in Q2) that Boulder County realtors saw from April into July has slowed. Price reductions are holding fairly steady, indicating a leveling off of this pricing correction and a leveling in seller confidence.
Locally, buyers have more options than they had at the start of the year. Yes, interest rates are higher, but competition is much lower and prices are softer.  So, buyers, remember the adage "Marry your house, date your interest rate." Move forward now with an awesome property and refinance when rates drop.
Sellers have not flooded the market with inventory, so most of our market is still functioning as a seller's market.  There is more competition than before, so home prep and accurate market-level pricing is more important than ever.
July 2022 Monthly Housing Market Trends Report
Nationally, the inventory of homes actively for sale on a typical day in July increased by 30.7% over the past year, the largest increase in inventory in the data history and higher than last month's growth rate of 18.7% which was itself record-breaking.
Despite this improvement, as the chart below clearly illustrates, active listings lag their pre-pandemic and even early-pandemic level. The number of active listings in July was 15.7% below 2020 and 45.4% lower than the pre-pandemic 2017-2019 average.



The market is not flooding with inventory, nationally or locally.  The economy is strong, unemployment is low. Even with GDP leveling out, homeowners are in good shape.  Buyers should not expect to see panic selling.  Some experts are projecting a soft landing for real estate in the coming year.
Price reductions are leveling out nationally and projected to top out in late October around 40%.
Please note that this national number is very different from what is happening in areas with strong inbound migration and an ultra-hot market. Boulder is currently at a 48% price reduction rate. Boise is in the 60% range. Tampa, Phoenix – all the cities that saw dramatic price appreciation have greater price reductions than cities with less inbound migration such as Cincinnati. So, as you talk to people around the country, experiences will be very different. Keep track of your local and national markets.
Andy Ranks #2 In Boulder County
Three of Burgess Group's Boulder realtors made the Top 200 Realtors list for Boulder County in the Real Producers Magazine for Q2!

Our Tricia Dessel was featured on the cover! Read Tricia's article here.

Andy Burgess placed #2 for production volume among Boulder County realtors. Congratulations, Andy!

As always, thanks to all of YOU, our friends and past clients, who continue to trust our Boulder real estate agents with their buying and selling needs.
Click anywhere below to check out Burgess Group | Compass Boulder realtor team's current exclusive listings.

marketingcenter-colorado-boulder