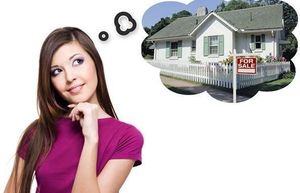 Great WSJ article about the impact of rising interest rates, seller pricing and potential outlook for the housing recover, as follows:
After a yearlong rally, the U.S. housing market is showing signs of cooling as higher prices and interest rates, a slowdown in investor purchases and shortages of homes for sale weigh on one of the economy's brightest sectors.
While few economists and industry watchers believe the housing recovery will stall, there is growing evidence that the exuberance that prompted bidding wars and led to double-digit price gains is easing. Redfin, an online real-estate brokerage, said its agents had multiple bids on 61% of its homes in August, down from 76% in March.
After a yearlong rally, the U.S. housing market is showing signs of cooling as higher prices and interest rates, a slowdown in investor purchases and shortages of homes for sale weigh on one of the economy's brightest sectors.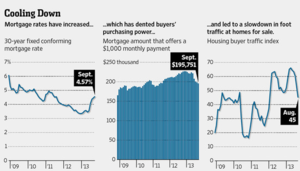 " It's clear there will be some moderation in demand," said Lawrence Yun, chief economist for the National Association of Realtors. He noted that the use of electronic "lockboxes" used by listing agents, an indicator of foot traffic at homes on the market, showed a "measurable decline" during August.
Another measure of home-buyer traffic maintained by Credit Suisse showed traffic fell in August to its lowest level since December 2011.
Some closely watched measures of housing activity, including sales of previously owned homes, may not yet capture the full extent of any slowdown, in part because they measure sales that went under contract earlier in the summer when activity was still robust. The Realtors group is set to report Thursday on existing home sales for August, which will show completed sales of homes that went into contracts one to two months earlier.
The consensus of economists surveyed last week by Dow Jones Newswires estimates that the pace of sales fell to a 5.24 million seasonally adjusted annual rate in August, down about 3% from July but ahead of last year's 4.84 million.
Recent reports by some of the nation's biggest new-home builders look worse. Hovnanian Enterprises Inc. HOV +5.33% last week blamed higher home prices and interest rates on a 12.7% decline in new orders during July and August versus those months last year. "In hindsight, we might have been a little bit aggressive with our price increases," said Ara Hovnanian, the company's chief executive, on an investor call.
New-home sales declined 4% in August from July, according to a survey by John Burns Real Estate Consulting. New-home orders rose by just 1% from a year earlier, compared with year-to-year gains of 11% in July and 25% during the second quarter, according to research firm Zelman & Associates.
Mortgage rates have climbed more than a full percentage point over the past four months, to around 4.8% last week for the average 30-year fixed-rate mortgage from 3.6% in May, as investors predict that the Federal Reserve will wind down measures that had pushed mortgage rates to rock-bottom levels.
When rates began to rise, Federal Reserve Chairman Ben Bernanke said the impact could be offset over time by an improving economy. "One important difference now is that people are more optimistic about housing," he said at a June news conference.
Some real-estate agents believe new homes will be hurt more than existing homes because builders have been more aggressive in raising prices on new homes and because buyers can't close quickly on homes that haven't been built.
Buyers "want to lock something in before the rate gets away from them," said Brett Dickinson, a real-estate agent with Sotheby's International Realty in San Diego.
To be sure, there is often a slowdown in real-estate sales between the summer and fall, as school starts up and families look to stay put. And some real-estate agents welcome a slowdown because it eases their fears that prices were rising too fast.
"The market is having a bit of a hangover. We partied pretty hard, and you can't go on partying like that all the time," said Greg Markov, a real-estate agent with HomeSmart International in Phoenix.
Some agents say the biggest problem in the market is "seller greed"—that is, sellers pricing their homes too high, said Jim Klinge, a real-estate agent in Carlsbad, Calif. Faced with rising rates, buyers aren't going for higher prices. "They don't realize our 12- to 18-month full-tilt boogie is over," he said.
While higher rates and prices are knocking marginal buyers out of the market, others, like Ghalib and Nancy Wahidi, will remain in the market but look for a less expensive house. The Wahidis' original price range topped out at $1.2 million, but they reduced it after rates went up, said Dr. Wahidi, a 38-year-old physician. They are set to close this week on a four-bedroom $1.03 million home in Ladera Ranch, Calif., around 4% below its original list price.
Sarah Withers and her husband accelerated their decision to buy a home in August after rates increased. She said they are willing to pay $1,000 to get out of their apartment lease, which runs through next April. Last week, they signed a contract to buy a three-bedroom townhouse for $115,000. After the house sat on the market for a month, the sellers reduced the price, drawing four offers.
"We don't believe that the recent increases in mortgage rate are going to in any way, shape or form snuff out the housing recovery," said Timothy Sloan, chief financial officer at Wells Fargo & Co., at an investor conference last week. It wasn't logical, he added, to expect double-digit price gains to last forever.
Still, any slowdown in home construction could take a bite out of the economy's already slow growth rate. Steve Capen, a real-estate broker with Keller Williams Realty in St. Petersburg, Fla., had planned on hiring another agent or assistant this year. "Now, there wouldn't be a need for it," he said. "We have to work harder to find the buyers."
To some extent, the housing market has become a victim of its surprising success. The inventory of existing homes for sale has plunged to a 4.8-month supply in July from twice that in July 2010, according to the Realtors' group. Inventory has risen six straight months even after adjusting for seasonal factors, according to Trulia, a real-estate listings service, but it remains low by historical levels, frustrating some buyers.
Brian Burt's biggest complaint is the lack of attractive homes on the market in Scottsdale, Ariz. "They're pretty few and far between," said the 40-year-old lawyer. He recently narrowed his search to homes that don't need any renovations. "When you're looking at rates hovering around 5%, it really takes a bite out of your buying power," he said.
At the same time, prices have ramped up so fast that investors, whose purchases helped ignite the recovery, have pulled back.
Nationally, the share of investors buying homes was 18% in July, down from 20% one year earlier, according to the Campbell Housing Pulse Survey.
In Phoenix, one of the nation's hottest markets for investors, the share of sales to out-of-state buyers fell to 17% in August, down from 21% last year and 25% in 2011, according to data tracked by Mike Orr, a housing analyst at Arizona State University in Tempe, Ariz. Several investors "appear to have lost interest," he said.