The Burgess Group Boulder realtor team wants to know; What are your holiday traditions? Do you have candy cane coffee every morning? Cookie tins filled to the brim? A giant inflatable snowman in your yard? Everybody has a tradition they love. The town of Boulder is no exception.
Our holiday annual traditions are inclusive and festive. It makes December in Boulder a magical time. Heavy snowfall makes the Flatirons look like a snapped-off piece of peppermint bark. Between the snow-capped mountains, a bustling city center, and twinkling evening lights, Boulder feels like you've stepped right into a Hallmark movie. For this reason, Boulder was ranked number 6 on the 25 best places to spend the holidays in the USA.
Our Boulder real estate agents present a list of all the different ways you can celebrate the Holidays in Boulder this year:
Catch Up With Santa at St. Nick's On The Bricks 
When?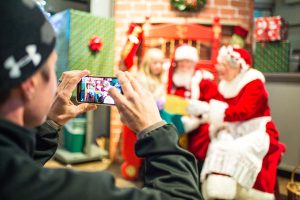 Saturday, December 4 2021 11am- 2pm 
Saturday, December 11 2021 11am-2pm 
Saturday December 18, 2021 11am- 2pm
Where? 
1300 Pearl Street 
Kids (and adults with a tendency towards Peter Pan Syndrome) can visit Mr. and Mrs. Claus. Be ready-this is your opportunity to plead your "nice list" case. Santa always welcomes a photo opportunity. Be sure to bundle up. Unless there is extreme participation, this will be an outdoor-only event.
After you've given Santa a firm handshake, hop aboard the Snowflake Express for a themed holiday ride. The last train leaves at 2 pm.
Boogie Down at the Lights of December Parade 
When? 
Saturday, December 4, 2021 at 6:00 pm 
Where? 
The parade starts at 15th & Walnut Street and finishes at 15th and Spruce Street.
Local businesses, schools, community groups, and nonprofits spend months creating their floats for this annual parade. Spectators can dance, cheer, and enjoy the displays of local creativity.
Stroll Through the Snow Much Fun Light Displays 
When?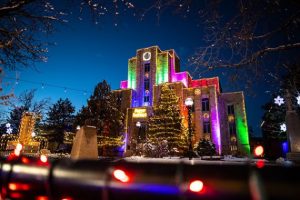 Friday, December 3, 2021 5pm-7pm
Friday, December 10, 2021 5pm-7pm
Friday, December 17, 2021 5pm-7pm 
Where? 
Downtown Boulder and the Civic Area. View map. 
"Boulder… there's just something about you… you're really glowing lately."
"Oh, that? Yes, it's just the 275,000 LEDs I installed. No big deal."
Listen to any Boulder realtor and they'll tell you, the Snow Much fun light display is possibly the most magical holiday tradition in Boulder. It's hard to choose a favorite installment. Gumdrop Lane? Rainbow Road? Rainbow Bridge? This is the fuel that makes the holidays the most wonderful time of the year. Use the map to create a self-guided tour for yourself. Stop by the Glen Huntington Bandshell whenever you're ready for warm refreshments and caroling.  
Be Amazed by CU's Holiday Festival 
When?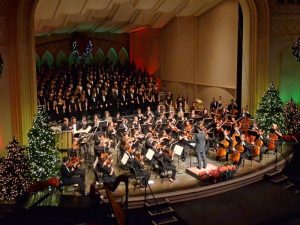 Friday, December 3, 2021, 7:30 PM 
Saturday, December 4, 2021, at 1:00 pm and 4:00 pm 
Sunday, December 5, 2021, at 4:00 pm 
Where? 
The University Of Colorado's Macky Auditorium 
The CU Holiday Festival is a concert series that is a gorgeous display of local musical talent. Chamber singers, Orchestras, Jazz ensembles, a West African Highlife Ensemble, and a string quartet will be performing this year. 
Step into another world at Chautauqua Winterfest 
When? 
December 10-12, 2021 
Where? 
Chautauqua Park 
The folks at Chautauqua have created the ultimate seasonal celebration. This 3-day event is a big production that doesn't disappoint. Here's what you can expect:
Horse Drawn Carriage Rides. Enjoy sparkling lights and snow-capped flatiron views as you sip hot cocoa under piles of blankets.

Visits with Santa at the Chautauqua cottage

Cookies and crafts by a crackling fire

An interactive scavenger hunt with puzzles, riddles, trivia, and great prizes.

Holiday concert

A Festival of lights

A delicious breakfast buffet at the Chautauqua Dining Hall

Historic Cottage Tour

The Winterfest market, with locally curated treasures (that make great gifts!)

Art in the park

Winter mountain hikes

History tours
Get your Winterfest Tickets here.
The ultimate festival of lights: Chanukah on Pearl Street
When? 
Thursday, December 2, 2021 
Where? 
1300 Pearl Street 
Join in for a community Menorah Lighting. Activities include:
Live music

Hot chocolate

Menorah lighting

Sufganiyot (jelly donuts)

Oher classic Chanukah dishes.  This is an outdoor event, so be sure to wear layers! 
Play Freezie BINGO and Celebrate Freezie Fest 
When? 
Saturday, December 11, 2021, at 5:30 pm
Where? 
1942 Broadway Ste 301, Boulder CO 
Freezie is a small, plush snowman wearing a red T-shirt. He can be found hidden in local businesses all around town. For weeks, locals, including our Boulder real estate agents, will search for Freezie and slowly fill out a Freezie BINGO card. The scavenger hunt ends in a celebration on December 11th. A winner of Freezie BINGO will be awarded a $25 gift card. At the celebration, you'll be able to:
Build a snowman

Snap a photo with a life-sized version of Freezie

Take a holiday train ride

Play reindeer games.
Local Holiday Beverages 
Is there a better way to celebrate the holidays than by toasting your favorite winter warmer? Here are a few seasonal local creations to pop open this year:
Happy Holidays from The Burgess Group | Compass Boulder Realtor Team
One perk for Boulder Real Estate Agents working here is that it's connected us to the community in beautiful ways we could have never imagined. We feel a strong connection to this city and all its wonderful people. The holidays are the time to be thankful. And we are so thankful for you! Genuine, warmest wishes from everyone at the Burgess Group | Compass team of Boulder County realtors.