Friends,
The market is stabilizing. This was our best week yet this year.
YOUR WEEKLY BELLY LAUGH:
Do you love pranks as much as we do? Enjoy these elaborate pranks before we dig into the market.
---
 BOULDER COUNTY REAL ESTATE MICRO DATA:
---
Boulder County Stats 6/7-6/14/2020
---
Last week we had 129 new listings, with 132 properties going under contract, creating a 102.3% sell-through rate.
This means that our market has been really strong for 8 weeks in a row.
For the first time in months, our sold number is back up in the 90s. This number is in alignment with the best weeks of 2019. We're expecting to see more of this strength in coming weeks.
---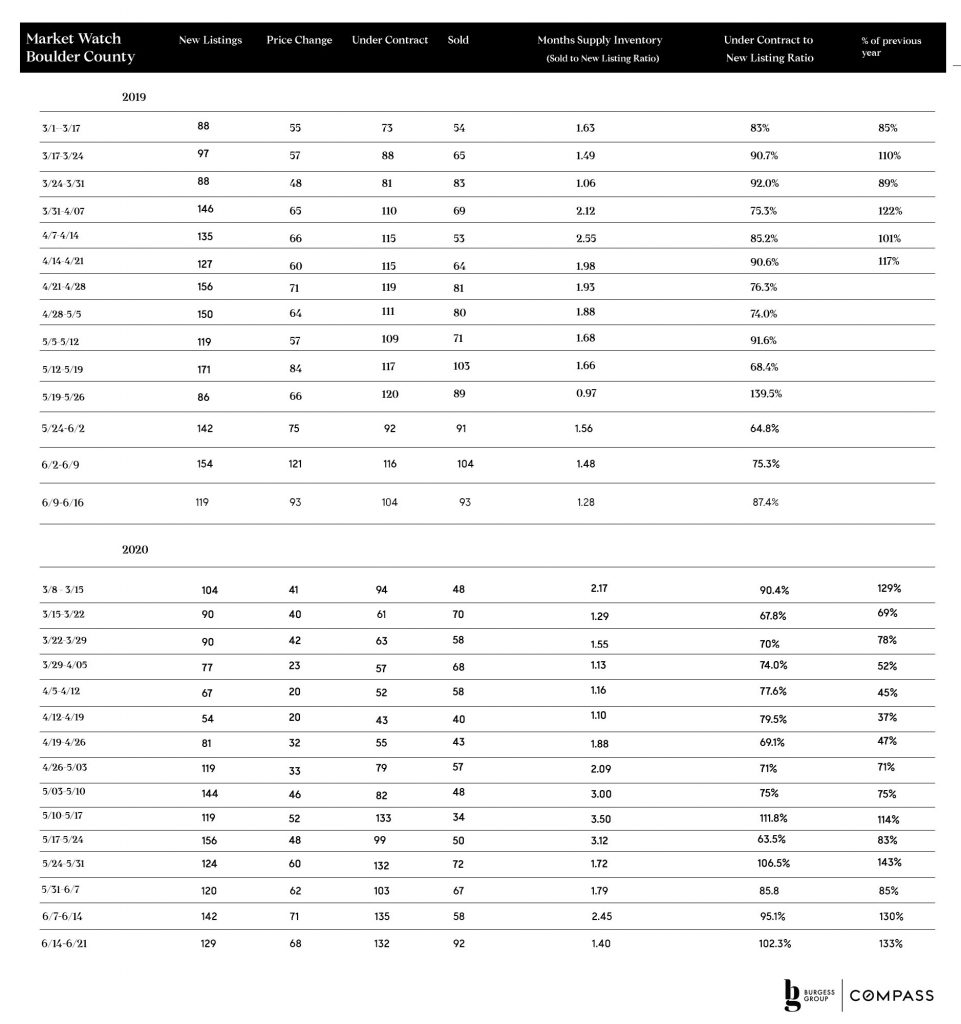 ---
The relationship between new listings and under-contracts was solid last week in all price ranges, indicating great balance right now in our marketplace.
Even at the top end of the market, we saw a 71% sell-through ratio, with strong inventory coming on.
If you look at how last week's numbers compare with the bottom of our market in the middle of April, you see an enormous difference in the number of listings and the number of properties going under contract.
Progress!
(Sell-Through Rate is the Under-Contract to New Listing Ratio.)
---
---
Have Local Prices Gone Down or Up?
---
Shown below, median prices are up .9% for "under contracts," down .9% for "solds," and up 4% for "for sales."
When thinking about this, keep in mind what we learned last week about median prices.
During March and April, we had almost no activity in the high-end/luxury market, which shifted median prices down. Now that we are having more normal activity in the high-end/luxury home market, it is moving the median "for sale" prices higher. Right now, median numbers are pretty skewed as a ripple effect from COVID.
Practically speaking, what we're seeing in the marketplace is that turnkey "cream puff" homes in the under $1.5mm market are often getting multiple offers and selling 5-7% above asking, sometimes up to 10% above asking in recent weeks.
Homes that are not in cream puff condition may be selling at asking or below asking, depending on condition. Right now, many buyers are not showing an appetite for projects, though investors are definitely looking for great deals on properties to redo.
So sellers, note that buyers may feel daunted to do big projects right now because they're unclear how permitting will work with the reduced city and county staff, how the supply chain will perform, if there will be reasonably-priced labor available, etc due to COVID.
---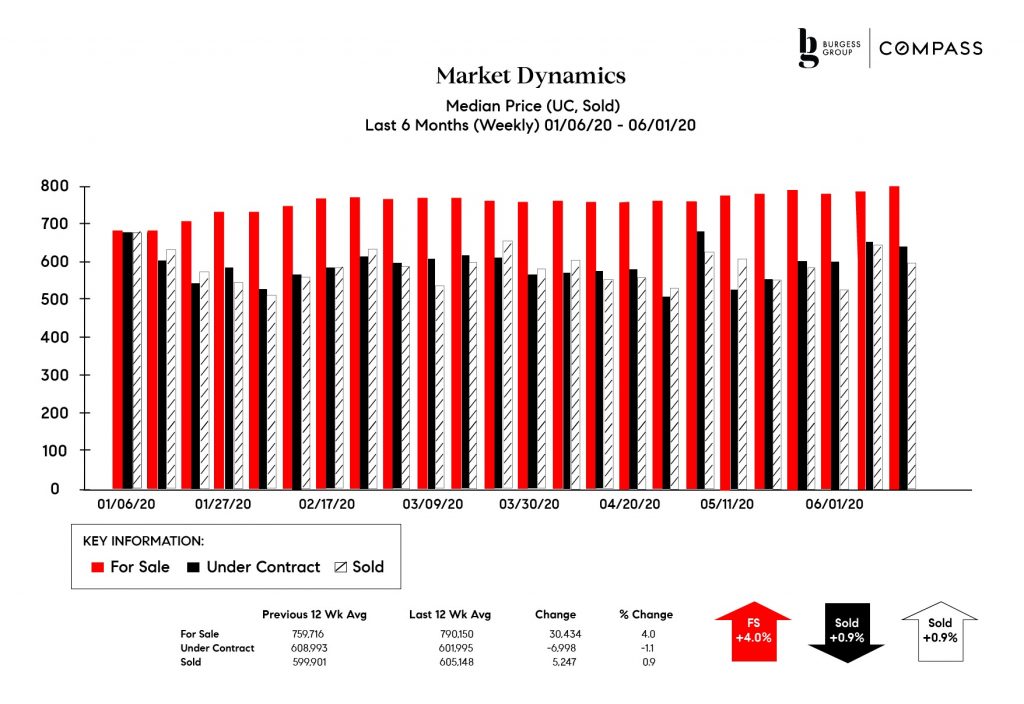 ---
So What is a Cream Puff??
---
4695 Osage Drive, Boulder is a great example of a cream puff. (This is a new listing of ours that is going live in minutes, stay tuned.) It is extensively remodeled, painted/staged to appeal to today's buyers, with loads of light, an enormous lot, in an award-winning school district, close to mountain trails and the freeway to Denver.
In other words, a cream puff is super easy to fall in love with and to move into.
Marketing/advertising is a big part of the special sauce for making a cream puff; a property frequently needs excellent marketing/advertising to be recognized by the market as extraordinary. Click here for video, Matterport, floorplans, and photos of this gorgeous home.
---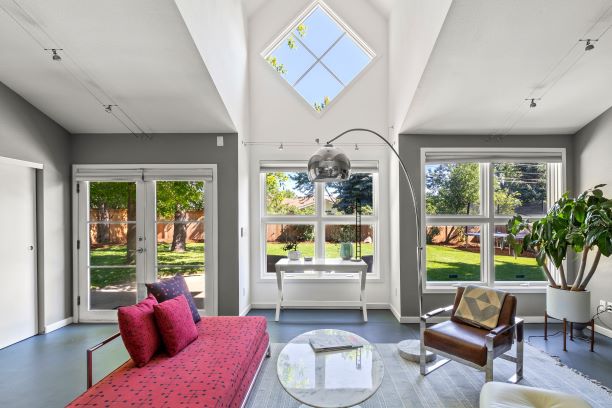 ---
Local Real Estate In A Nutshell
---
We've come a long way since April. This was our best week yet.
---
MACRO DATA:
---
How is northern CO doing relative to the nation?
---
Take a gander at the charts below, created by our favorite real estate tech analyst, Mike DelPrete.
There are some surprises here, especially relative to the top and bottom of these charts. We all knew NY was having a tough time, but SF and LA are more unexpected. Our third coastal city, Chicago, is surprisingly topping the (7-day rolling) pending sales chart.
Northern CO looks pretty healthy from this vantage point as well.
---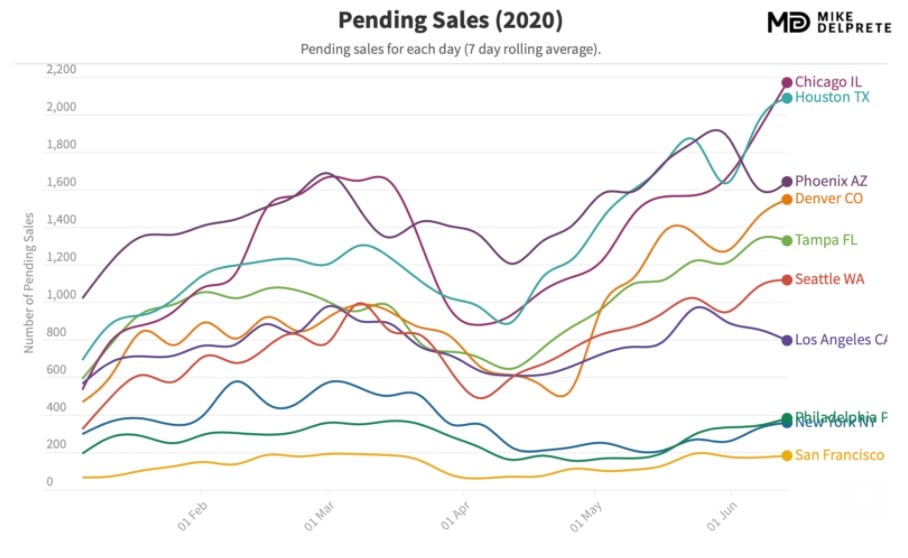 ---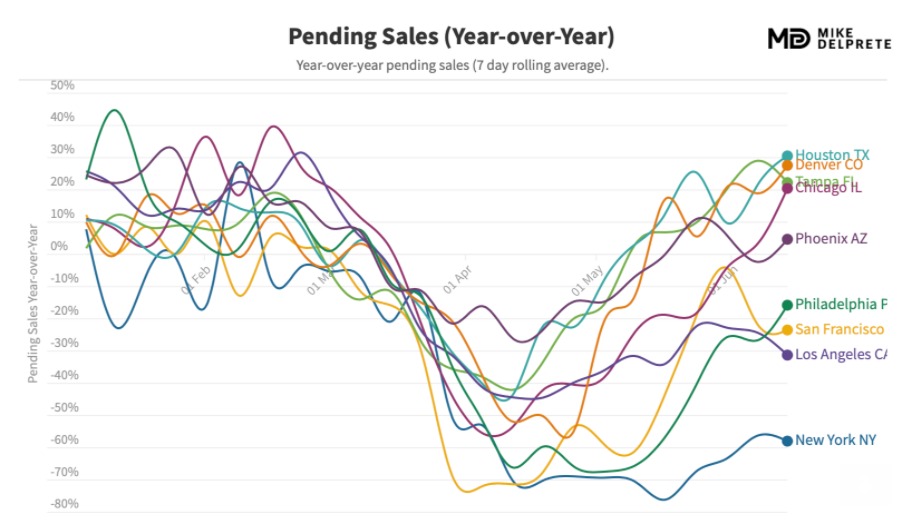 ---
Freddie Mac: Mortgage Serious Delinquency Rate increased in May, Highest in 2 Years
While Not Quite McMansions, Larger Homes in the U.S. Are Making a Comeback
Invitation Homes CEO on suburban housing boom, protection for renters
---
Wishing you health. Call us with questions.
---
Associate Real Estate Broker
303.301.4718
[email protected]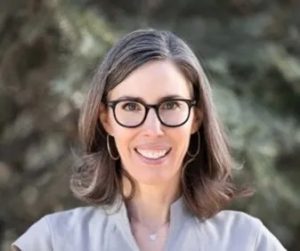 CATHERINE BURGESS
Associate Real Estate Broker
303.506.5669
[email protected]

© Compass 2020 ¦ All Rights Reserved by Compass ¦ Made in NYC
​​​​​​​Compass is a licensed real estate broker and abides by Equal Housing Opportunity laws. All material presented herein is intended for informational purposes only. Information is compiled from sources deemed reliable but is subject to errors, omissions, changes in price, condition, sale, or withdrawal without notice. No statement is made as to accuracy of any description. All measurements and square footages are approximate. This is not intended to solicit property already listed. Nothing herein shall be construed as legal, accounting or other professional advice outside the realm of real estate brokerage.