Friends,
Holy crow! Our market is still flying.
Before we get into the numbers, since our weather is changing, here is a tutorial about how to defrost your windows twice as fast using SCIENCE.
---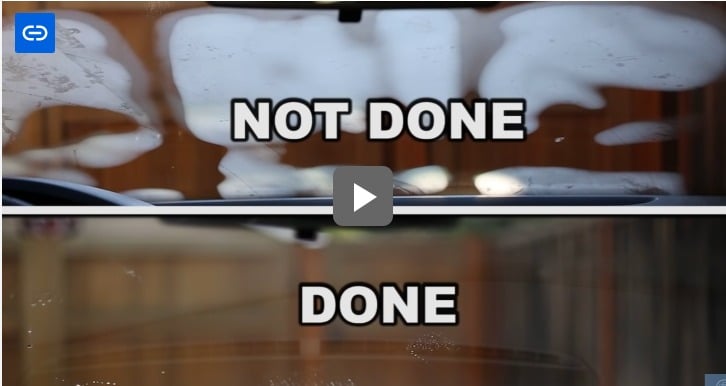 ---
BOULDER COUNTY REAL ESTATE MICRO DATA:
---
Boulder County Stats 8/30/2020-9/06/2020
---
THE AGGREGATE MARKET:
This week the number of new listings held steady relative to the week before (otherwise known as week over week, or WoW). Listings were 7 under what we saw the same week in 2019 (otherwise known as year over year, or YoY).
Under contracts popped up to 117 from 96 last week, and up from 74 in 2019. Wow. Remember, under-contracts are a coincident indicator (not leading or lagging), telling us about what is happening in the market now. This high-under contract rate reflects the general frothiness of the market right now.
Price changes are not changing much WoW, and relative to 2019 we're seeing about 30 fewer price changes per week. Sellers are trying to get their prices without price reductions.
Sellers, we are seeing slightly wider list-to-sale price ratios right now. People are sometimes offering 3-5% below asking price, whereas 1-2% of asking price has been the norm for the past 10 years. If you don't get any offers and you've been on the market for some time, the market is telling you to adjust your pricing down and/or condition up so that you're in alignment with market value.
Otherwise, be prepared to wait for the market to rise to your price. We are not yet seeing the extreme price inflation which some other parts of the country are experiencing.
---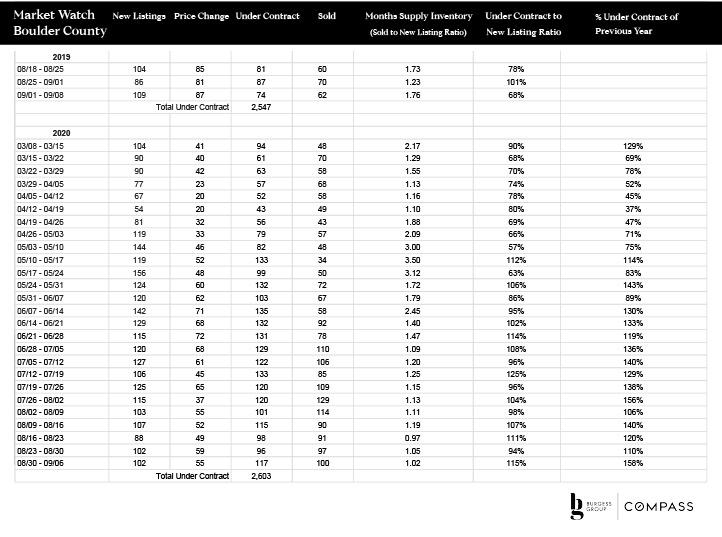 ---
THE MARKET BY PRICE BAND:
From studying our price bands over the last 9 months, we know that inventory in the 0-$1mm market is very thin. We are seeing limited price inflation in this range, particularly on 'cream puffs.'
That said, since we've had many weeks where we've had more luxury listings than under-contracts, it made sense to do a review of luxury inventory.
Remember that a balanced market has 5-6 months of inventory, meaning that if no new properties came to market, all inventory would be purchased within 5-6 months. Below 5 months is a seller's market. Above 6 months is a buyer's market.
Boulder County: 17.5 months of $2mm+ inventory
Mapleton Hill: (info incoming – call if you need this)
Newlands: 4.3 months of $2mm+ inventory
Upper Chautauqua: 6 months of $2mm+ inventory
Whittier: 4 months of $2mm+ inventory
Alpine to Dewey: 3 months of $2mm+ inventory
Upper Table Mesa: 0 months of $2mm+ inventory (TM has little luxury inventory relative to other parts of town)
In other words, now is a buy opportunity for luxury homes outside of the City of Boulder in Boulder County. Inside the City of Boulder, we're functioning at a balanced market to a tight seller's market, depending on part of town.
---
Local Real Estate In A Nutshell
---
It is a good time to sell across the board.
Buyers, it may be a good time to buy properties that have been resisting price changes. The top market will be easier for you to make headway in, the lower market may be challenging.
Bring your A-game, buyers. Don't get super attached to properties before you are under-contract; you may need emotional durability to get to closing in this market. Also know that if sellers have a backup offer, they may not be willing to negotiate during the contract.
---
NATIONAL MACRO DATA:
---
Compass CEO Robert Refkin's CNBC interview about changing real estate trends during the pandemic
---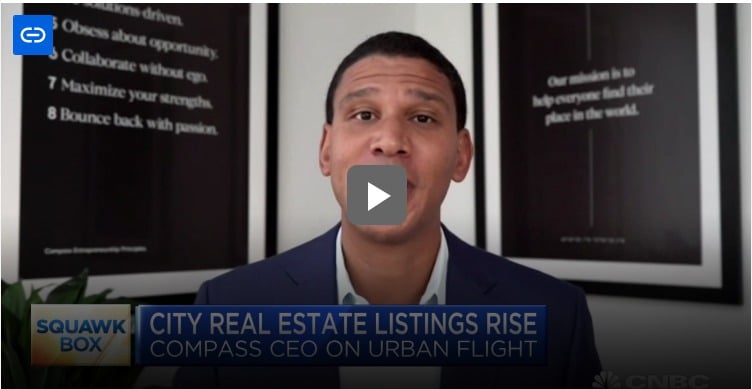 ---
Covid-19 mortgage bailouts decline slightly, but a new foreclosure crisis could be brewing
Low inventory and increasing prices catching up with the housing market, says economist
Manhattan rental market plunges, leaving 15,000 empty apartments in August
---
Broker
M: 303.506.5669
[email protected]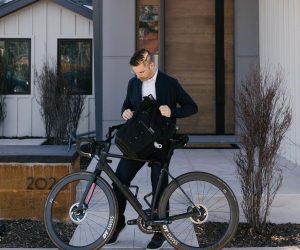 Andy Burgess
Broker
M: 303.301.4718
[email protected]

---

---
Wishing you health. Call us with questions.
---
© Compass 2020 ¦ All Rights Reserved by Compass ¦ Made in NYC
Compass is a licensed real estate broker and abides by Equal Housing Opportunity laws. All material presented herein is intended for informational purposes only. Information is compiled from sources deemed reliable but is subject to errors, omissions, changes in price, condition, sale, or withdrawal without notice. No statement is made as to accuracy of any description. All measurements and square footages are approximate. This is not intended to solicit property already listed. Nothing herein shall be construed as legal, accounting or other professional advice outside the realm of real estate brokerage.