Winter Snowshowers Bring Frontrange Flowers 
Blankets of snow have begun to melt in the high country, giving dormant wildflowers a much-needed drink of water. Refreshed, they begin poking their lovely heads out of the ground in April. Now that it's May, a blanket of delicate blossoms covers mountainside meadows and forests. Wildflowers will continue to be part of our vistas until the first snowfall in October. But May brings the largest wave, making it an ideal month for hiking and photography. A smattering of wildflowers can be found on almost all of Boulder's trails. But to help you find the best spots, our Boulder realtor team has put together a guide to the areas with the most wildflower activity in Boulder.
But First— Brush Up On Your Trail Etiquette
Stay on the trail
It's so tempting to run through a field of wildflowers with your arms open and the sun kissing your face…. But you should know that that's against LNT principles. Even just walking through wildflower fields tramples the little beauties. We love the wildflowers. We want them to grow back forever! Please stick to the trail. 
Look
—
but don't pick!
It's also illegal to pick wildflowers in Colorado. Some are so rare that they are protected by the state. It's a hefty fine if you get caught, and it endangers their future growth. 
Actually… don't even touch them
And DEFINITELY don't eat them! Hopefully, this goes without saying… but it's important to mention if you're hiking with a four-legged friend. Some of Colorado's wildflowers are deadly (some even through touch). To play it safe, wear long pants and boots on your adventure. Larkspur, Death Camas, and the Western Water Hemlock are the most common poisonous local wildflowers to avoid. 
Common Poisonous Wildflowers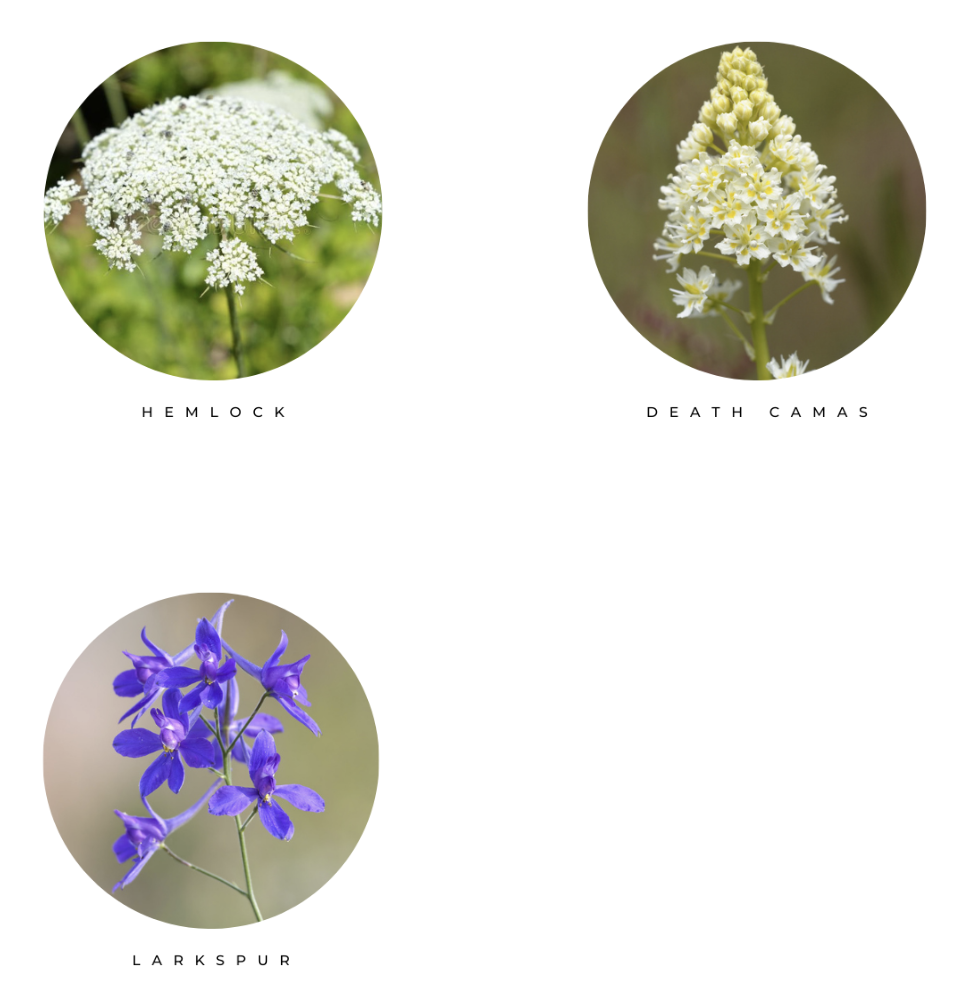 Boulder's Best Wildflower Trails
Mesa Trail 
Distance: 13.2  miles out-and-back
Difficulty: Moderate
Elevation Gain: 2,631 feet
Predominant Wildflowers: Western spring beauty, wild iris, mariposa lily, perennial sweetpea, wild geranium, crested prickly poppy. 
What Makes It Great: The Mesa Trail follows the base of Boulder's foothills and mountains. It's relatively flat, but the views just don't quit. You'll be under the shadow of a mountain the entire time. There are a few different trailhead options (and connector trail options) so you don't have to stick to the main trail if you don't want to. You can simply follow the wildflowers.  
Goshawk Ridge and Fowler Loop 
Distance: 4.1-mile loop 
Difficulty: Easy
Elevation Gain: 734 feet
Predominant Wildflowers: wild bergamot, sugar bowls, pasque flowers, wild iris
What Makes It Great: One of the best day loops in Eldorado Canyon State Park. This trail will lead you through craggy rock formations and wildflower meadows filled with fragrant wild bergamot. Stop to dip your feet in the creek when you need a break. 
Gregory Canyon Loop
Distance: 3.6 miles
Difficulty: Moderate
Elevation Gain: 1,197 ft
Predominant Wildflowers: Oregon grape, pasque flowers, tiny blue-eyed Mary, evening primrose, lance-leaved chiming bells.
What Makes It Great: Steep, rocky switchbacks will lead you to a ridge with incredible panoramas. If you prefer a shorter hike, you can opt to turn around when you reach Realization point at the summit of Flagstaff Mountain. 
Shanahan Ridge 
Distance: 4.2-mile loop
Difficulty: Moderate
Elevation Gain: 807 feet
Predominant Wildflowers: pasque flowers, western wallflowers, chiming bells.
What Makes It Great: Sunlight-dappled pine forest trails wind you up and around Shanahan Ridge. Payoffs include wildflower meadows and stunning views of Bear Peak and Devil's Thumb. 
Green Mountain Via the Ranger Trail 
Distance: 4.1 mile loop 
Difficulty: Challenging
Elevation Gain: 1,486
Predominant Wildflowers: Wild bergamot, Canada violet, larkspur, wood rose.
What Makes It Great: This route is steep and challenging, but staggering summit views and butterfly-kissed wildflowers will be your motivator. It will feel like a true escape into the wilderness. This trail is shady almost the entire way up, making it a great option for hot summer days. 
How to Identify Wildflowers
There are over 750 types of wildflowers in Colorado. That's a lot to memorize! If you're interested to know what you're looking at, there are a few plant identification tools that the Boulder realtor team at Burgess Group | Compass recommends using.
Colorado Rocky Mountain Wildflower App
All proceeds from this app support the Colorado Native Plant Society. It's a great tool that can help you identify flowers, shrubs, trees, and ferns in our region. This app only works on iOS
If you own a Google Pixel phone, this app is already incorporated into your device. But not to fear, it's free for anyone else to download too. Simply take a picture of the plant you're looking to identify, press a button, and Google will scan its archives to guide you to the identifying place. It's not limited to plants, either- you can use this for bugs, animals, food, whatever!
iNaturalist gathers crowdsourced information from its over 5 million users. Over 343,000 species have been observed so far. It's a great way to learn about the wildflowers you're seeing… while also contributing to a community of knowledge.
Common Wildflowers in the Front Range