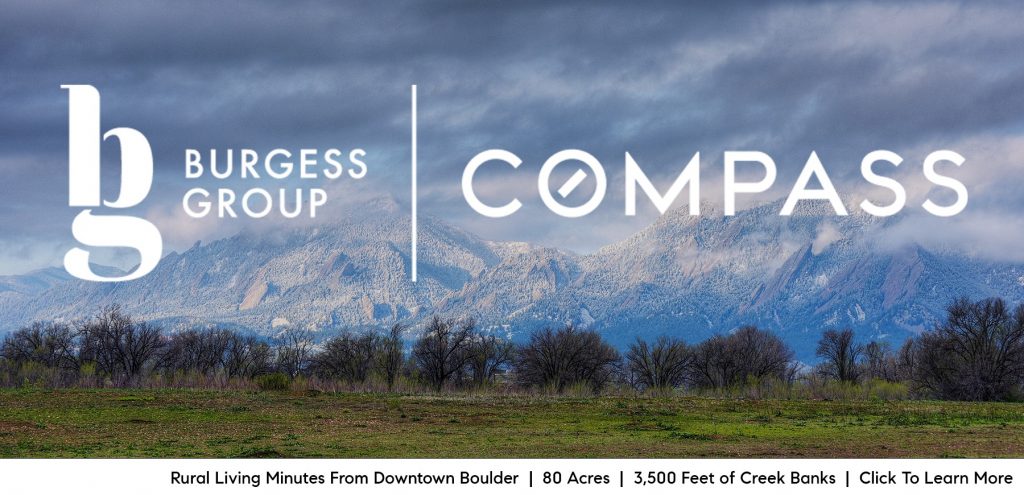 ---
Friends,
Hallelujah! Inventory went up last week, making real estate a little bit easier for buyers.
---
Boulder County Real Estate Statistics and National Real Estate Predictions for 2021
---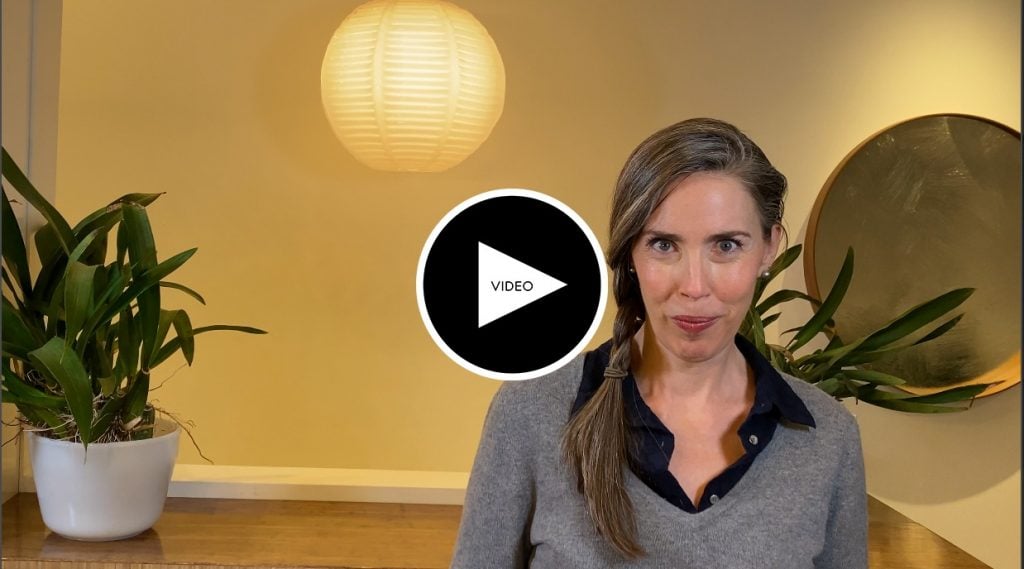 ---
Burgess Group Compass Exclusive Listings
---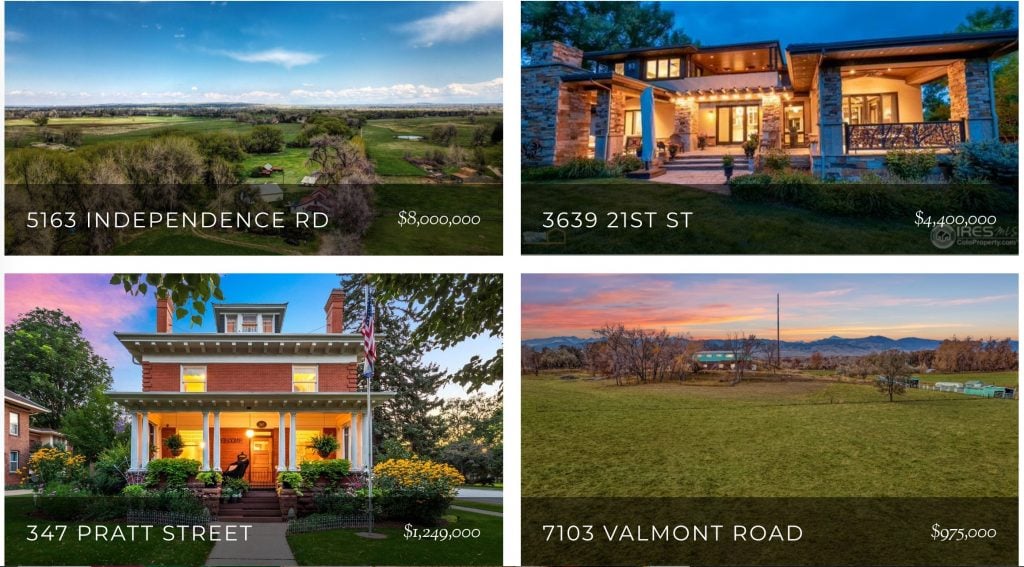 ---
Five Questions With…
---

---
Our new blog series, "Five Questions With…" will introduce you to the diverse set of humans who make up the Burgess Group Real Estate Team.
This week, Andy Burgess chats about his love for cycling, his role as ride leader on the Rapha Team, and also how his friend Meredith Miller motivates and inspires him.
Click here to learn how Andy got into cycling and how this hobby elevates his real estate career.
And in case you missed it, here is last week's interview with David Trow on Ultrarunning.
---
Spreading Holiday Cheer
---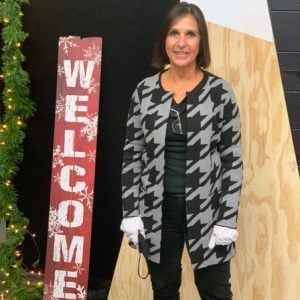 Burgess Group's very own Tricia Dessel, Boulder Real Estate agent, is heading up the Ascent Community Church's Logan's Christmas Shoppe.
Last year the Christmas Shoppe helped bless over 1,600 children with 7,000 gifts. And even more help is needed this year.
If you have the ability to help families in need this year, please consider donating money here.
---
Burgess Group Blog
---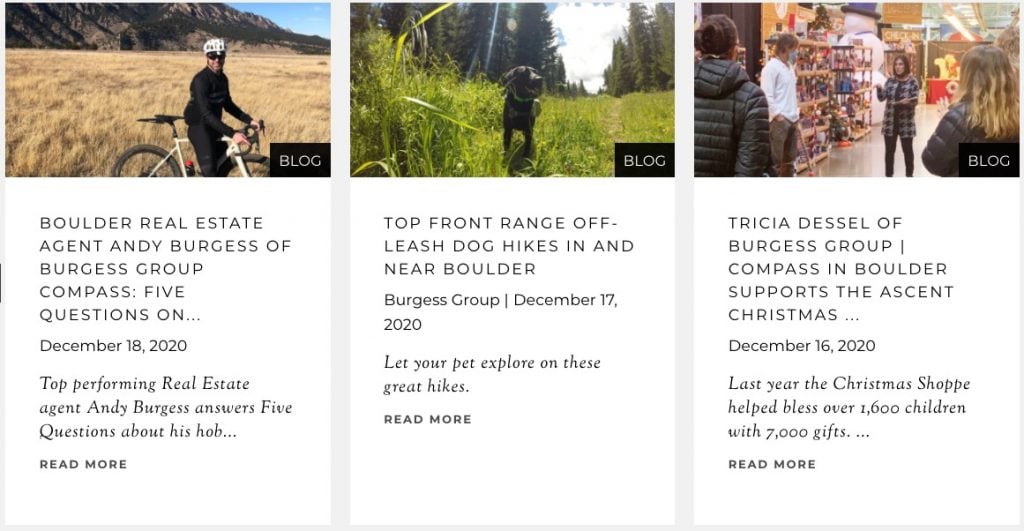 ---
Boulder County Real Estate Statistics
December 6, 2020 to December 13, 2020
---
THE AGGREGATE MARKET: Price Levels and Real Demand
As mentioned above, lots of new properties came to market last week, 28 more than in 2019 year over year (YoY). Under-contracts were still strong, with 13 more than in 2019 YoY. Taken together, this is encouraging news for buyers, as it moved inventory up from .55 months inventory to .84 months inventory week over week (WoW).
---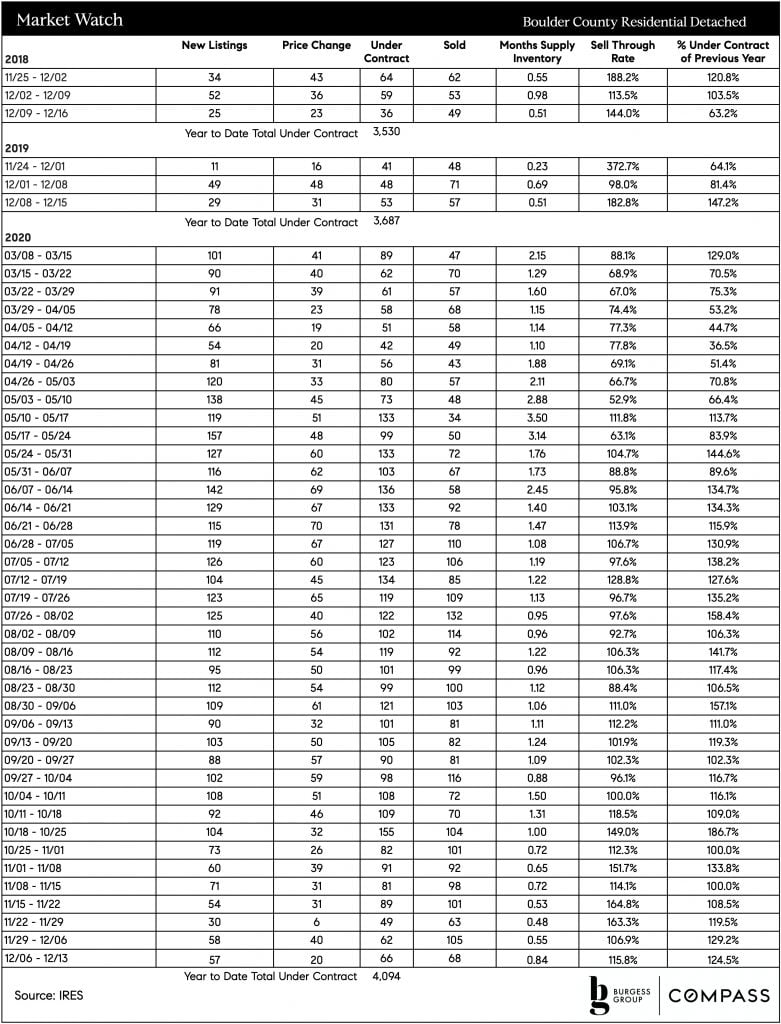 ---
Local Real Estate in a Nutshell
---
Overall, the market continues to be extremely healthy. Be glad that you had the smarts to buy here!
---
National Real Estate Data
---
REAL ESTATE PREDICTIONS FOR 2021
---
Different experts have different predictions! Redfin is coming in hot, with the following 5 predictions:
Prediction #1: Mortgage rates will remain historically low at 3%
Prediction #2: There will be more home sales than in any year since 2006, but price growth will slow
Prediction #3: There will be more new homes built than in any year since 2006
Prediction #4: The number of Americans relocating will be the highest it has been in 16 years, which will help the economies of affordable places like Buffalo, Cleveland and Pittsburgh
Prediction #5: The homeownership rate will reach 70% for the first time since 2005
---
Boulder County COVID Testing
---
The Stazio Ballfields off 63rd and Stazio reopened for drive-up COVID-19/other tests. It can be very efficient, quick, and easy to pre-register online.
---
More Real Estate News
---
Homebuilder confidence drops from record high as rising prices hit buyers
Household Balance Sheets: Q3 2020
The U.S. cities seeing the biggest drop in workers, according to online meeting data
Denver Real Estate in November: Sales Up 18% YoY, Active Inventory Down 63%
Homes in Wildfire, Flood-Prone Areas Appreciate Slower
---
The Fun Stuff: Tiny Piglet's Whole World Changes When She Meets This Baby Cow
---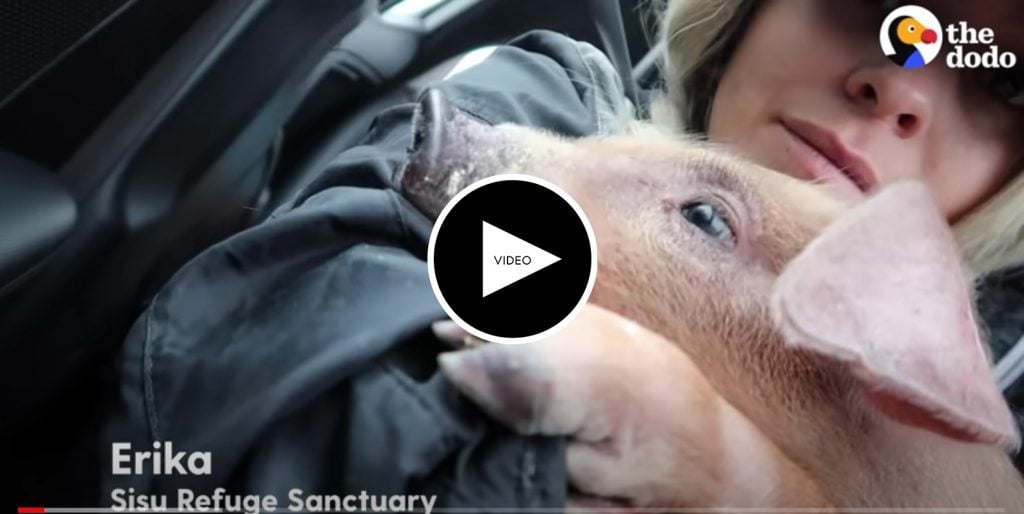 ---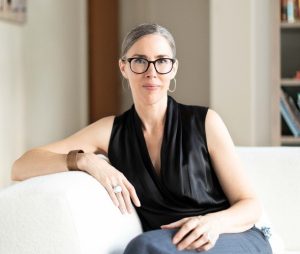 CATHERINE BURGESS
Associate Real Estate Broker
303.506.5669
[email protected]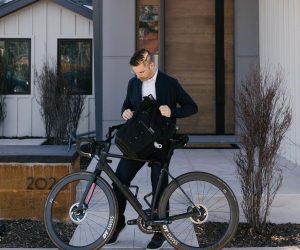 ANDY BURGESS
Associate Real Estate Broker
303.301.4718
[email protected]

© Compass 2020 ¦ All Rights Reserved by Compass ¦ Made in NYC
​​​​​​​Compass is a licensed real estate broker and abides by Equal Housing Opportunity laws. All material presented herein is intended for informational purposes only. Information is compiled from sources deemed reliable but is subject to errors, omissions, changes in price, condition, sale, or withdrawal without notice. No statement is made as to accuracy of any description. All measurements and square footages are approximate. This is not intended to solicit property already listed. Nothing herein shall be construed as legal, accounting or other professional advice outside the realm of real estate brokerage.