---
Dear friends,
While sheltering-in-place, we at Burgess Group | Compass honor our nation's relentless "critical business" workers who keep our healthcare/essential services running. Thank you for your service! Covid-19 reminds us of our mutual vulnerability and deep inter-dependence. If you need support, be in touch. We'll do a grocery/pharmacy run as needed.
Also, our local resources directory may help you now – find executive function coaching to support your kids' online school success to hours that immuno-compromised people can shop most safely. Please add resources to this directory that could help your neighbors and share widely if you find it useful.
BOULDER REAL ESTATE MICRO DATA:
We continued to have good activity from 3/18-3/23. We had a drop in new inventory, though the number of new listings was still higher than a 2018 comparable. We had 60 sales, leaving us with an aggregate 1.57 months of inventory (seller's market is below 5-6 months). Next week the shelter-in-place will impact these numbers more significantly.
Boulder County Stats: 3/14 – 3/23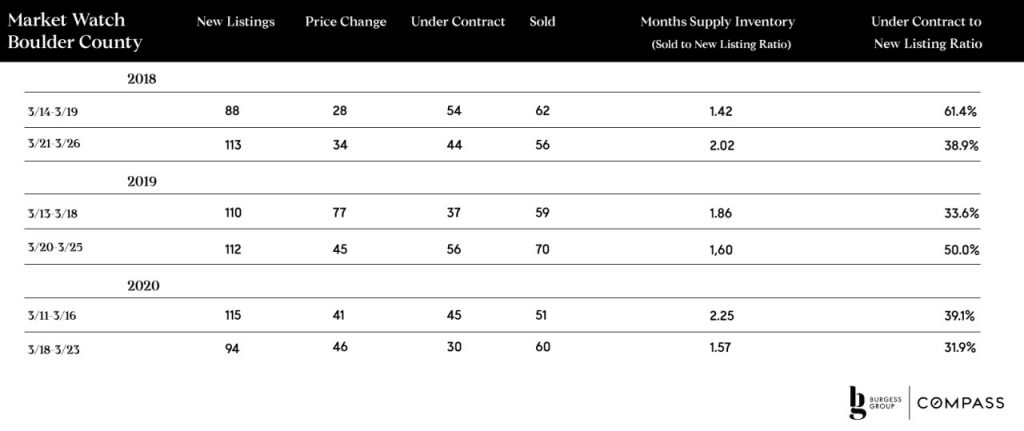 As you can see from the chart below, our under-contract and sold volume is still above December 2019 volume.
Locally in a nutshell
Since the state defines housing as a critical need and since brokers by contract have a "fiduciary responsibility" to their clients, there are still a (surprising) number of showings happening, particularly under $1.3mm and in the lower end of the market. If you are under contract, inspectors/appraisers/title/lenders are all working, so it is full steam ahead.
The Colorado Association of Realtors just created a COVID-19 addendum, which will give some leeway to dates/deadlines. Contact us for more info.
Sellers: Although real estate is included in 'essential services' in CO, many sellers who are living in their homes are choosing to wait to show/list their homes until we're through the shelter-in-place. Vacant homes are being listed/are easiest to "safely" show. There is a general agreement that Days on Market (DOM) will not carry the usual weight for at least the next few months.
Buyers: Some buyers are submitting offers on properties site/sight-unseen, then seeing the property when under contract. (We had sight-unseen offers in 2014 and 2015 also, due to low inventory.) We are continuing to experience some multiple offer scenarios from $500k – $1.25mm. Broadly, buyers, if it is possible for you to house hunt online or virtually until after the shelter-in-place is done, it will be safer for everyone and our economy will rebound faster.
NATIONAL MACRO DATA:
According to The Fed's Jerome Powell, the coronavirus containment will determine the rate of the economic rebound. Let's shelter-in-place as much as possible.
Here are resources which flesh out this week's developments further:
U.S. House leaders plan to pass $2.2 trillion coronavirus bill Friday
Dow wraps up strongest three days since 1931

Unemployment systems become overwhelmed as number of jobless surge

G20 leaders to inject $5 trillion into global economy to fight coronavirus

Weekly mortgage applications tank 29% as coronavirus sidelines home-buyers

Builders Already Feeling Pandemic Pinch

Who Broke The Mortgage Market And When Will It Be Fixed?

Featured Local Expert

Curious what it is like to initiate/continue a loan today? Lender Chad Van Zandt with Caliber Home Loans explains .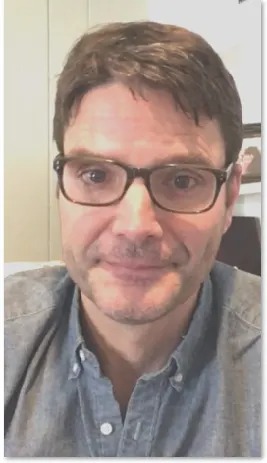 Please be good to yourselves, your family and your neighbors. Call us with any questions or to connect, regarding real estate or life.
​​​​​​​
© Compass 2020 ¦ All Rights Reserved by Compass ¦ Made in NYC
​​​​​​​Compass is a licensed real estate broker and abides by Equal Housing Opportunity laws. All material presented herein is intended for informational purposes only. Information is compiled from sources deemed reliable but is subject to errors, omissions, changes in price, condition, sale, or withdrawal without notice. No statement is made as to accuracy of any description. All measurements and square footages are approximate. This is not intended to solicit property already listed. Nothing herein shall be construed as legal, accounting or other professional advice outside the realm of real estate brokerage.