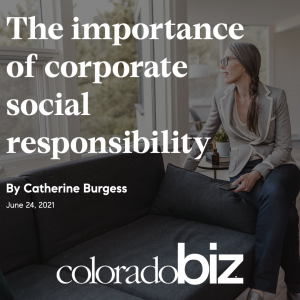 When the going gets tough, the tough get going…And Boulder real estate agents Catherine and Andy Burgess of Burgess Group | Compass are tough.
While Covid-19 rocked Boulder and Broomfield Counties (and the rest of the world) Burgess Group | Compass and many other Boulder realtors were experiencing a boom. Residential home sales hit their highest peak since 2006. Other industries like online retailers, liquor stores, meal prep delivery services, fitness equipment companies, telehealth services and more were also seeing unprecedented sales numbers.
Food insecurity was at its highest rate in 20 years, and unemployment was at the highest rate since data collection began in 1948.
As Catherine and Andy's business soared, the leading Boulder County realtors thought, "How can we pay this forward?"
Their thoughts quickly turned to a property they represent, The McKenzie Farm, a historic 80-acre farm with big water rights on the edge of Boulder, CO
Long champions of local and national charities, Catherine and Andy  saw an opportunity for this super-fertile land to grow local produce while on the market.
The McKenzies readily agreed to charitable use of their land in both 2020 and 2021.
In March 2021, Burgess Group | Compass and Community Food Share launched "The Food Security Project," which will run from March until October 2021. This project will transform lush, but recently fallow, farmland into thousands of pounds of desperately needed fresh produce for people experiencing hunger in Boulder and Broomfield counties.
Catherine recently wrote an Op-Ed for Colorado Biz on the importance of corporate social responsibility. Read more here.