Friends,
After months of hyper-robust activity, real estate numbers last week were more like a typical mid-August week.
Before we get nerdy, enjoy your weekly diversion – we're back to pranks.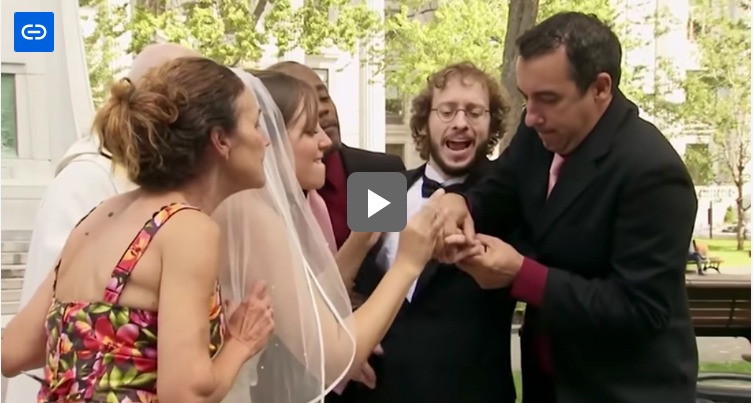 ---
BOULDER COUNTY REAL ESTATE MICRO DATA:
---
Boulder County Stats 7/26-8/02/2020
---
THE AGGREGATE MARKET:
The market last week was quieter, exhibiting numbers slightly better than 2019 year-over-year. We had 103 sales last week and 101 under-contracts, which is a very balanced market. That said, these numbers are reflective of a typcial middle August; this is a slower rate of new listings and and under-contracts than recent 2020 weeks.
Price changes ticked up from super low (37) the previous week to 55 this week, which indicates more sellers getting serious about selling. Still, 2019 year-over-year there were 95, which is more normal behavior for the market.
Sellers, please note that if you need to do a price reduction, it is better to do so earlier rather than later. We have no guarantees on what to expect from buyer activity this year.
---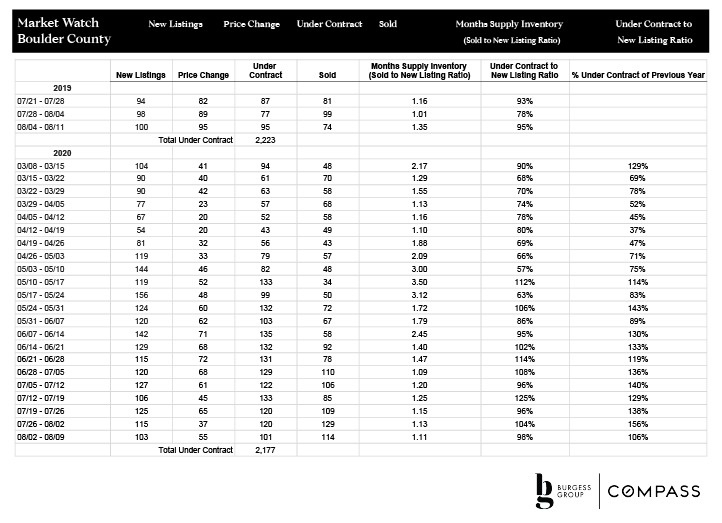 ---
THE MARKET BY PRICE BAND:
Last week saw no new under-contracts in the luxury market, with some luxury inventory coming to market nonetheless.
The $0-1mm price bands were balanced, with very similar numbers of new listings/under-contracts as last week. The $1-1.5mm band was more balanced than last week as a result of fewer new listings.
Sellers in the $500k-1mm band were the most motivated to sell, with 31 price changes.
---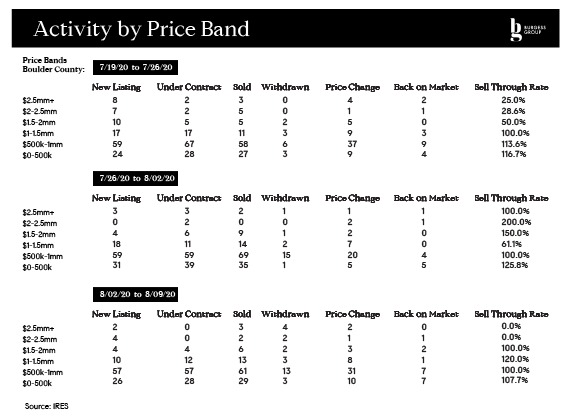 ---
Local Real Estate In A Nutshell
---
Inventory is tight. If you're thinking about selling, now is the time!
From March to this time in 2019, 2,223 homes went under contract. For the same period in 2020, 2,177 homes are under contract. Hopefully, there is additional local buyer demand needing to be met. Indicators are pointing to urban flight to CO continuing to amp up demand.
---
What's The Difference Between Architectural & Editorial Photos?
---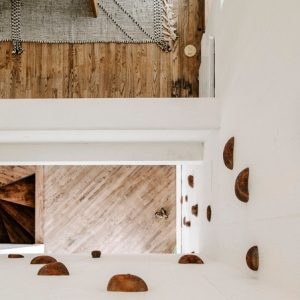 Editorial photos tell a story. Architectural photos accurately represent a property. When do we use each?
Here is a Charles Haertling mid-century modern masterpiece (440 Seven Hills, Boulder, $2mm). We see a walnut spiral staircase, climbing shoes & climbing holds, and two unexpected levels; the photographic story told here is "innovative with a side-dish of outdoorsy." This asymmetrical editorial photo perfectly captures the iconic essence of this home.
---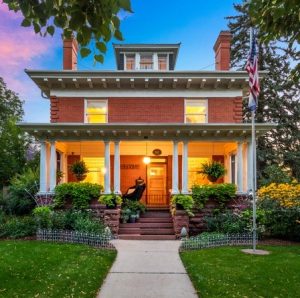 In contrast, here is Longmont's historic Donovan House (347 Pratt St, $1.249mm). This architectural photo's symmetry underlines the home's stately grandure and intimates the property's consistent four-square floorplan.
Most frequently, real estate marketing relys on architectural photography. In our custom marketing plans, we evaluate what photography works best for each home and build the plan accordingly.
---
NATIONAL MACRO DATA:
---
Hudson Yards developer on how the pandemic has hit commercial real estate
---
---
Coronavirus sparks huge demand for clean home technology innovations
How the coronavirus work-from-home trend is complicating income taxes
FHFA Drops a Bomb; Your Refi Just Got Much More Expensive!
Houston Real Estate in July: Sales Up 25% YoY, Inventory Down 19% YoY
The surprise jump in prices may be a good sign for the economy, and it's not 'stoking the fires of inflation'
---
Wishing you health. Call us with questions.
---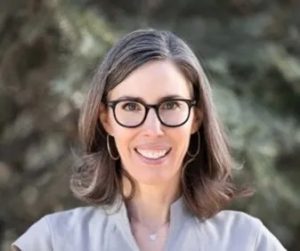 CATHERINE BURGESS
Associate Real Estate Broker
303.506.5669
[email protected]
Associate Real Estate Broker
303.301.4718
[email protected]

© Compass 2020 ¦ All Rights Reserved by Compass ¦ Made in NYC
​​​​​​​Compass is a licensed real estate broker and abides by Equal Housing Opportunity laws. All material presented herein is intended for informational purposes only. Information is compiled from sources deemed reliable but is subject to errors, omissions, changes in price, condition, sale, or withdrawal without notice. No statement is made as to accuracy of any description. All measurements and square footages are approximate. This is not intended to solicit property already listed. Nothing herein shall be construed as legal, accounting or other professional advice outside the realm of real estate brokerage.