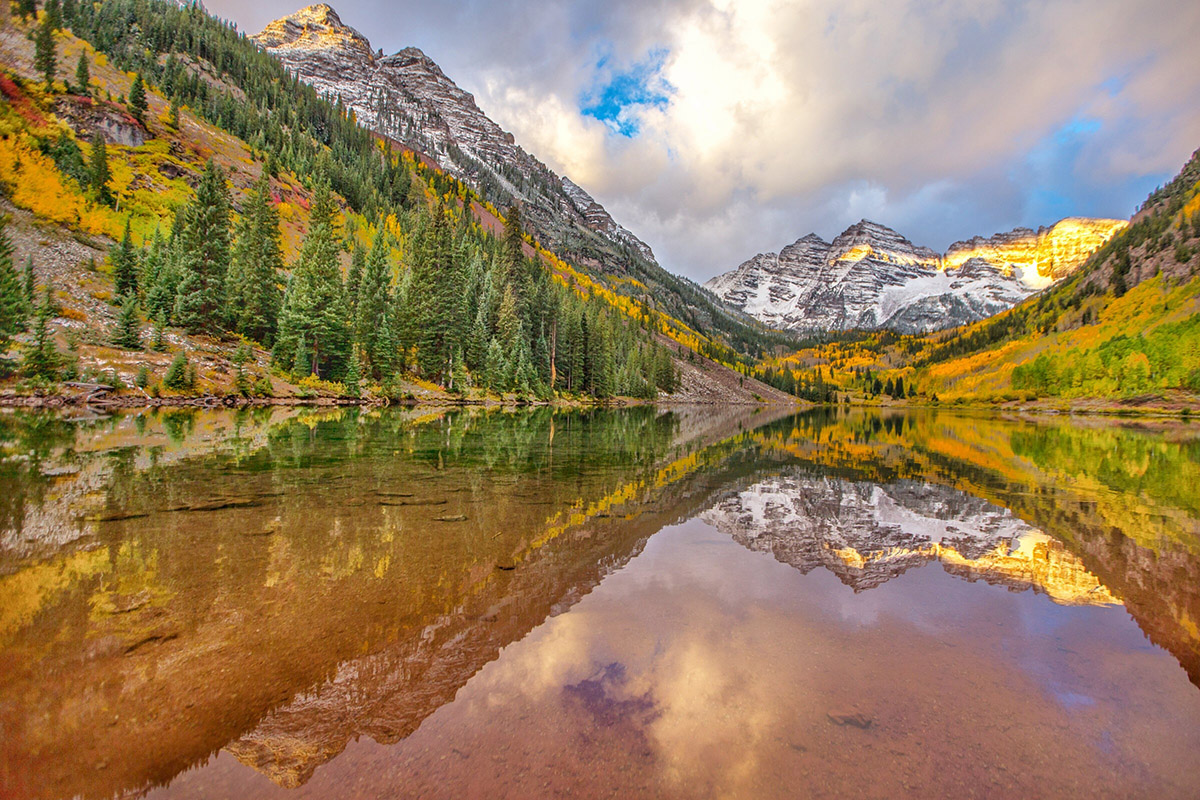 For Boulderites, there is no better weekend getaway than Aspen in the fall. It's a mountain paradise, sizzling with bright yellow aspen leaves, towering mountain peaks, and is favorite fall getaway our Compass Boulder realtor team highly recommends!
Aspen is only a 3.5-hour drive from downtown Boulder, and the journey there is incredible. You'll dive into the continental divide via Independence Pass. Wind through scenic ski towns of Copper Mountain, Breckenridge, and Keystone.
Fall in Aspen is incredible. The afternoons are warm and perfectly suited for outdoor activities. Yet you may be surprised to wake up to snow that dusted the mountaintops in the morning. Trees and tundra brush plants reach their peak colors in October. Restaurants, shops, and markets thrive year-round.

Unforgettable Fall Activities in Aspen 
Mountain Biking
Take the Elk Camp Gondola to the top of Snowmass Mountain for epic mountain biking. 50 miles of bike-friendly trails weave through golden aspen thickets. Thrill seekers can check out the Snowmass Bike Park which features jumps, twists, turns, and adrenaline-pumping descents. There are plenty of beginner trails in the area too. Anyone new to mountain biking can sign up for a clinic with a seasoned mountain biking pro.  
Hiking
Hiking is one of the best ways to feel a connection with natural beauty. Take your time on the trails, stopping at every scenic overlook or identifying foliage along the way. There are dozens of incredible trails in Aspen. It can be hard to choose! Our Compass Boulder real estate agents list some of the best:
The Maroon Bells Trail is one of North America's most photographed spots, and for good reason. Two 14,000-foot peaks tower above the glassy Maroon Lake.

It's a short loop trail

(only 1.9 miles) and is easy to fit in among a busy day of Aspen activities.
The

Hunter Creek trail

begins in town and follows Hunter Creek into the valley. You'll pass over bubbling creeks and bridges with mountain views at every turn. Colorful Aspens accompany you along your journey.
The Sunnyside Trail

is a fall favorite. Along this route, you'll see views of all four iconic Aspen peaks. You'll pass through aspen groves, meadows, peaks, and creeks. This is an all-day trek, and clocks in at around 10.8 miles.
Hiking trails in Aspen are usually snow-free until November, but always remember to check the weather beforehand and always bring the ten hiking safety essentials with you.
Fly Fishing
For many outdoorsmen, fly fishing is the ultimate way to relax. The soft lapping of water and the rhythm of the cast can be meditative. Aspen's lakes and rivers are chock-full of trout. You can catch rainbow, brown, cutthroat, and brook trout. Even the occasional palomino trout. Fly fishing conditions in Aspen are best in the spring when the insects begin to hatch and jump around the surface of the water. But trout are bountiful in the summer and fall too.
Anyone new to the sport can book a guided fly fishing excursion with Aspen Outfitting Company. Anglers also have the option to book exclusive access to a private pond in the T-Lazy-7 Ranch, the town's oldest working ranch.
Aspen Saturday Market 
A local tradition since 1998, the Saturday market is a lovely way to spend the morning. Shop for Colorado-grown produce, freshly baked bread, jams, and cheeses. Grab lunch in the food court and stay for live music. 
Spas
A resort town at its core, Aspen has some incredible spas where you can pamper yourself from head to toe.
The Spa at Viceroy offers a variety of rituals inspired by ancient Ute, Nordic, and Asian cultures. Indulge in some spiritual rejuvenation paired with a hot soak salt, clay wrap, and oil treatment.
Aspen Alps Spa offers an array of spas, saunas, steam rooms, and massages. It's the perfect way to relax your muscles after a weekend of mountain activities.
True Nature Healing Arts offers traditional spa services as well as holistic healing. Wander through the ayurvedic spa, enjoy a cuppa in the tea room, or take a yoga class. You can also try treatments like acupuncture, facials, and sound baths. 
Explore a Ghost Town
In the spring of 1880, prospectors hiked up to Ashcroft in search of silver deposits. Their mission was successful and they returned to town boasting of their prosperity. A town quickly popped up to support its mining endeavors. The camp had around 2,000 residents, a school, sawmills, and 20 saloons. The mines quickly produced 14,000 ounces of silver, but the deposits were shallow and depleted quickly. After only 5 years, the town's population had decreased to only 100 residents. In 1974, Ashcroft became a national registered historic site. It was the first permit ever granted to preserve a ghost town. Wander around the forgotten buildings and saloons, which are a perfect portrait of another era. 
When does Aspen ski season start? 
For the 2022-2023 season, Aspen skiing is estimated to kick off on November 24. Before you start booking your lift tickets, remember that these dates are subject to change based on weather and snowfall. This year's November 24th start date is based on historical weather averages.