Friends,
The market is stabilizing. As an aggregate, the numbers last week were up over last year's numbers.
BEFORE WE GET SERIOUS:
If you need a chuckle, check out this jaw-dropping, hilarious daycare.
Also, this week a client's dog came back after 6 years!! From our client:
"Years ago, friends were pet-sitting when my dog jumped the fence. We searched for months but couldn't find her. Last Monday, I received an email saying that a dog with her microchip was found at the Denver Shelter. I couldn't believe it. I had every intention of taking her back but they needed to see if anyone came forward to claim her since I hadn't had her for so long. Luck was on my side. After six years I got Melika back. After showering her with lots of attention she seems to remember me and is getting used to her new? home. In times such as these, she is definitely the silver lining to my cloud."
---
---
BOULDER COUNTY REAL ESTATE MICRO DATA:
---
Boulder County Stats 6/21-6/28/2020
---
Last week had 72 price changes, which means that sellers are actively trying to get their homes sold; this indicates a healthy market.
131 properties went under contract. Four of the last 6 weeks had under-contract numbers right around 130; we've just had the strongest 3 week period of the year.
Our aggregate sell-through rate is 113%, which slants the market a bit towards a seller's market. If you're thinking about selling, this could be a good time to bring your home to market, as inventory is getting tighter.
These numbers are 19% above last year's numbers for the same week.
---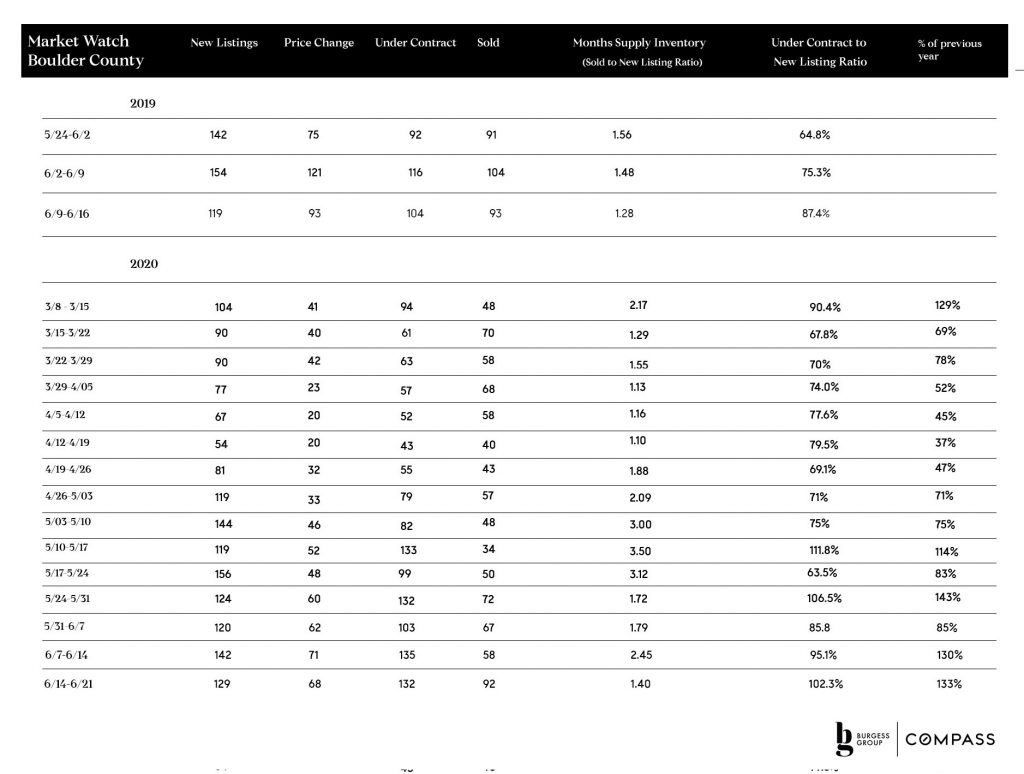 ---
From price band perspective, the low end of the market is still on fire. In the 0-$500 range, the sell-through rate was 180%, which indicates an extremely tight market. $500-1mm is still quite balanced with a 117.5% sell-through rate; $1-1.5mm was strong at 83%.
Above $1.5mm, the market last week was quieter than the week before, with 57% sell-through in $1.5-2mm, and 20% above $2mm. There are fewer buyers in the high-end market, so it not unusual for that price band to have less activity than the lower parts of the market.
(Sell-Through Rate is the Under-Contract to New Listing Ratio.)
---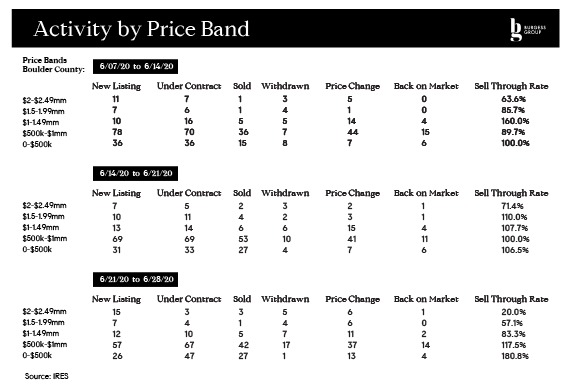 ---
Local Real Estate In A Nutshell
---
We've now had three super-strong weeks in a row, with 6 weeks of very strong performance. Our market is stabilizing.
---
The Back End of Real Estate:
The Power of Video
---
As mentioned last week, powerful marketing and advertising helps a property be recognized as extraordinary.
Different properties require different types of video. In order to educate out-of-town and local buyers about the advantages of Gunbarrel, Tricia Dessel created a neighborhood tour for 5089 Idylwild Trail.
Doesn't this make you ready to own a golf cart too?
---
---
NATIONAL MACRO DATA:
---
Summer R&R: What Pandemic-Weary Vacationers Crave
---
Real estate agents in choice summer destinations are now being inundated with requests to rent their listings. After being isolated indoors for weeks, many people can't wait to escape to bucolic places with uncrowded sidewalks, playgrounds, and parks. Read more here.
If you're interested in a second home, consider renting your primary home while you're away. Let us know if you need help looking for a mountain get-away, as close as Nederland or as far as Steamboat.
---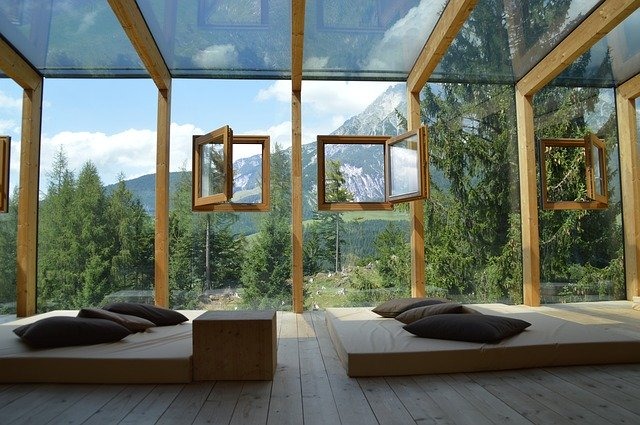 ---
Record Jobs Gain of 4.8 Million Jobs in June, vs. Expected Increase of 2.9 Million.
---
The unemployment rate fell to a crisis low of 11.1%, also better than the 12.4% estimate. Click the image below to learn more.
---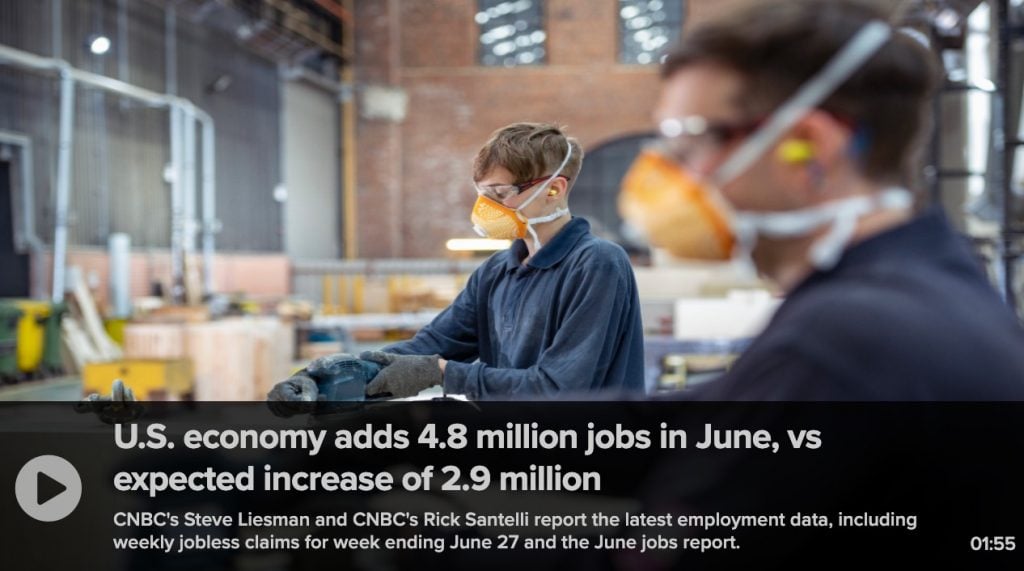 ---
Luxury Home Prices Starting To Rebound
June Vehicles Sales increased to 13.0 Million SAAR
Huge Housing Rebound, All-Time Low Rates, But At What Cost?
---
Wishing you health. Call us with questions.
---
Associate Real Estate Broker
303.301.4718
[email protected]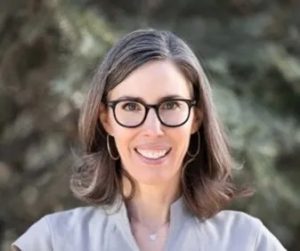 CATHERINE BURGESS
Associate Real Estate Broker
303.506.5669
[email protected]

© Compass 2020 ¦ All Rights Reserved by Compass ¦ Made in NYC
​​​​​​​Compass is a licensed real estate broker and abides by Equal Housing Opportunity laws. All material presented herein is intended for informational purposes only. Information is compiled from sources deemed reliable but is subject to errors, omissions, changes in price, condition, sale, or withdrawal without notice. No statement is made as to accuracy of any description. All measurements and square footages are approximate. This is not intended to solicit property already listed. Nothing herein shall be construed as legal, accounting or other professional advice outside the realm of real estate brokerage.