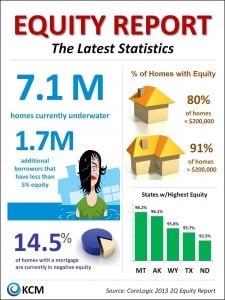 Three and one half million homeowners gained positive equity (were no longer underwater on their mortgages) during the first half of 2013.   The pace of improvement will likely slow as appreciation slows in the second half of the year.
Why is appreciation slower now than it was through spring and summer?  Nationally, the extraordinarily limited inventory, super-low interest rates and pent-up demand created a buying frenzy we hadn't seen since our pre-housing bubble days.
As more owners gain positive equity or even price apprecation, it is likely that we will see more inventory.  That said, some experts believe that the most sought-after housing markets will see shortages in inventory for the next three years.
New construction will greatly influence national real estate market trends.  It is likely that substantive construction will resume in TX, NC, SC, northern CA and other parts of the country where there is strong housing demand.
Additionally, the fluctuation in mortgage rates has cooled some buyers.  If buyers take a look at historic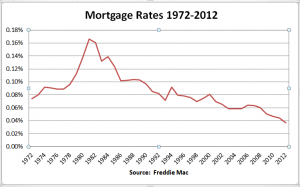 mortgage rates they will see that rates are still remarkably low.  That said, the amount of house that could be purchased now is less than it was when rates were in the 3s.
http://www.forbes.com/sites/morganbrennan/2013/07/26/what-to-expect-from-housing-in-the-second-half-of-2013/