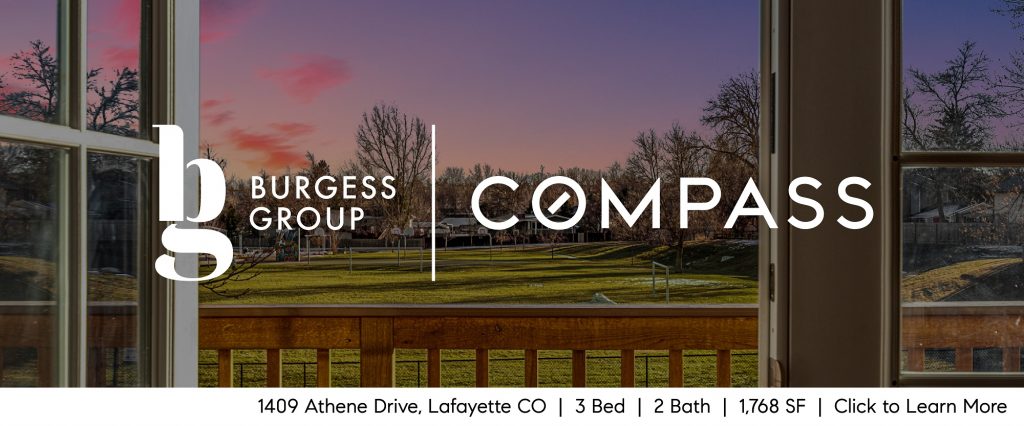 ---
Friends,
Our market is continuing to show good buyer activity, though it is restricted from an inventory perspective.
Also, a new Community Connection installment featuring Susie Rinehart of The Brave Over Perfect Project.
---
Weekly Market Update Video
---
---
Boulder County Micro Real Estate Data
---
Boulder County Stats 11/22/2020-11/29/2020
---
THE AGGREGATE MARKET
Though we saw a big drop in new listings and under-contracts from the previous week because of Thanksgiving, relative to the 2019 market, last week was still super active. In 2019 during Thanksgiving week, 11 properties came to market and 41 went under contract. This year 30 went live, which is a wonderful infusion of needed inventory, with 49 going under contract.
Even with this year-over-year increase in inventory, our market sits at .48 months of inventory, with a balanced market at 5-6 months of inventory. This is an extraordinarily tight market.
---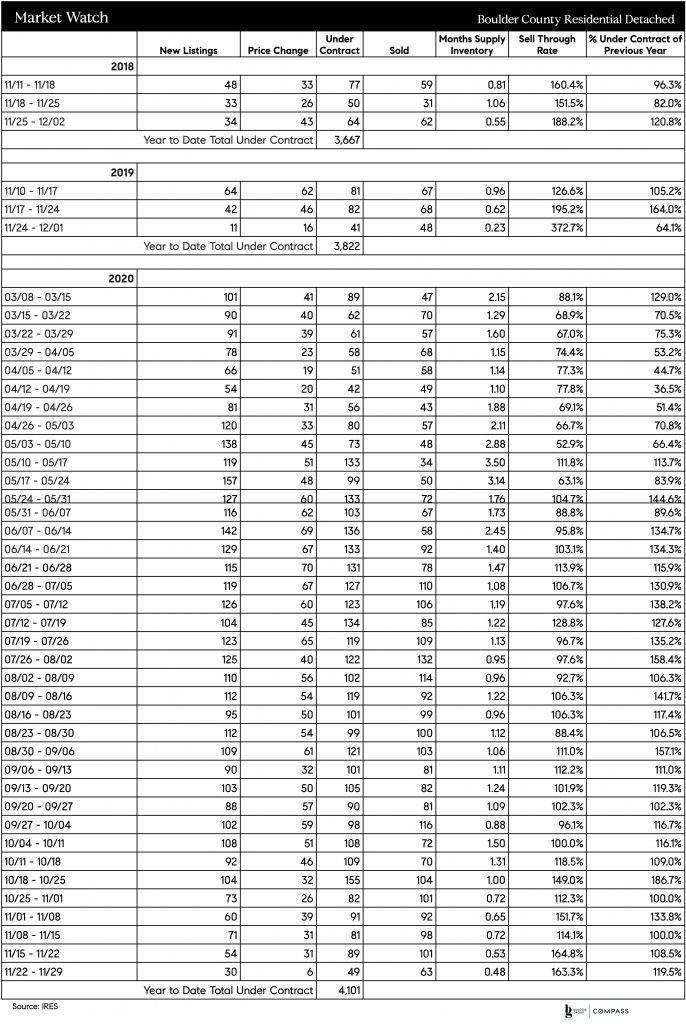 ---
THE MARKET BY PRICE BAND
As noted in previous weeks, it is good to look at the price bands in three-week chunks, as they can vary significantly from week to week, and taken all together, we can better see trends.
All of our price bands have been showing good health. To note, the $1-1.5mm segment saw a 900% sell-through rate last week, which is higher than we've seen since March. I'm curious if there was a new loan product for this segment that gave people the green light to buy.
---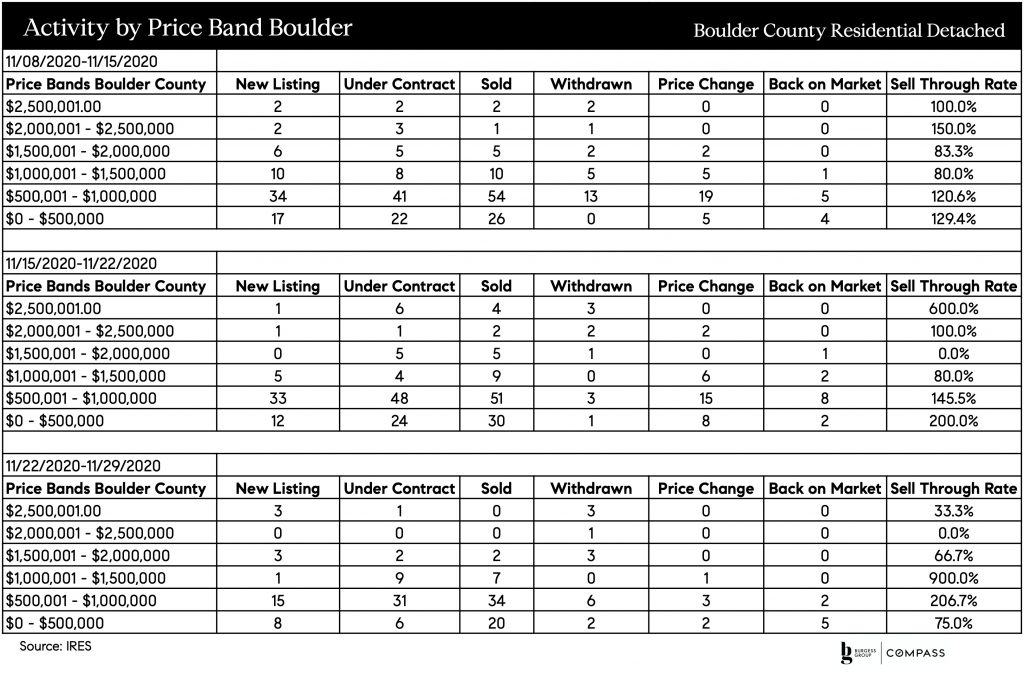 ---
Local Real Estate in a Nutshell
---
Thankfully, the Northern Colorado real estate market continues to show robust health as we head into the fall/winter.
Sellers, there is significant pent-up demand right now. It is a good time to come to market for most categories.  With so little inventory, you will get tons of eyes on your property with little competition.  Call us to talk about if this makes sense for your property.
---
National Macro Data
---
SHOWINGS CONTINUE TO OUTPERFORM 2019
---
Nationally we're seeing continued buyer demand, indicated by higher than normal showing rates for this time of year; see the chart below for an indication of showings in all of CO. Pending sales are up 28% YoY from 2019, and new listings are up 9% from this time last year. Also, the average list-to-sale price ratio is now at 99.5% nationally, which indicates an extreme seller's market.
---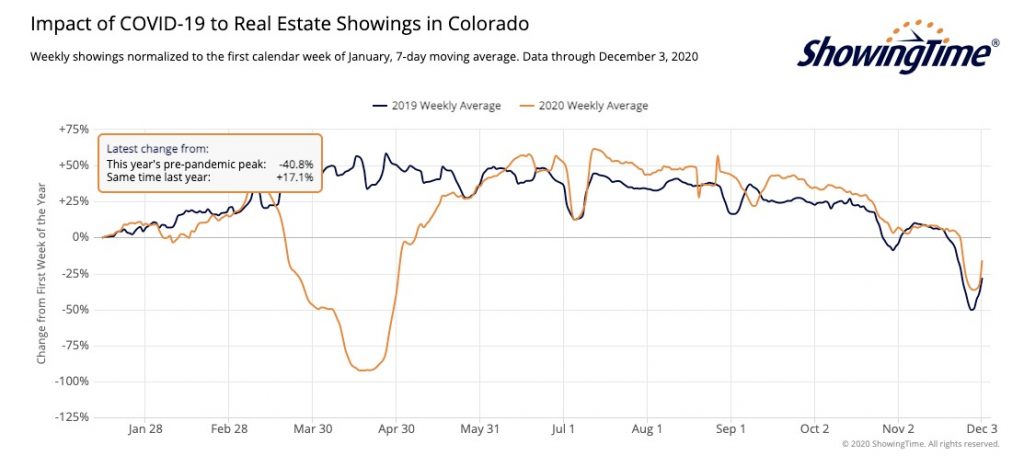 ---
U.S. Sees Rise in Appetite for Single-Family Homes—Especially of the Luxury Variety
Residential Construction Is Recovering Faster Than Non-Residential Construction
Employment growth slows sharply in November amid coronavirus surge
---
Our Exclusive Listings
---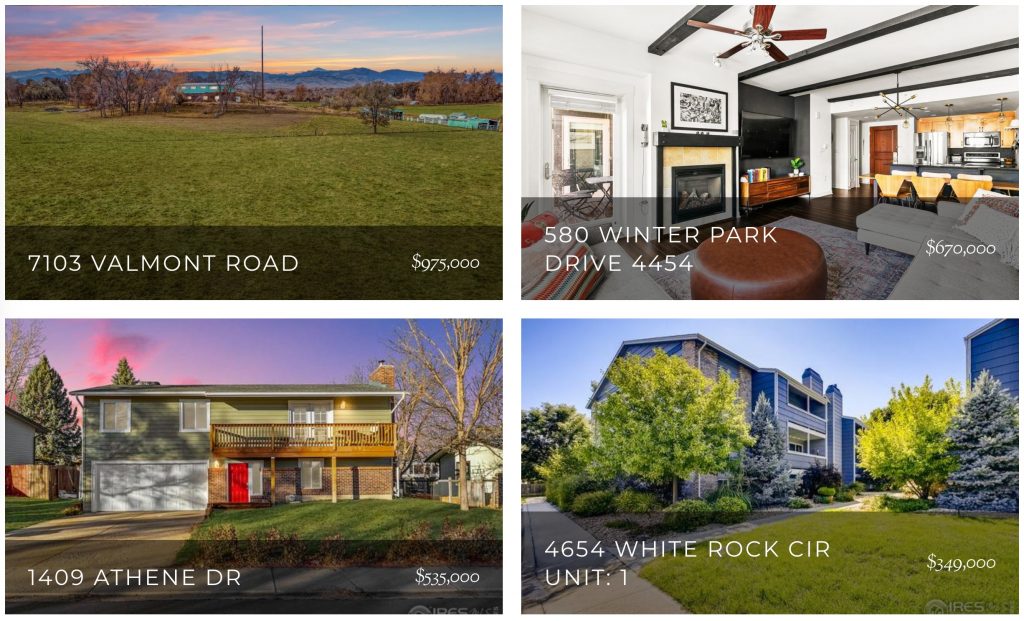 ---
---
Community Connection
---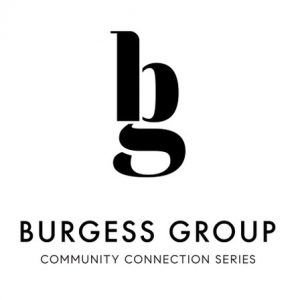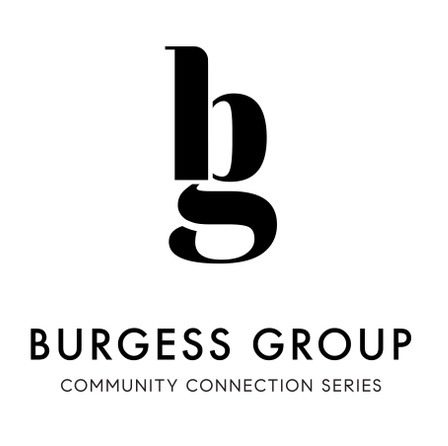 In this week's installment of the Burgess Group Community Connection Series, Susie Rinehart (writer, ultrarunner, educator, mom, coach and cancer survivor) tells us about her journey to form The Brave Over Perfect Project.
In 2016 Susie was diagnosed with a rare and aggressive brain stem tumor which sparked a brave new path for her. What started as a letter to her children became a best selling memoir, Fierce Joy. The lessons she learned while writing this and reflecting on her life inspired a new career as a life coach, inspirational speaker, and writer.
Susie also talks about her upcoming winter workshops for young women ages 15-29. The Tame Your Inner Critic workshops will focus on cultivating confidence, courage, and joy.
Do you have a special young woman in your life? Susie is offering a special BOGO discount now through December 25. Use the code FRIENDSBOGO and sign up here.
---
Burgess Group Blog
---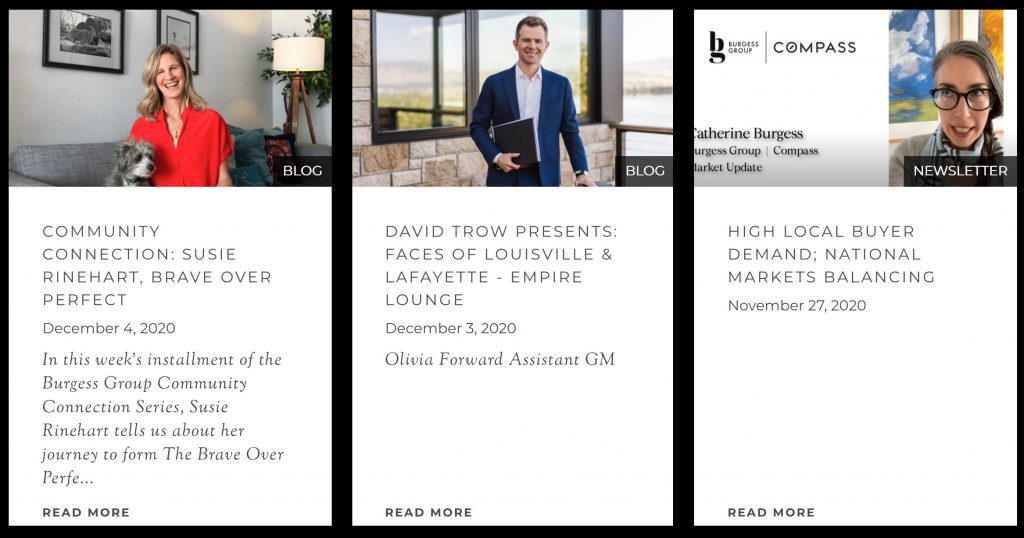 ---
Boulder County COVID Testing
---
The Stazio Ballfields off 63rd and Stazio reopened for drive-up COVID-19/other tests. It can be very efficient, quick, and easy to pre-register online.
---
The Fun Stuff: FUNNIEST DOGS in SNOW
---
---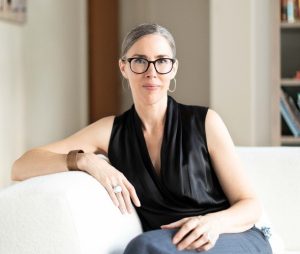 CATHERINE BURGESS
Associate Real Estate Broker
303.506.5669
[email protected]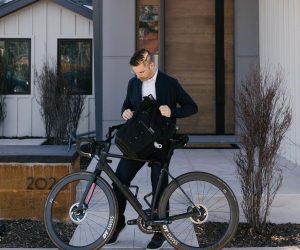 ANDY BURGESS
Associate Real Estate Broker
303.301.4718
[email protected]

© Compass 2020 ¦ All Rights Reserved by Compass ¦ Made in NYC
​​​​​​​Compass is a licensed real estate broker and abides by Equal Housing Opportunity laws. All material presented herein is intended for informational purposes only. Information is compiled from sources deemed reliable but is subject to errors, omissions, changes in price, condition, sale, or withdrawal without notice. No statement is made as to accuracy of any description. All measurements and square footages are approximate. This is not intended to solicit property already listed. Nothing herein shall be construed as legal, accounting or other professional advice outside the realm of real estate brokerage.