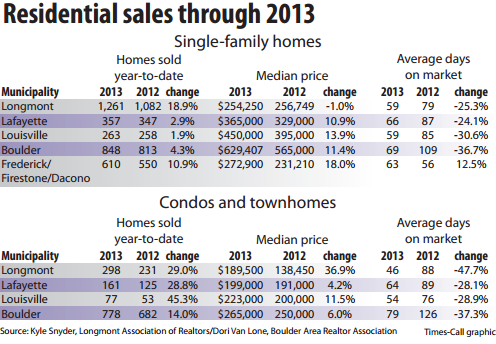 Longmont CO's housing market transformed in 2013 from a buyer's market to a seller's market.  It  had its highest volume of sales since 2005, with an average price of $281,000.00, just under the average peak price of $290,000.00 in 2006 and 2007.The best homes sold within two or three days last year, making it challenging for buyers.
Finding a home in Longmont continues to be hard, particularly for people buying their first home. As of last week, only 41 of the 123 Longmont listings were under $300,000.00.  53 listings were between $300,000-$500,000;  29 were $500,000.00 and above.

Since supply is so limited, buyers need to be ready to jump on good homes. Inventory should increase as we head into February.  If they wait, cream puff homes will be gone.  Click here to see what lenders need before buyers make an offer.
Read the Original Article Here: Home sales: 2013 was a full-on shift to a seller's market in Longmont and elsewhere