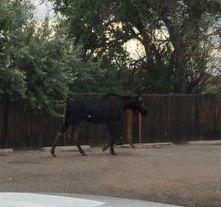 Boulder CO:
A female yearling moose was first reported at 9th and Arapahoe on Friday August 14th  2015 at 10pm.
Saturday it was sighted around Moorhead, then started heading toward Highway 36.
Police barricaded highway on-ramps and used rubber bullets and bean bags to push it away from the highway. The moose turned around, meandered through CU, took quick dips in all three CU ponds, ate a salad, then walked 1 1/2 mile into the pasture off of 36. Officials hoped from there it would return to traditional habitat.

Occasionally, moose have been found in Broomfield and Denver.  They usually do a circuit, then return to the origination of their walkabout.
If the moose returns, Wildlife Officials will tranquilize her and return her to wilderness.
For more information, read the Daily Camera article.