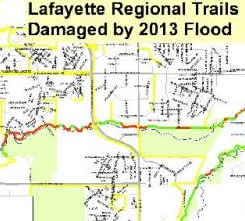 Working off a 13 year history of  tackling modest projects with a handful of volunteers, Lafayette is now gearing up for a huge event October 19th.
Approximately two miles of Coal Creek and Rock Creek trails were decimated during last month's flood.  The creeks, which normally spanned 8-12 feet, extended past one hundred feet in some places.
It had taken Lafayette 20 years to connect its trails, and they were just completed in August.  The need to correct this problem has resonated with volunteers.  More than 75 have already signed up, over a week before the event.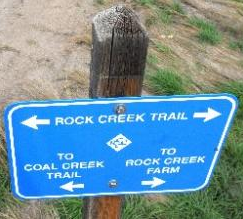 Volunteers will be doing near final grading on three 500 foot trail segments between Exempla Good Samaritan Medical Center and the two creeks.  Once the creek repairs are done, the city and its volunteers will start to concentrate on rebuilding the Coal Creek Trail.
Join the fun: Register online at cityoflafayette.com/TrailVolunteer. For more information on Lafayette's flood-damaged trails, visit cityoflafayette.com/Trails. For general information about Lafayette's open space program, visit cityoflafayette.com/OpenSpace.
Read the Original Article Here: Lafayette's Open Space Day expecting mass turnout
 Love Where You LIVE:  The Boulder Real Estate Blog