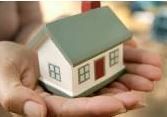 Mortgage applications rose 3.6% last week, spurned on by the lowest interest rates in the past six months.  According to the Mortgage Bankers' Association,  these applications reflect both refinance and purchase applications.
Purchase applications are considered the leading gauge for home sales.  They were 1% higher than the previous week, but 12% lower than year-over-year applications.
Interest rates for 30 year fixed mortgages hovered around 4.39% last week, the lowest rate since November 2013.
To read the original Wall Street Journal Article, click here.