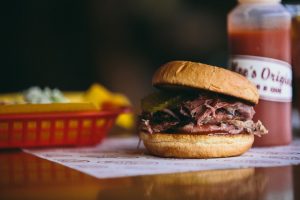 There is so much to love about BBQ.
The rich, smoky flavors.

How it pairs so perfectly sunshine and a cold beer.

Comfortable low-key atmospheres and checkered tablecloths.

General acceptance that you're going to get a little messy.

The strong opinions everyone has about sauces.
How do you like your BBQ? Tangy? Sticky and sweet? Vinegar-y and light? A bit of spice? No matter your preference, it's undeniable that time and love are put into every slow-roasted batch. Boulder County has some incredible local BBQ restaurants. The Boulder realtor team here at Burgess Group | Compass lists the stand-out barbeque restaurants in our community:
---
The Best BBQ in Gunbarrel
Avery Brewing 
Avery Brewing isn't your typical Barbeque joint. Their estate is nationally recognized for its spectacular brews. But their beer-and-mustard brisket and pulled pork are so succulent that they had to make the list.
Ask any Boulder realtor here and they'll tell you, sometimes it's a tough call on what's best… the meat… or the sides. Avery does their BBQ sides right. All barbeque plates come with fennel slaw, bacon mac n' cheese, and green chili cornbread. It's the ultimate cheat meal. But if you're craving a lighter option, they also have fantastic salads, sammies, tacos, and ramen. Vegetarian options are also available. On summer days, you can enjoy your feast in their Biergarten style patio, complete with yard games and fairy lights.
---
The Best BBQ in Downtown Boulder
KT's Real Good BBQ 
KT's is a family-owned BBQ joint, and according to our Bouder real estate agents, it's been a local staple for nearly 30 years. KT's has seen so much success that there are now three locations:

They have a no-nonsense menu with Memphis-style and Texas-style sauces. KT's is a great option for affordable catering. Their buffet catering starts at $12/person, and their bagged lunches are only $8.75/ person.
A Cup of Peace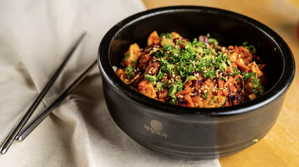 The flavors of Korean barbeque are unlike any other. A Cup of Peace's traditional Barbeque Plate includes thinly sliced Bulgogi served with bell peppers, yellow and green onions, and carrots. You can also try their Korean barbeque bowl. Classic Korean dishes and sides like kimchi and Bibim Bop are also available.
---
The Best BBQ in Longmont
Georgia Boys BBQ 
Georgia Boy's is more than a barbeque restaurant. It's a whole southern hospitality experience. Georgia boys Matt and Nick started their restauranter journey in 2010. They'd moved to Colorado to live the ski bum lifestyle, but were laid off shortly after their move. They weren't ready to leave the Rockies. So they thought they'd try bringing a little bit of home with them. They started as an apartment complex brown-bag service. They then started selling "Blackmarket BBQ" in the parking lots of local breweries. They opened their first official location in 2011. In 2017 the Travel Channel declared them the best barbeque in Colorado. They've also been featured on Food Paradise. They have a large menu that includes, platters, sandwiches, nachos, and ala carte options. 
Smokin' Dave's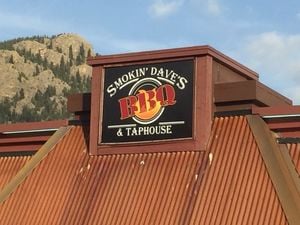 Smokin' Daves has been a staple of Colorado Barbeque for over 25 years, and is one of our Boulder realtor team's favorites! National Barbeque News even declared them one of the "best barbeque restaurants in America".  Smokin' Dave has always been a foodie. His grandparents bestowed a love for cooking on him at a young age. Dave grew up in L.A. and was constantly wary of hip and trendy restaurant chains that would come and go throughout the city. Dave is dedicated to unpretentious dining and amazing flavor. He's also owned restaurants in Maui, Estes Park, and Denver.  
---
The Best BBQ in Louisville 
Lulu's BBQ 
Lulu's serves Texas-style barbecue and chili. You'll enjoy your meal from a classic picnic table, and can even sip a cocktail as you watch the chef tend the smoker. Be sure to save room for dessert and try their signature cornbread sundae. 
---
The Best BBQ in Superior
Waynes Smoke Shack
Andy's FAVORITE Spot!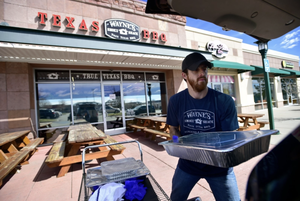 Wayne serves us the best "True Texas BBQ in Colorado" and has been voted Best BBQ in Denver by Westword & Best BBQ in CO by The Thrillist. They're open LUNCH ONLY Friday-Saturday – 11 AM / SOLD OUT.
Wayne was missing his Texas BBQ here in Colorado and so decided to perfect his own recipe staying true to his Texas roots.  At the encouragement of many he opened his own place a handful of years ago and things haven't slowed down yet.  Open for Lunch Only, doors open at 11am and close when they are sold out.  Fans make sure to schedule an early lunch to get their favorites.  Don't worry if you can't make it for lunch as they are open on Saturdays and cater too!
---
The Best BBQ Food Trucks in Boulder
Rollin' Bones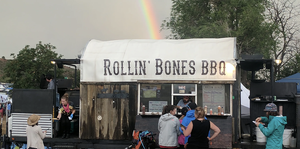 Our Boulder real estate agents love food trucks! You can catch Rollin' Bones rolling all throughout town. This covered-wagon-style food truck has a pit smoker attached. The meats are slow-cooked on hickory, mesquite, oak, and fruitwood. You can choose between Texan style, Carolina style, St. Louis style, and Jamaican style. They serve your classic pulled pork, brisket, and ribs. But unique to the Rollin Bone's menu is an order of locally raised lamb ribs. Vegetarian options are also available. 
Stick Around Skewers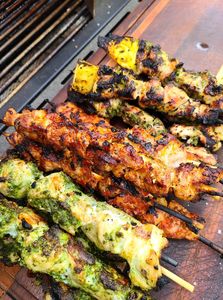 Kebabs are the world's most traditional form of barbeque. But this kind of grilling is tricky to master at home. It's hard to get the kebabs cooked just right without overcooking them. But Stick Around Skewers has mastered the craft. You and your companions can enjoy a family style spread. Try each kebab with a different dipping sauce. Stick Around Skewers takes BBQ food trucks to gourmet places. Try the Tuscan pork skewer with a lemon caper sauce. Or the chicken piccata with the parsley pistue sauce. 
---