Catherine & Andy Burgess, founders of the Boulder realtor team at Burgess Group | Compass, were recently featured in Realtor Magazine for their Food Security Project.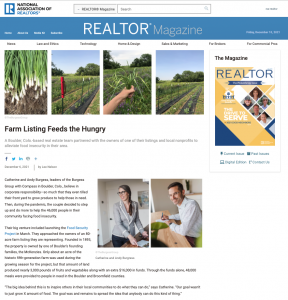 Here's en excerpt from the article:
Catherine and Andy Burgess, leaders of the Burgess Group with Compass in Boulder, Colo., believe in corporate responsibility—so much that they even tilled their front yard to grow produce to help those in need. Then, during the pandemic, the couple decided to step up and do more to help the 46,000 people in their community facing food insecurity.
Their big venture included launching the Food Security Project in March. They approached the owners of an 80-acre farm listing they are representing. Founded in 1893, the property is owned by one of Boulder's founding families, the McKenzies. Only about an acre of the historic fifth-generation farm was used during the growing season for the project, but that amount of land produced nearly 3,000 pounds of fruits and vegetables along with an extra $16,000 in funds. Through the funds alone, 48,000 meals were provided to people in need in the Boulder and Broomfield counties.