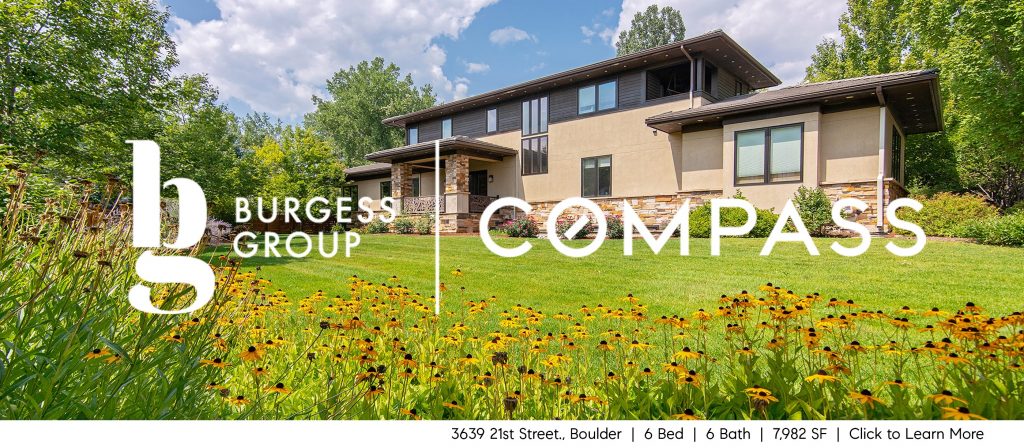 ---
Friends,
Our market is still a little more active than we saw in 2019, with loads of buyers waiting for new inventory.
---
Weekly Market Update Video
---
---
Boulder County Micro Real Estate Data
---
Boulder County Stats 11/8/2020-11/15/2020
---
THE AGGREGATE MARKET
Last week inventory was up year over year (YoY) 7 units and under-contracts were exactly the same as 2019.
Our inventory at this time last year was .96 months, where last week we had .72 months of inventory. So, from an aggregate market perspective, it is a slightly tighter seller's market this year than last year, but overall very similar.
---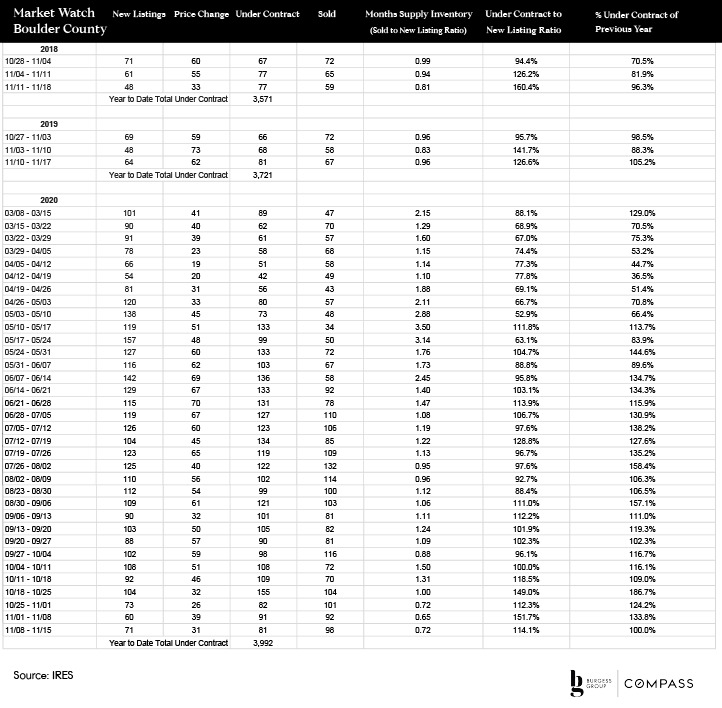 ---
THE MARKET BY PRICE BAND
Every segment of the market demonstrated good buyer demand last week. Healthy market. The market needs more inventory.
---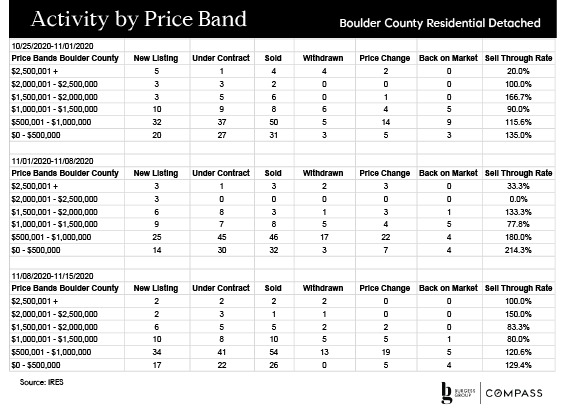 ---
Local Real Estate in a Nutshell
---
Right now the low inventory has a lot of buyers cooling their heels, waiting for the next house in their category to come to market.
Sellers, typically we suggest waiting until the spring market to bring your house to market. There is so little inventory in most segments right now that (depending on what you're selling) we may recommend coming to market now or before the first of the year, as buyers are on high alert.
If you are looking for buy opportunities, they definitely exist. Call us to learn more about what pockets of strong buyer opportunities exist in our local seller's market.
---
National Macro Data
---
Attached Dwelling Market Bottoms and Is On The Rise
---
As previously discussed, the attached dwelling market plummeted as a result of buyer desire for space because of COVID.
This has created huge buyer opportunities for people looking ahead. Prices have declined up to 25% in major attached dwelling markets such as San Fransisco and New York.
Since the announcement of the coming COVID vaccines within the past two weeks, lease rates in NYC have picked up by 33%. This and other indicators (such as the National Home Builder Multifamily Vacancy Index) point us toward the attached dwelling market having bottomed and being on the upswing.
Right now is a terrific time to buy in the attached dwelling market before this market recovers, as there are still pockets of high inventory. How long this inventory will last is unclear given the super low (2.5 months according the NAR) overall national inventory.
---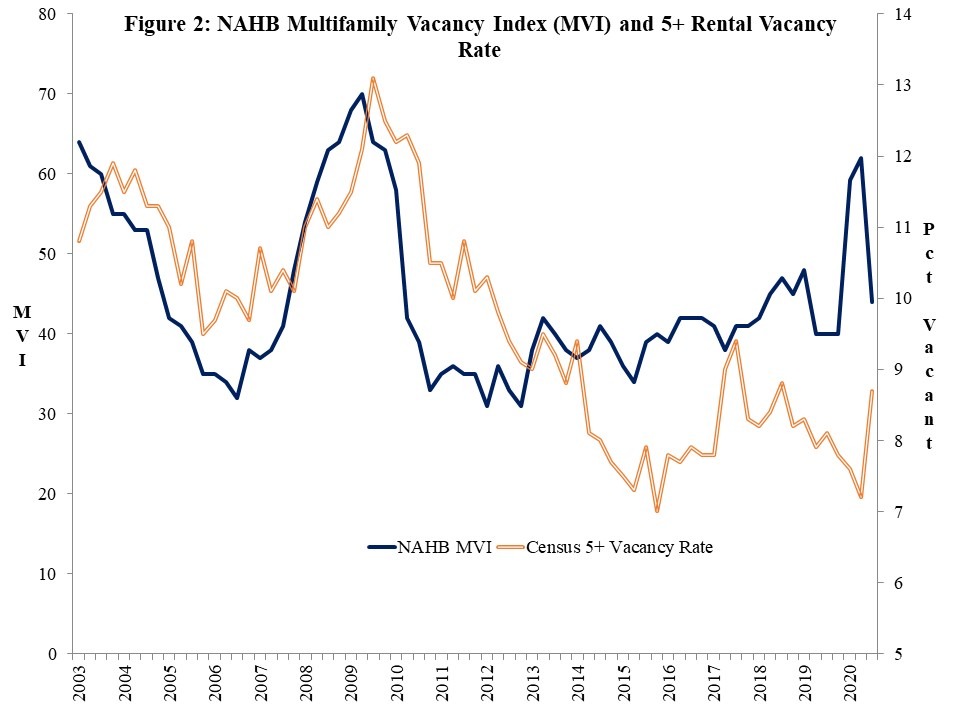 ---
Existing home sales rise to highest since February 2006
'We Need To Build More Homes': Prices Soar Amid Housing Shortage
October Unemployment rates down in 37 States, Higher in 8 States
Mnuchin pulls plug on some pandemic lending programs that Fed considers essential
---
Our Exclusive Listings
---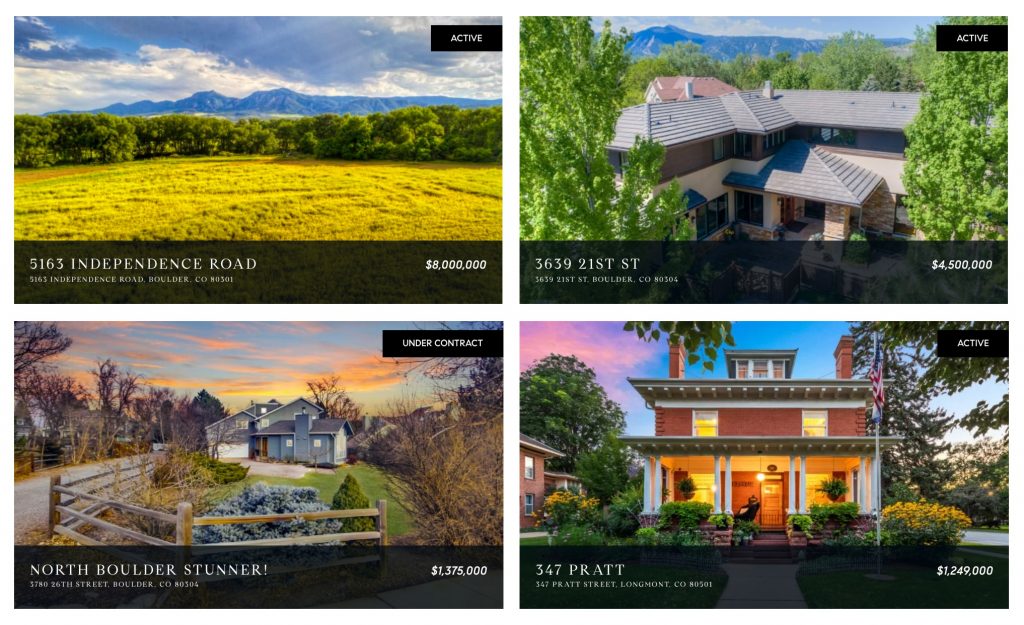 ---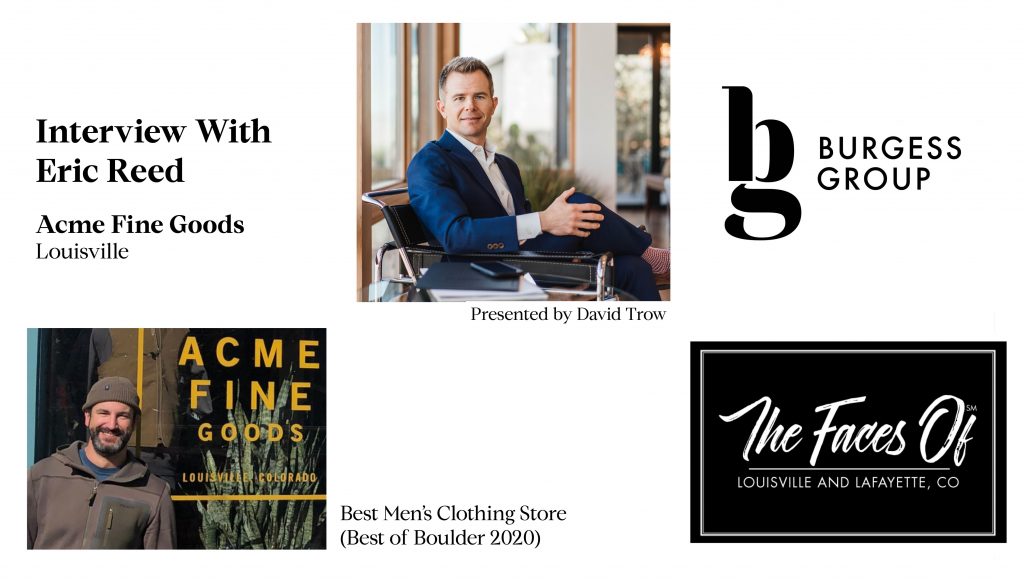 ---
Meet Eric Reed, Louisville's "Giant" of Fine Goods. At 6'5″ there is certainly a larger than life presence Eric brings to the room. It's not all about stature though. Eric is a master at his craft.
His winding and often overlapping history of jobs which included repping numerous brands in a multitude of markets has given him a collective knowledge few people have in the retail space. This is evident by his concept store, Acme Fine Goods, recently being recognized as Best Men's Clothing Store (Best of Boulder 2020).
Read More on David Trow's Blog: The Faces of Louisville and Lafayette
---
Boulder County COVID Testing
---
The Stazio Ballfields off 63rd and Stazio reopened for drive-up COVID-19/other tests. It can be very efficient, quick, and easy to pre-register online.
---
The Fun Stuff: Naughty Adults – Best of Just For Laughs Gags
---
---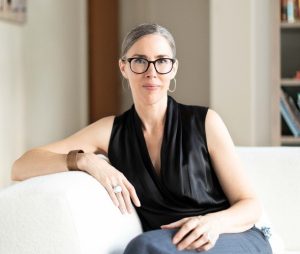 CATHERINE BURGESS
Associate Real Estate Broker
303.506.5669
[email protected]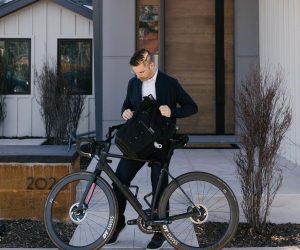 ANDY BURGESS
Associate Real Estate Broker
303.301.4718
[email protected]

© Compass 2020 ¦ All Rights Reserved by Compass ¦ Made in NYC
​​​​​​​Compass is a licensed real estate broker and abides by Equal Housing Opportunity laws. All material presented herein is intended for informational purposes only. Information is compiled from sources deemed reliable but is subject to errors, omissions, changes in price, condition, sale, or withdrawal without notice. No statement is made as to accuracy of any description. All measurements and square footages are approximate. This is not intended to solicit property already listed. Nothing herein shall be construed as legal, accounting or other professional advice outside the realm of real estate brokerage.