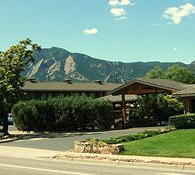 Three-quarters of an acre at 28th and Canyon changed hands on Friday.  Boulder's Best Western Golden Buff Lodge was purchased by Denver redevelopment NAI Shames Makovsky for an undisclosed amount.
Boulder developer Scott Pedersen had been working with Shames Makovsky on this project.  Last  year, he received city approval to demolish Eads and the Golden Buff, to replace them with two hotels and a 35,000 sq ft building of offices, retail and restaurants. Pedersen reports that he's no longer involved with the transaction, having sold development, entitlement, and purchase agreements to Shames Makovsky.
The project was originally expected to take 18 months to complete.
Read the Original Article Here: Denver developer acquires Golden Buff site
Love Where You LIVE:  The Boulder Real Estate Blog