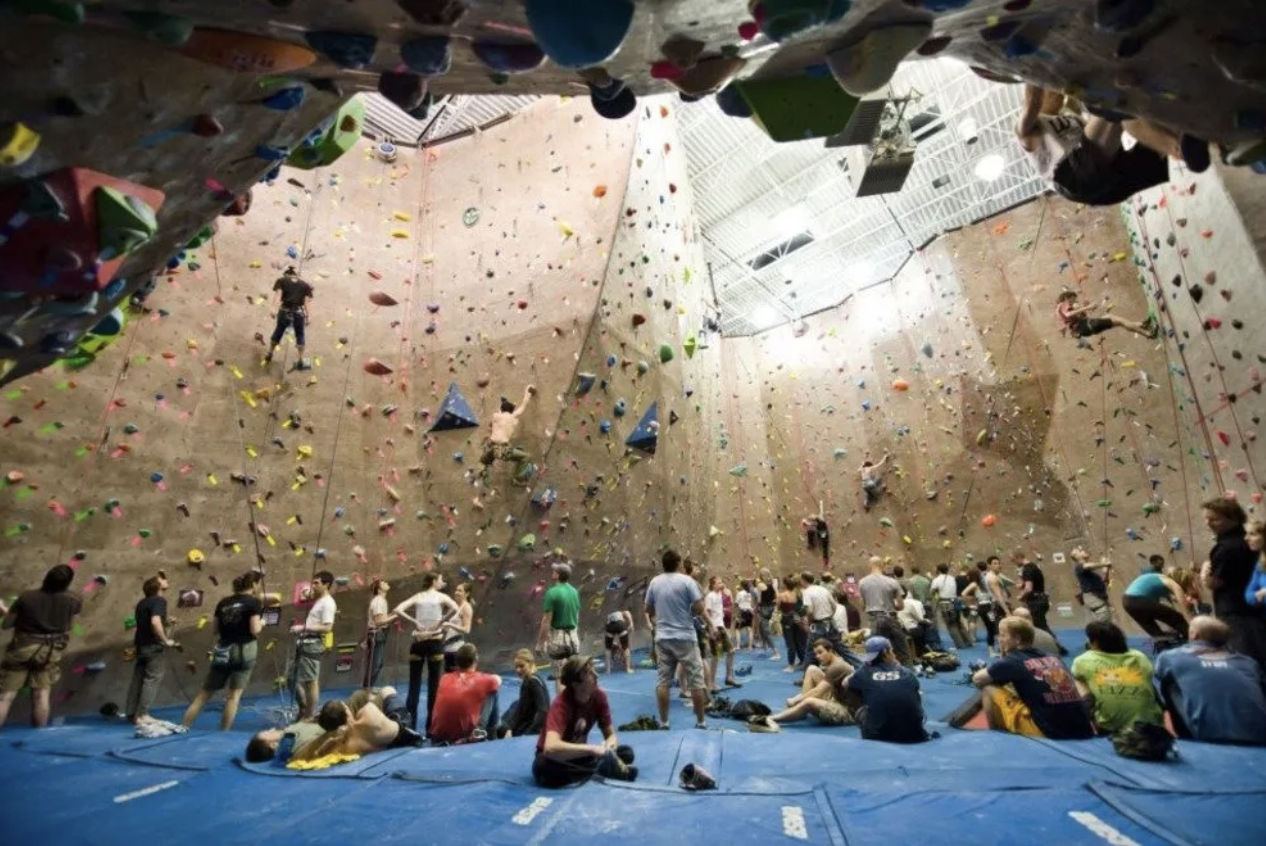 Climbing is one of the most engaging forms of exercise. Climbing puts mental strength and physical strength in harmony. And once you begin to incorporate techniques, the movement can feel as fluid as dancing.
Any Boulder realtor will be quick to remind you that the city is world-renowned for its outdoor crags. But outdoor climbing and indoor climbing are almost two different sports. The first time you transition from indoor to outdoor climbing the differences become glaringly obvious. Supplementing with an indoor gym is crucial when conditions aren't favorable.
Indoor climbing is active. It's social. And it's always a good time. There's no better way to cap off a workweek than Friday night climb-n-dine with friends. The indoor climbing scene in Boulder is top-tier. But which gym will you grace with your monthly membership? Here, the Boulder realtor team at Burgess Group | Compass lists your best options:
---
The Spot
What makes it great?
This gym has locations in Boulder, Denver, Golden, and Louisville. And if you're a member at The Spot… you get access to all locations. It can be fun to switch it up! And sometimes you'll burn through all the problems in your grade before route setters have a chance to put up new routes. Members have access to a total of 70,000 square feet of climbing! Bouldering and ropes are available at all gyms. They also have some amazing classes. The "learn to climb" class will get you prepared to climb with confidence. It'll teach you the gym and equipment basics, of course. But they'll also teach you the basics of climbing techniques and how to fall safely. Private lessons are available, as are 4-week adult training series. Kids can participate in camps, clubs, and competitions.
How much does The Spot cost?
Monthly memberships are $79/month.  Day passes are $25.
---
The Ice Coop
What makes it great?
According to our Boulder real estate agents, the Ice Coop is super unique. It's the only ice-climbing gym in the country. It's an amazing place to get used to tools and techniques. And it's a great way to keep your skill strong through the off-season. The look of the place is very similar to regular climbing gyms. You'll see familiar climbing holds (varying between jugs, crimps, pinches, and slopers). But the walls are wooden to withstand knicks from the axes you'll be carrying with you. The Ice Coop prides itself on being welcoming, inclusive, and unpretentious. They have beginners nights where you can socialize and collaborate with other newbie ice climbers, and monthly ladies' nights.
Learn more about The Ice Coop.
How much does The Ice Coop cost?
A monthly membership at the Ice Coop is $70. Day passes are $15. 
---
Boulder Rock Club
What makes it great?
Boulder Rock club was one of the first climbing gyms in the country. They first opened their doors in November 1991 and have prided themselves on quality route settings ever since. They even won Best of Boulder 16 years in a row. They have over 200 routes and boulder problems. BRC is diligent about switching up its routes regularly. Routesetters work three times a week and ensure that no problem is over two months old. Boulder Rock Club offers training programs for both adults and youth. The programs are all-inclusive and include personal training, cardio, weight lifting, and yoga. You can check their training calendar here.
Learn more about Boulder Rock Club.
How much does Boulder Rock Club Cost?
Memberships for Boulder Rock Club are $76 per month. Day passes are $22.
---
Movement Climbing + Fitness
What makes it great?
Movement is a national gym and one of our Boulder realtor team's favorites! They have gyms in Oregon, California, Illinois, Texas, Maryland, Virginia, and Colorado of course.
Locally, they have locations in Boulder, Denver, Englewood, and Golden.
If you're a frequent traveler to major cities like San Francisco, Chicago, Dallas, and D.C. this could be a valuable membership. Movement Climbing + Fitness values philanthropy. It donates part of its proceeds to nonprofits like The Access Fund and The Boys & Girls Club. Members get access to all locations, clinics, yoga, free guest passes, and more.
Learn more about Movement Climbing + Fitness. 
How much does Movement Climbing + Fitness Cost?
Monthly memberships to Movement Climbing + Fitness are $82. Day passes are $24.
---
G1 Climbing + Fitness
What makes it great?
G1 is a local Broomfield gym with 25,000 square feet of bouldering, roped, and speed climbing. Their walls soar up to 50 feet and are great for endurance climbing. Classes and clinics are extensive. It includes a gym-to-crag class and the famous "rock warrior's way" clinic. Rock Warriors Way helps new lead climbers overcome fall fears. This is a big barrier to improvement for many climbers. For that reason, this is a great gym to help you get comfortable making the transition to outdoor climbing.
Learn more about G1 Climbing and Fitness.
How much does G1 Climbing + Fitness Cost?
Memberships are $83 per month. Day passes are $25.
---
Longmont Climbing Collective 
What makes it great?
This gym is Longmont's favorite local climbing center. It's Bouldering only (no ropes), which makes it a great place to work on your strength. The Fitness center and yoga studio are free with your membership. One of the coolest features of this gym is their lounge, featuring the Top Out Taproom. It makes LCC a great place to meet new people and form connections with the Longmont climbing community. 
Learn more about Longmont Climbing Collective.
How much does Longmont Climbing Collective Cost?
Memberships are $75/month. Couple/ Roommate memberships are $139/month, which makes it a bit cheaper. 
Boulder, Colorado is home to some of the best climbing gyms in the country, offering climbers of all levels a variety of options for honing their skills and staying fit. Whether you're a boulderer, sport climber, or ninja warrior, there's a gym in Boulder that will meet your needs. So, grab your chalk bag and climbing shoes and head to one of these top gyms for an exhilarating climbing experience!