Friends,
Prices are a little softer, so it is a great time for buyers to make moves in the Boulder County real estate market; sellers, don't fear, buyers are still buying. Nationally, bidding wars are declining.
Watch the video below to find out more…
BUYERS
Historically, prices go up in the spring and come down some in the fall.  Now is the time, buyers, to marry the price and date the rate.  Purchase now for the lower pricing and refinance when rates come down. Take advantage of more inventory, less competition, and more time to make decisions. Cash buyers may have a competitive advantage (depending on how their contract is written).  There are some surprisingly attractive loans as well; call us – Our Compass Boulder realtor team is happy to share info about these.
There are still many people moving for business, first-time homebuyers looking to get into the market, etc.  Sales are still happening.  Let's talk about how to get your home ready to sell in a more competitive environment.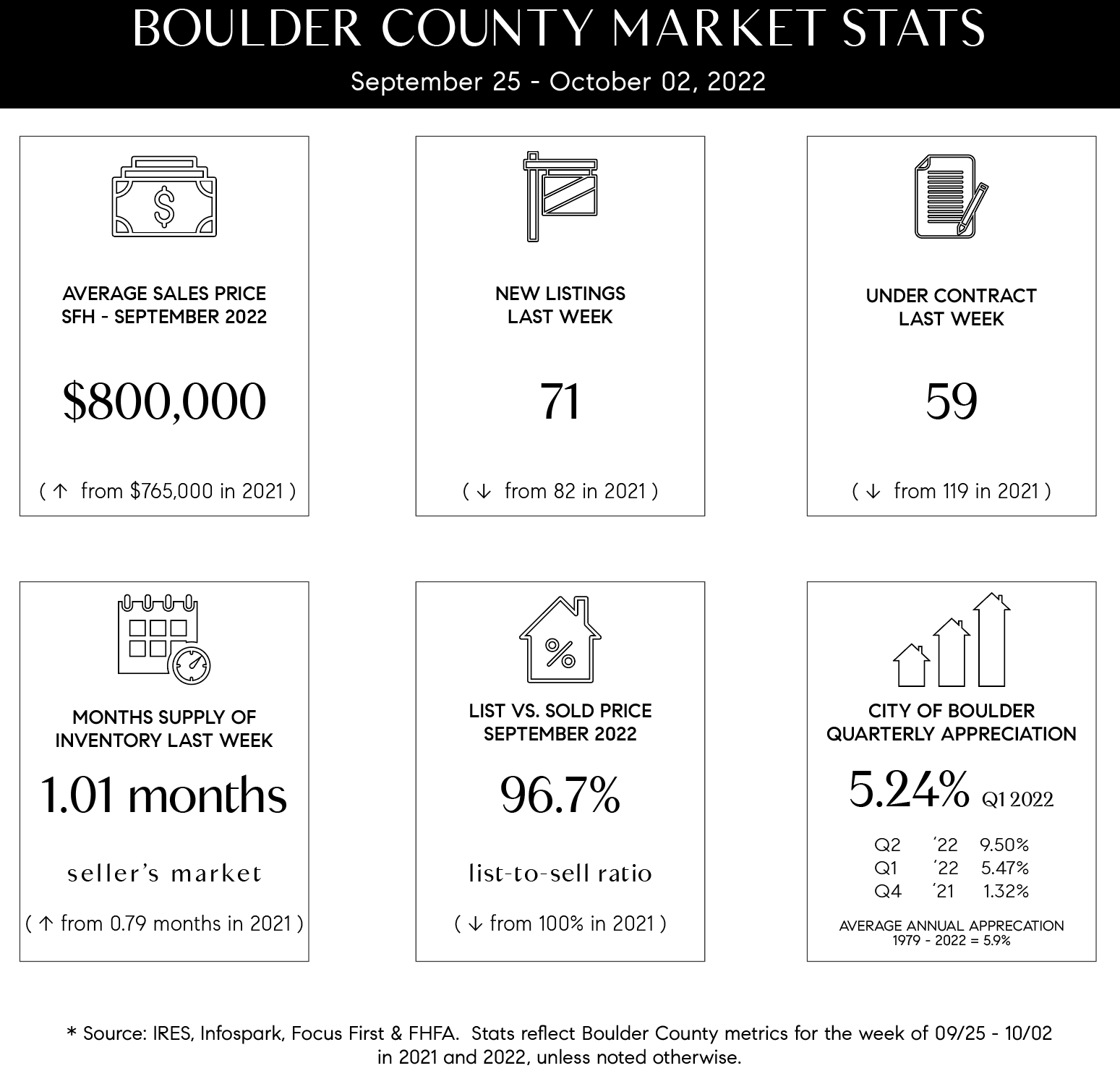 Local Market Details – Boulder County
Boulder realtors had 71 new listings come to market last week, vs 81 in 2018, 107 in 2019, 109 in 2020, and 82 in 2021.
59 properties went under contract, in comparison with 82 in 2018, 82 in 2019, 98 in 2020, and 119 in 2021.
Overall last week, Boulder real estate agents are reporting a gain in inventory. As you can see from the chart below, we're not yet at any of the inventory highs that we saw in 2012-2014 or in 2019-2020.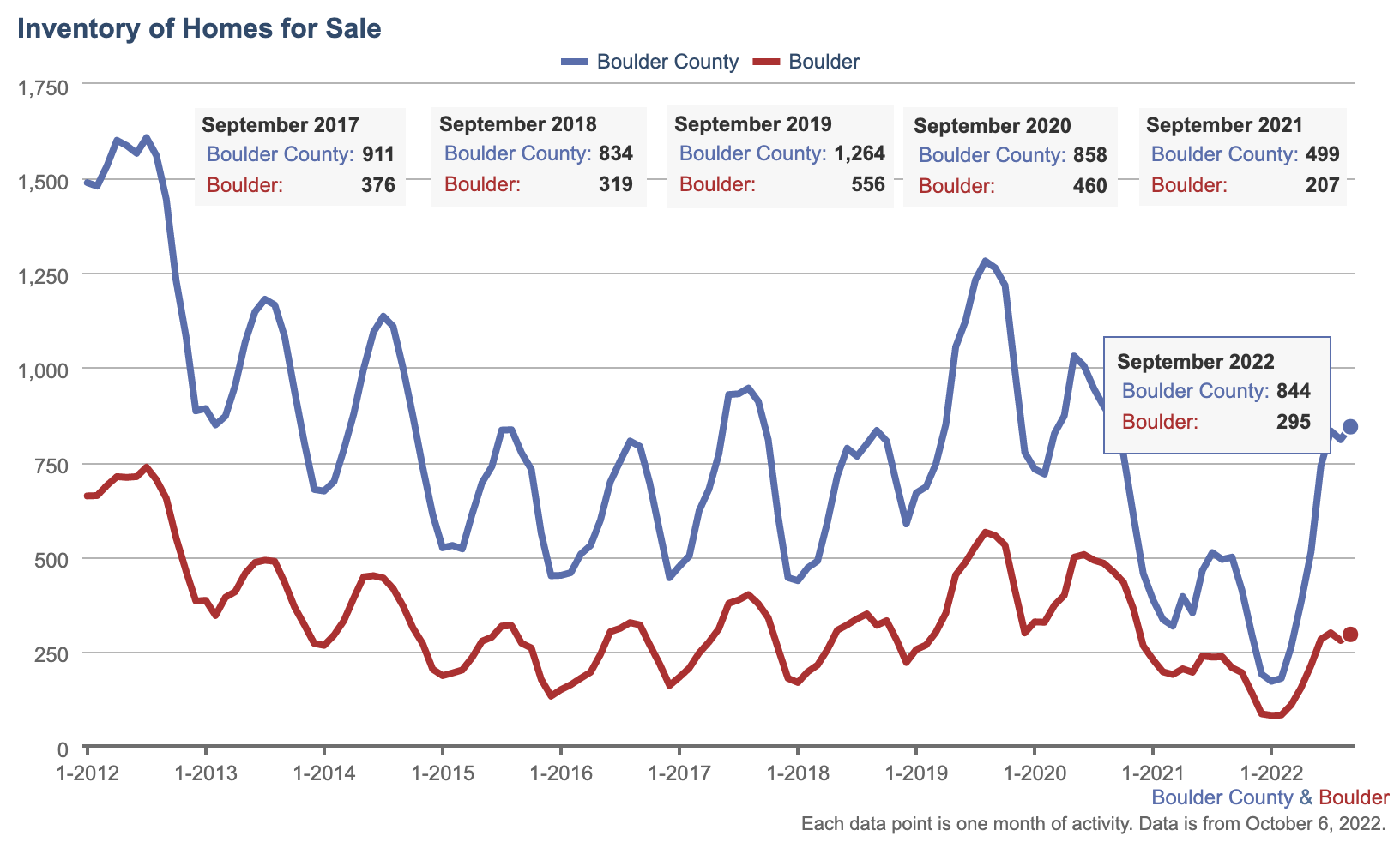 Activity By Price Band  and Price Reductions- Boulder County
In the last two weeks, the 0-$500k and $501k -$1mm markets have been more active than the top of the market, which made us wonder if these lower-priced properties were being purchased by cash buyers. Of the 87 sales in the $0-$1mm categories in the past two weeks, just 16% were cash transactions.  For the market as a whole over the past two weeks, we had 143 sales, with only 18% cash sales.  Relative to our recent past (see our last blog), we've seen a surprising increase in the number of people using loans.
After 4 weeks of declining price reduction numbers (8/07 – 9/04), we've had 4 weeks of higher price reductions in the 90 – 105 per week range. Two weeks ago we had an 18% price reduction rate; last week's rate was 16%.  We will keep tracking this as The Fed continues to try to bring inflation under control.
Bidding-War Rate Drops to Lowest Level Since April 2020 As Mortgage Rates Surge
Nationwide, the number of competitive offer scenarios is going down. Dropped from a high of 63.5% six months ago, nationally in July 2022 we were at 44.6% of offers facing competition.
Around the nation, the bidding war rate varied tremendously in July 2022, from a high of 63.8% in Raleigh NC to a low of 26.6% in Phoenix.
Metro Denver's rate came in at 37.1%, down month-over-month from 50.9% in June of 2022. Given how our market has been behaving, it is highly likely that the percentage of multiple offer scenarios is substantially lower than that at this time.
An offer scenario is considered competitive if there is at least one competing bid.
Take Time for Self-Care This Fall 

 

 

Autumn in Boulder is a busy time, and, let's face it, sometimes that brisk pace of school, work, and the kids' extracurriculars can cause stress. Plus, the holidays are right around the corner!

If you're looking for a way to relax and unwind, our Boulder Compass agents recommend the Deep Rest and Release Yoga and Meditation class taught by two beloved Boulder yoga teachers and our friends, Jennifer Davis-Flynn and Bria Tavakoli.
Your stress-releasing practice starts with deep stretches to soothe and calm the body and release tightness and tension. Then the session shifts into breathwork and guided meditation for somatic opening. A long, revitalizing savasana with aromatherapy accents completes your yogic reboot.
You'll float out feeling refreshed, receptive, and revitalized.This mellow yet powerful class is perfect for desk denizens, athletic folks, and anyone who experiences stress (aka all of us).
No yoga or meditation experience necessary. Newbies welcome, and Bria and Jenn believe that everybody has a "yoga body."
Deep Rest and Release Workshop
Saturday, October 8, 2022
Do you have a community event you'd like featured in our newsletter? Email Kacie to be considered. We're always happy to support our friends' endeavors!
Click anywhere below to check out Burgess Group | Compass Boulder realtor team's current exclusive listings.

marketingcenter-colorado-boulder