As always, feel free to forward this market update to your friends and family!
Friends,
Our Boulder realtors are reporting that new listings and under-contracts were more in alignment with pre-pandemic levels last week, but inventory was significantly lower than normal. Nationally, 2nd homes are being purchased at a greater rate again and mortgage payments/rents are rising.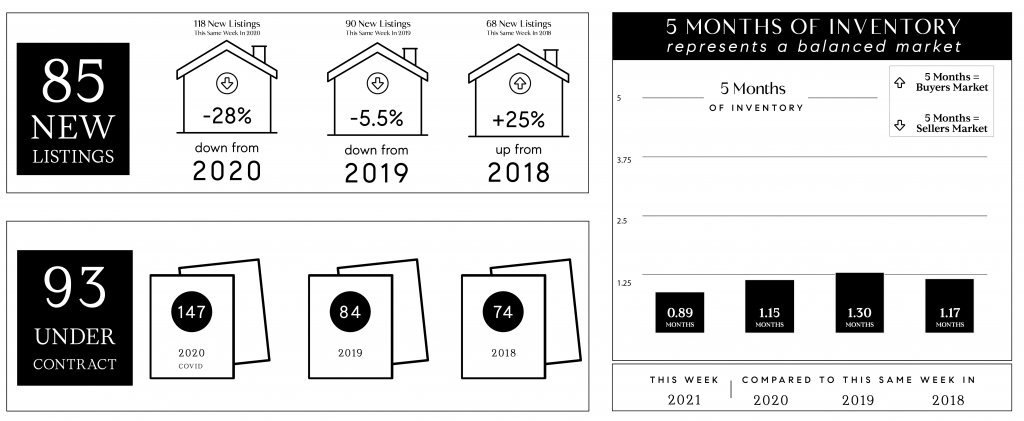 Local Market Update:
Boulder real estate agents had 85 new listings come to market last week, vs 68 in 2018, 90 in 2019, and 118 in 2020. 
93 properties went under contract, in contrast with 74 in 2018, 84 in 2019 and 147 in 2020. 
We had .89 months supply of inventory, which was significantly lower than 2018 (1.17), 2019 (1.30), and 2020 (1.15). 
Year-to-date under-contracts show the overall strength of this year's market, with 4272 in 2021, 3706 in 2018, 3876 in 2019, and 4096 at this time in 2020. 
So, every Boulder realtor will have to keep observing to see if our new listings and under- contracts follow the pre-pandemic seasonal decline or if we revert to a more effervescent fall market. 
Activity By Price Band:
A lot of new inventory came to market above $2.5mm.  $1.5-2mm had a 200% sell-through rate, and 0-$500k had a 184% sell-through rate, so they may both feel shopped out.
National News: Important Headlines
Second Home Market picks up
Second-home demand in September 2021 increased to 60% over pre-pandemic levels.  Although still enormously elevated from pre-pandemic levels, there was a significant summer slow-down that we have moved beyond now.  Second homes have again become more competitive and more expensive.
Mortgage payment increases outpace rent increases
Nationally, average rents went up 11% so far this year, with median monthly mortgage payments up 15% year over year from September of 2020. If mortgages continue to outpace if mortgage increases continue to outpace rent increases, a buy strategy of investment properties may look even smarter.
Looking for some local Halloween Fun? The Boulder realtors here at Burgess Group have got your back!

Pumpkin Patches, Haunted Houses, Trunk or Treat Events, Movie Nights, 5K's and more!

Click here to learn about all the spooky stuff happening around Denver and Boulder this weekend.
More From Burgess Group Blog
Burgess Group | Compass Exclusive Listings
Click anywhere below to check out our current exclusive listings.
Economic News & Real Estate
The Fun Stuff:  She Burnt Off Her Hair!