Friends,
Our Boulder realtor team is pleased to report that local real estate inventory is rising; buyer demand is still above pre-pandemic levels according to a national homebuyer demand index.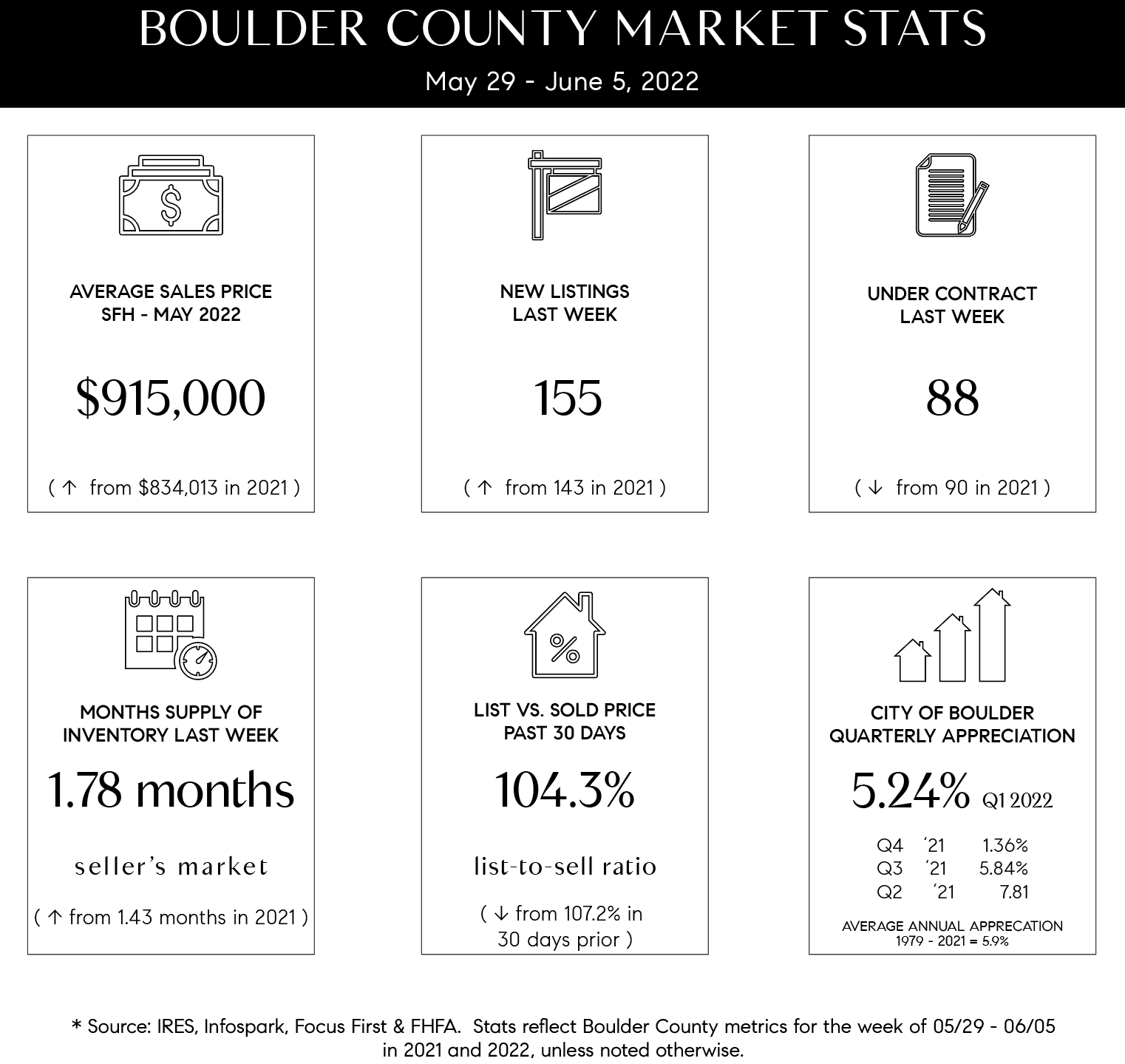 Local Market Update – Boulder County
Boulder real estate agents reported 155 new listings coming to market last week, vs 120 in 2018, 154 in 2019, 120 in 2020, and 143 in 2021.
88 properties went under contract, in contrast with 101 in 2018, 117 in 2019, 111 in 2020, and 90 in 2021.
We had 1.78 months supply of inventory, in comparison with 2018's 1,41, 2019's 1.48, 2020's 1.79, and 2021's 1.43 MSI.
Year-to-date under-contracts remain lower, with 1679 thus far in 2022.  At this time in 2018, there were 1950 under-contracts; 2019 had 2048; 2020 had 1770; and 2021 had 2008 under-contracts. So, our total this year is still lower than the number we had in 2020, having had 2 months of shutdown under our belts.
This reflects a previous overall lack of inventory in the market and now a reduction in buyers.
In the Inventory of Homes chart, please note that at the end of May Boulder County had 476 properties for sale, and City of Boulder had 199 for sale.
The lowest inventory levels in the previous 4 years were:
2018 (end of Jan): Boulder County 444,
City of Boulder 171
2019 (end of Dec): Boulder County 652, City of Boulder 256
2020 (end of Feb): Boulder County 719, City of Boulder 327
2021 (end of Mar): Boulder County 319, City of Boulder 190
So, our Boulder realtor teams' takeaway is that City of Boulder inventory levels have risen to some recent historic lows. Boulder County inventory, while not robust, is better than it was at the lowest points of 2018 and 2021.
For reference, the high points in these years were:
2018 (end of Aug): Boulder County 822, City of Boulder 392
2019 (end of Aug): Boulder County 1309, City of Boulder 577
2020 (end of May): Boulder County 1017, City of Boulder 496
2021 (end of July): Boulder County 511, City of Boulder 234
Considering that we were (as an aggregate) largely in a seller's market for 2018-2021, sellers should feel confident that inventory levels could expand some and houses will still likely sell without issue if the home is in alignment on location/condition/price and demand continues at a decent clip.
Buyer demand (nationally) is still slightly above pre-pandemic levels, see the chart below. We just had a lender call, advertising a low 4% rate for 10% down jumbo loans, with no mortgage insurance, homes priced from $725k – 1.7mm. Call us for details.
Buyers are usually pickier and slower when there is more inventory, so expect the pace of the market to slow some.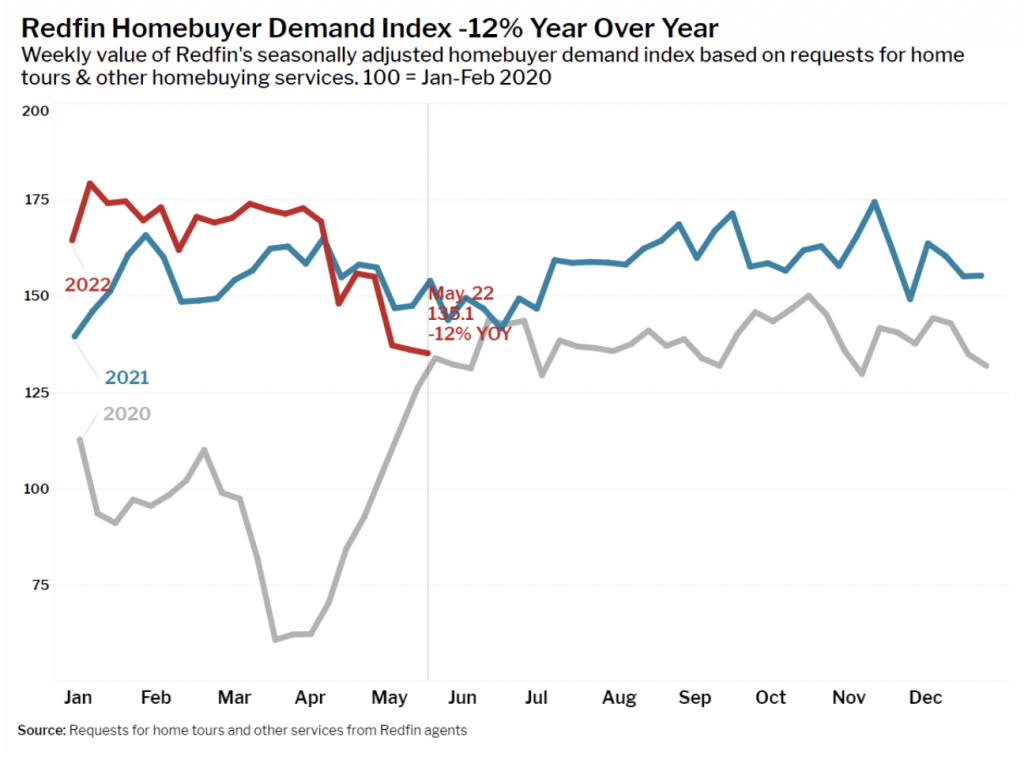 The luxury market will likely saturate into a buyers market faster than the rest of the market. Contact the Boulder realtors at Burgess Group | Compass with questions about this.
Activity By Price Band – Boulder County
Over the past two weeks, the sell-through rate has mostly favored buyers, indicating that our overall quantity of inventory is increasing.  To note, we have had some sales in the high-end luxury market, which reflects some increased luxury buyer confidence.
Again, super important, last week we had our highest number of price changes so far this year, at 68.  This is 14% of our total Boulder County actives, reflecting the decrease in seller confidence that has occurred/is occurring in our market.
As Americans Migrate Away From Density, Higher Fire Risk Homes Sell Nearly $120,000 More Than Low-Risk Homes 
Historically, fire-prone homes have been located in areas of flammable vegetation, not historically in cities with lots of concrete and little vegetation.  These more private, remote locations have typically been more pricey, for example around west-coast metro areas.
Because these homes are built for a more well-heeled buyer, they are typically bigger.  The typical high-fire-risk home purchased in April was 2,000 square feet, while the typical low-risk home was just 1,706 square feet.
When Americans were moving out of the cities in droves into suburbs and rural areas, the price premiums for these high-risk homes increased. Median high-risk home prices increased 51.7% from April 2020 in the past 2 years.  The median increase for low-risk homes from April 2020 was 40.9%.
Click anywhere below to check out Burgess Group | Compass Boulder realtor team's current exclusive listings.

marketingcenter-colorado-boulder