Friends,
The Headlines: Locally inventory is improving, and buyer demand is fairly quiet. These trends are echoed nationally.
Local Market Update – Boulder County
Our Boulder realtor team is reporting on 121 new listings coming to market last week, vs 89 in 2018, 94 in 2019, 123 in 2020, and 119 in 2021.
102 properties went under contract, in contrast with 101 in 2018, 89 in 2019, 119 in 2020, and 122 in 2021.
We had 1.95 months supply of inventory, in comparison with 2018's 1.11, 2019's 1.16, 2020's 1.13, and 2021's 1.12 MSI.
Year-to-date under-contracts remain lower, with 2320 thus far in 2022.  At this time in 2018, there were 2642 under-contracts; 2019 had 2743; 2020 had 2677; and 2021 had 2849 under-contracts. So, our total this year is lower than the number we had in 2020, having had 2 months of shutdown under our belts. This reflects the continued overall lack of inventory in the market, but according to Boulder real estate agents, this amount of inventory is improving.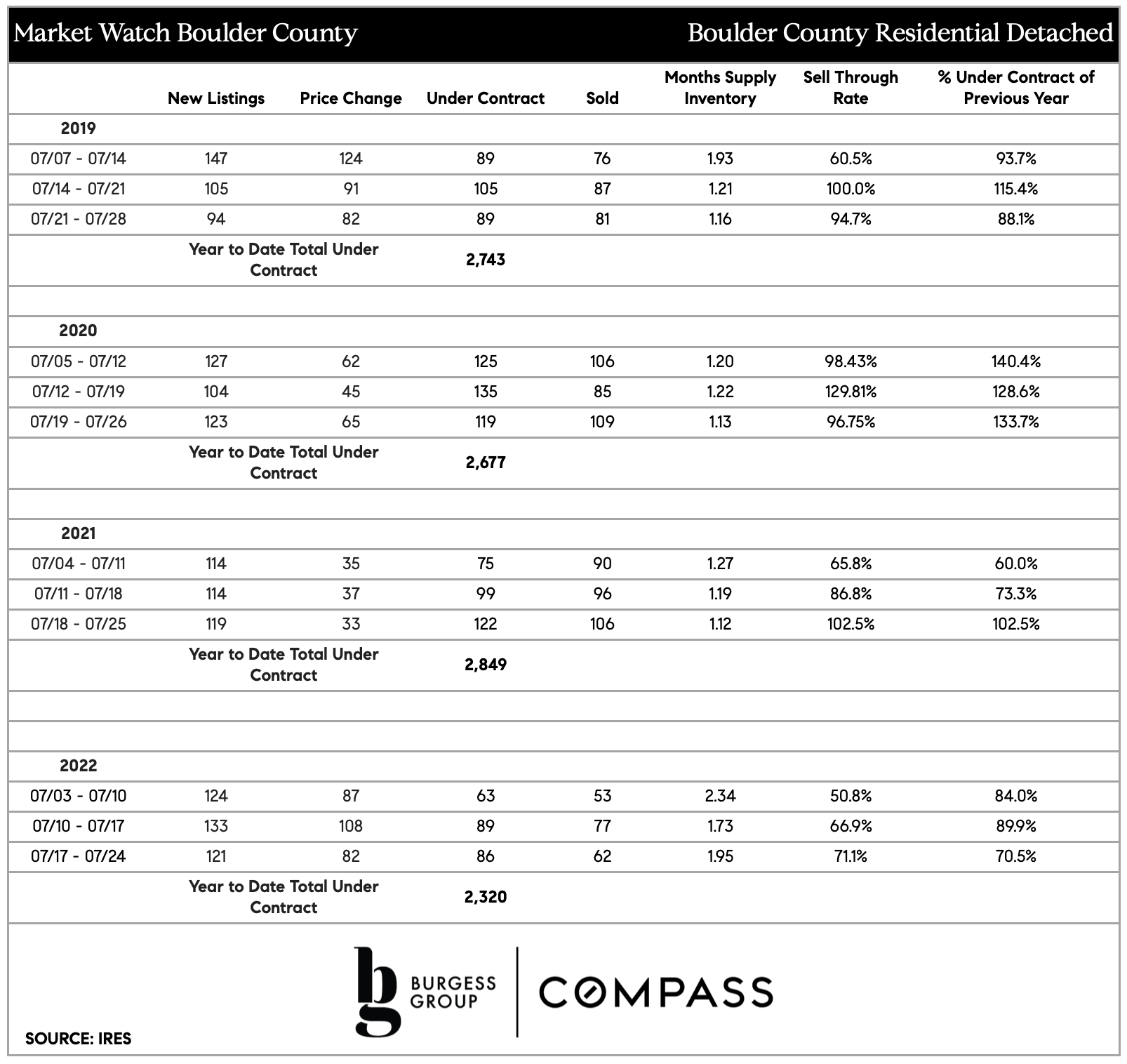 Activity By Price Band – Boulder County
Buyer activity was slow relative to new listings in all categories except the 0-$500k. As the Boulder realtor team here at Burgess Group | Compass looks back through the last several weeks, there have been bursts of buyer demand in all the different price bands, but overall, buyer demand has been lower.
Again, our most important indicator here right now is the price change column.  After months of increases in price decreases, we're now seeing ups and downs in the number of price changes, with the overall higher numbers reflecting a loosening of seller grip on the market.
The sale process is slowing, as indicated by the following:
41% of homes that went under contract had an accepted offer within the first two weeks on the market, down from 46% a year earlier.




28% of homes that went under contract had an accepted offer within one week of hitting the market, down from 33% a year earlier.




Homes that sold were on the market for a median of 19 days, up from 18 days a year earlier and up from the record low of 15 days set in May and early June.




49% of homes sold above list price, down from 54% a year earlier.

On average, 7.3% of homes for sale each week had a price drop, a record high as far back as the data goes, through the beginning of 2015.




The average sale-to-list price ratio, which measures how close homes are selling to their asking prices, declined to 101.4%. In other words, the average home sold for 1.4% above its asking price. This was down from 102.1% a year earlier.
Leading indicators of homebuyer activity:
For the week ending July 21, 30-year mortgage rates rose to 5.54%. This was down from a 2022 high of 5.81% but up from 3.11% at the start of the year.




Fewer people searched for "homes for sale" on Google—searches during the week ending July 16 were down 23% from a year earlier.




Touring activity as of July 10 was down 2% from the start of the year, compared to a 22% increase at the same time last year, according to home tour technology company ShowingTime.




Mortgage purchase applications were down 19% from a year earlier during the week ending July 15 to the lowest level since April of 2020, while the seasonally-adjusted index was down 7% week over week.
Congratulations to our very own Boulder realtor Tricia Dessel who is featured on the cover of the August 2022 edition of Boulder County Real Producers.

Click here to read the article.

"I love helping people prepare their homes

for sale," she says. As a leading Boulder real estate agent, Tricia has a keen eye

for prudent improvements to a home that

will make the property truly shine when

it hits the market. "I work with my clients

to elevate the value of their home, using

smart improvements that will offer the

highest return on investment," she says.
C
lick anywhere below to check out Burgess Group | Compass Boulder realtor team's current exclusive listings.

marketingcenter-colorado-boulder