---
The damage and destruction caused by the Marshall Fire has left our beloved Superior and Louisville communities unrecognizable and over 1,000 homes and businesses are gone.
Many of you have reached out looking for ways to help. Below, our Boulder realty team has outlined different ways you can donate money, time, or resources.
If you or someone you know could use help, please reach out to us directly. The Boulder real estate agents at Burgess Group and our Compass Agent community is mobilized and ready to help in any way.
Wishing you joy, safety, and health in the new year.
Catherine, Andy, Tricia, David, and Jennifer
---
A Guide For A Mindful Approach To Helping After Fire Loss
We have found this article to be a wonderful source of inspiration for how to communicate with our community and loved ones about the loss they are experiencing.
We hope you'll read this before deciding how best to offer your time, money, energy and resources.
READ: Fire Stories, How To Help A Friend Who Lost Their Home In A Fire
---
Donate Money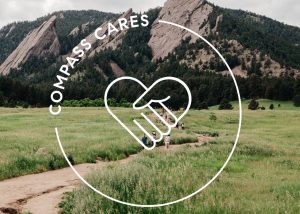 Boulder Compass Agent Community GoFund Me
This GoFundMe has been created by the Boulder realtor Compass Real Estate staff and agents nationwide to help those in immediate need in Boulder County who have lost homes, pets, and businesses.
 
This GoFundMe will help those in need due to the fires that have now taken over 1,000 homes. The Boulder Compass Agent Community representing Boulder County realtors has formed a Council that will determine the best way to use the funding.
Sister Carmen Gift Card Drive
Sister Carmen is in need of Target and King Soopers gift cards in $100 increments for those affected by the Marshall Fire.
Please deliver them to the North Entrance at:
655 Aspen Ridge Drive
Lafayette, CO  80026
Monday – Friday, 9am – 5pm.
Donate Directly To Families
Thousands of families are taking direct donations through their GoFund Me pages. We suggest searching this page for a family or individual who is still very far from their goal. 
---
Donate Time
Conscious Alliance Food Delivery
Conscious Alliance is working with World Central Kitchen and over 60 local restaurants to provide free meals to those affected by the fire. They are seeking volunteers to help deliver the meals in and around Boulder County. 
Join The Marshall Fire Relief Squad
A local group of citizens have created a Facebook Group and are organizing to build and distribute sifting boxes. They will also be coordinating volunteers to help with sifting in the coming days and weeks. 
Volunteer At Rayback Free Market
The Free Market for Fire Survivors will be three days – Thursday, January 6 – Saturday, January 8.
Families displaced by the fires can shop from 12-10pm Thursday & Friday and from 12-9pm Saturday.
Donations are paused but they are still accepting volunteers. 
---
Donate Resources
Donate Clothing & Goods
It is our understanding that most outlets are currently overwhelmed with clothing and dry good donations and are in need of volunteers and financial donations now. 
"It happens in every disaster: People want to help, but they often donate things that turn out to be more of a burden."
Read: NPR, Thanks, But No Thanks: When Post-Disaster Donations Overwhelm
If you have heard otherwise, please contact [email protected] so we can update our blog.
---
Offer Housing
Post Your Home For Rent
Do you have an available house or condo for rent that you would like to share with families who have been impacted by the Marshall Fire?
Offer Your Home or Rooms as a Free AirBNB Stay 
If you have extra room in your home or empty vacation rentals, you can sign up through AirBNB to offer free stays to people in time of crisis.