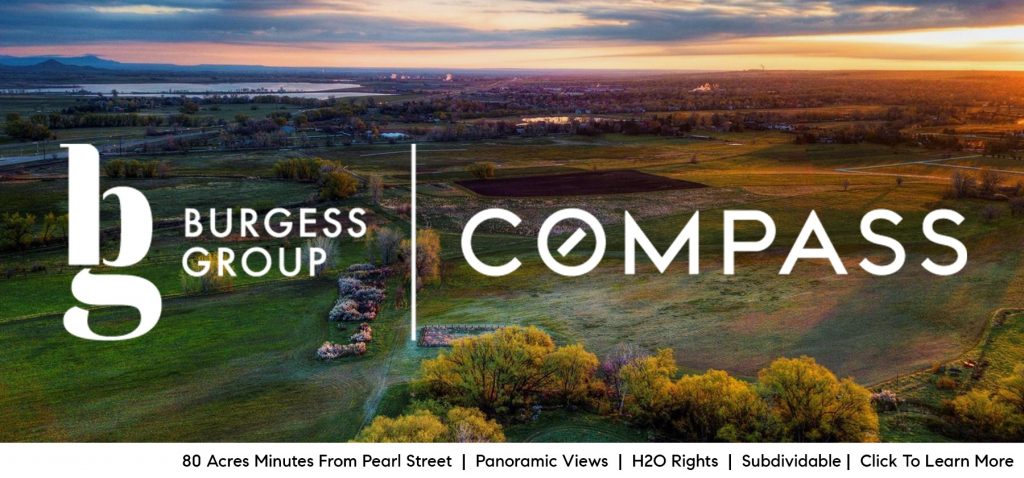 ---
Friends,
The big news this week was not a lot of news listings or under contracts, but plenty of expired listings…a great time for buyers to pounce!
---
Boulder County Real Estate Statistics and National Real Estate News
---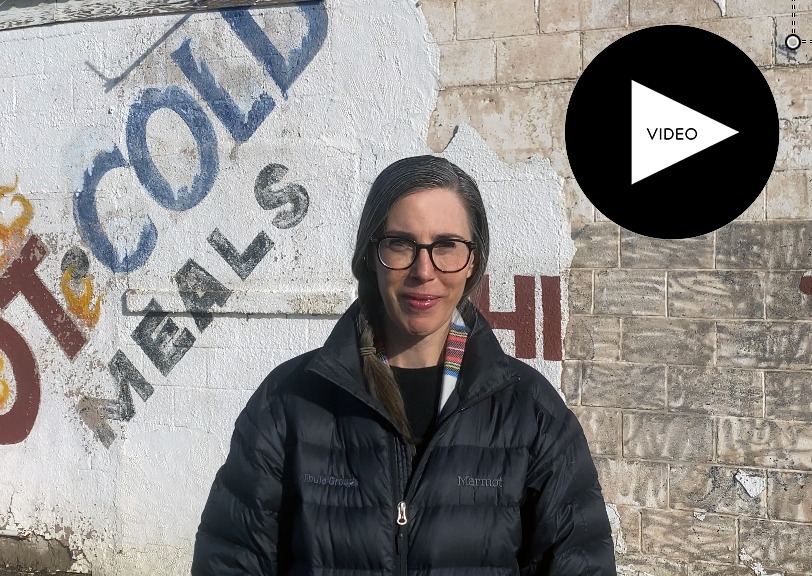 ---
Burgess Group Compass Exclusive Listings
---
Click below to check out our current Burgess Group listings.
---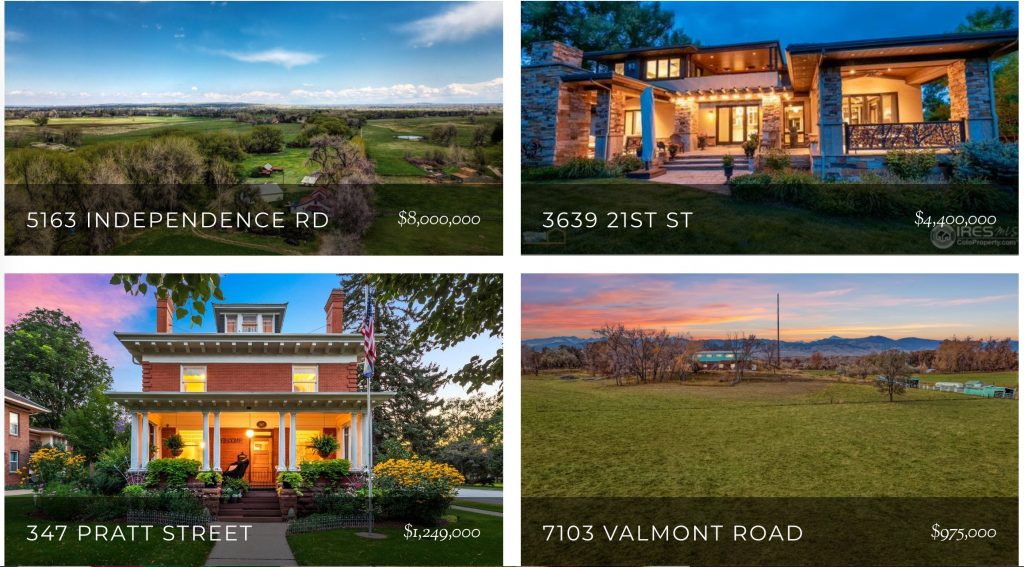 ---
Five Questions With…
---
---
Our new blog series, "Five Questions With…" will introduce you to the diverse set of humans who make up the Burgess Group Real Estate Team.
This week, Heather Sadowsky Tobiasen chats about her passion for yoga and her journey to become a certified instructor.
Click here to learn how Heather's practice on the mat keeps her present, thankful, patient, persevering, accepting, and honest in her Real Estate practice as well.
And in case you missed it, here is last week's interview with Tricia Dessel on skiing.
---
Burgess Group Blog
---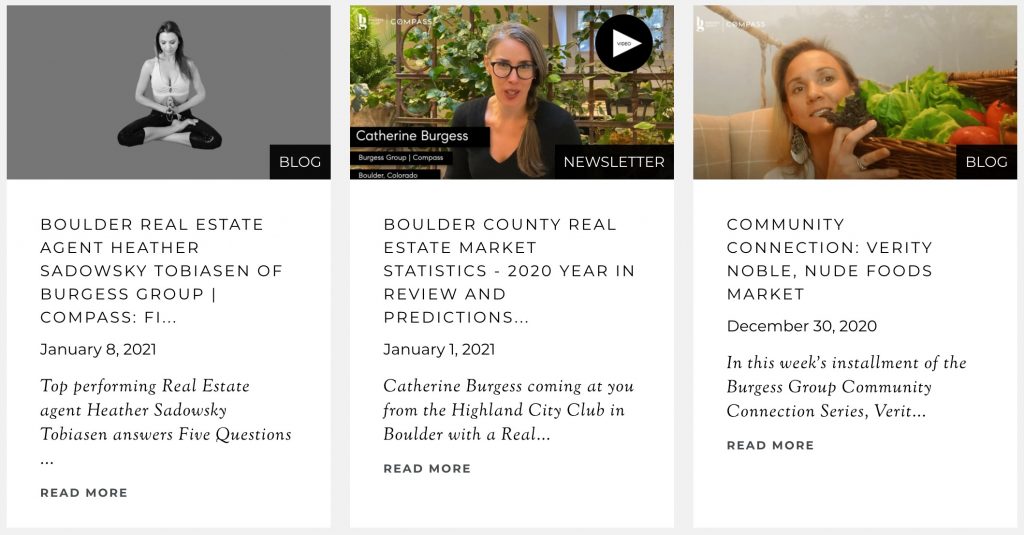 ---
Boulder County Real Estate Statistics
December 27, 2020 to January 3, 2021
---
IN AGGREGATE:
The big news this week was not a lot of news listings or under contracts, but plenty of expired listings.
---
(Click the chart below to see stats for all of 2020.)
---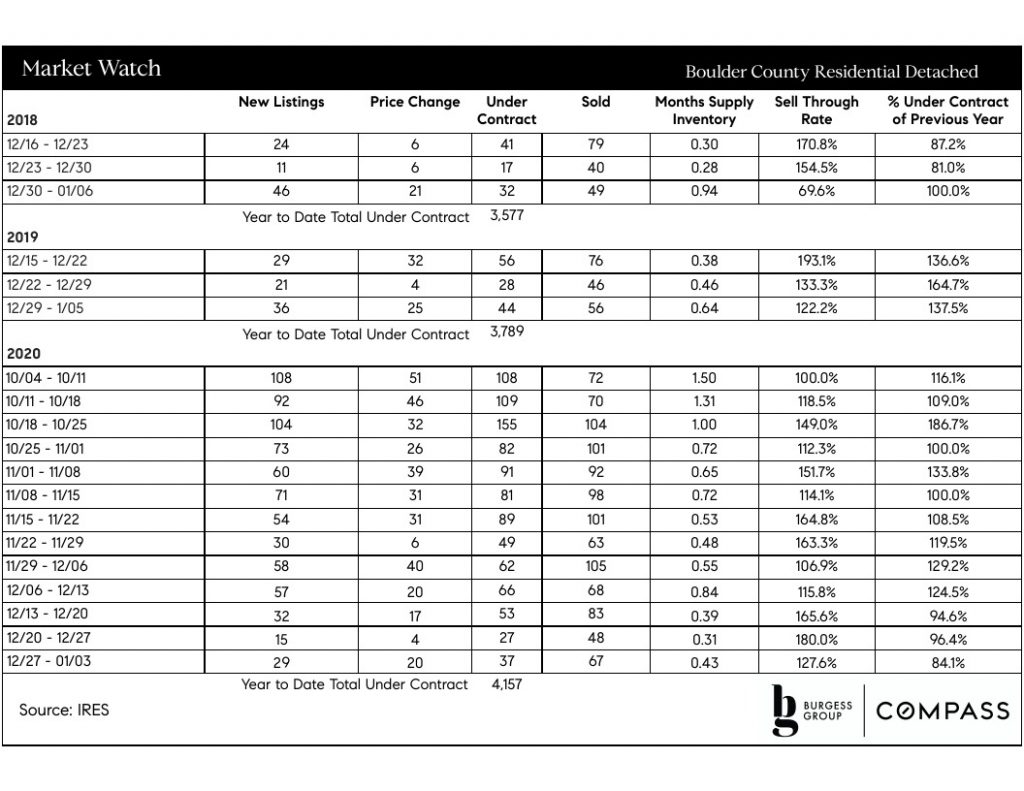 ---
THE MARKET BY PRICE BAND
Expired listings in most price categories. A quiet market otherwise.
---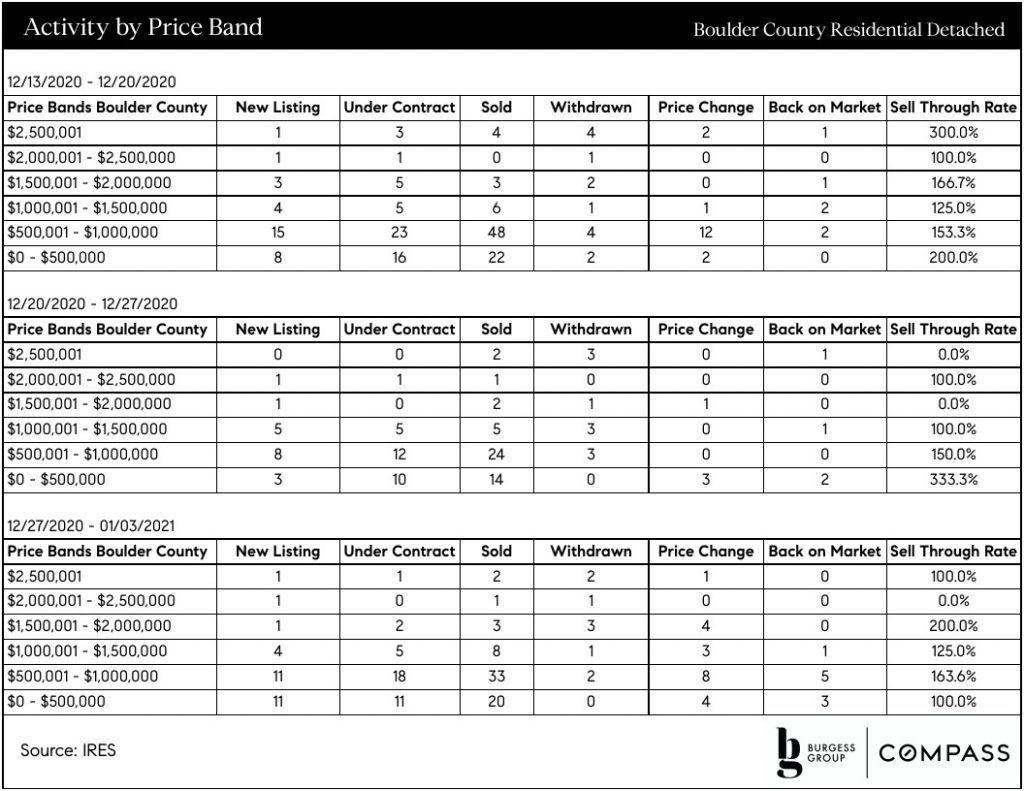 ---
Local Real Estate in a Nutshell
---
Buyers, note all of those expired listings. There are lots of opportunities in the market, we just need to look for them.
Sellers, get your properties ready, buyers are engaging now.
---
National Real Estate Data
---
National iBuyer Trends
---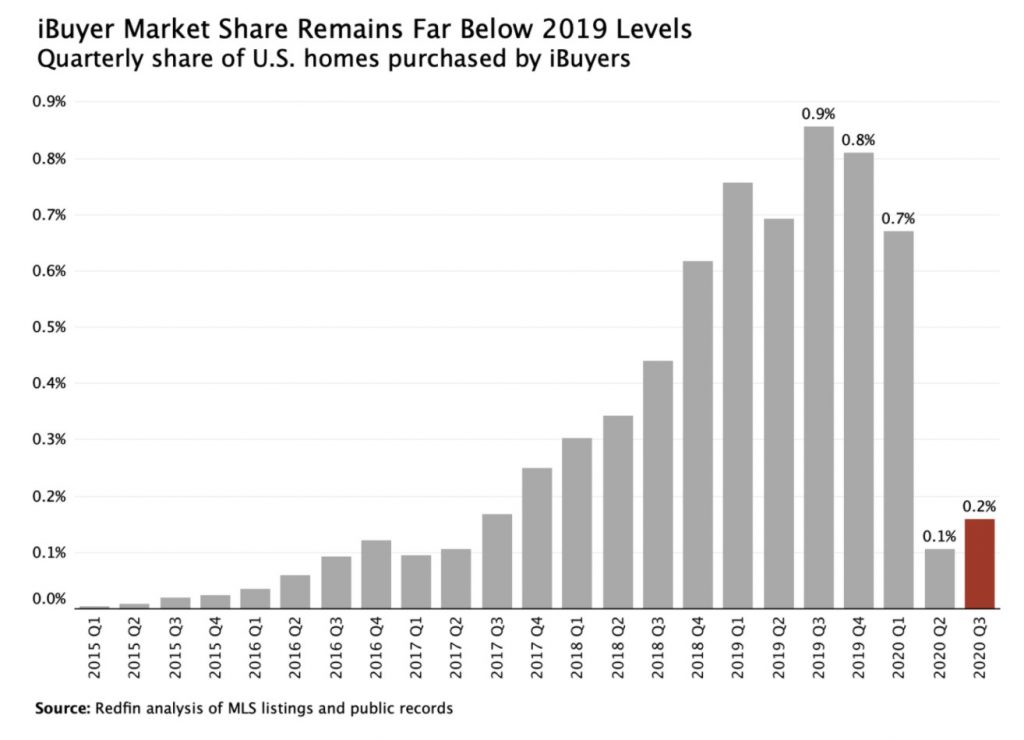 ---
The term "iBuyer" (short for instant buyer) is used to describe real estate companies that purchase houses from homeowners in quick, cash transactions by using algorithms to evaluate a property's worth based on comparable market data.
iBuyers typically charge sellers a higher fee than a traditional real estate agent would given the certainty of a cash offer with a flexible move-out day and the convenience of avoiding home prep, showings and open houses. These companies then make any necessary improvements and resell the homes.
According to analysis of MLS and public records data on home purchases and sales made by the most well-known national iBuyers, (RedfinNow, Opendoor, Zillow and Offerpad,) Real estate firms including Redfin, Zillow and Opendoor announced in March that they were pausing iBuying as the coronavirus pandemic began to take a toll on the economy.
They began reopening their iBuying programs in May and June as housing demand started rebounding amid record-low interest rates and an increase in relocations made possible by remote work.
The slowdown in iBuying comes as the rest of the real-estate market is red hot, with home prices rising 15% nationally and pending sales up twice as much.
"The hotter the market, the less attractive it is for home sellers to let an iBuying company take a cut of the sale," said Redfin Lead Economist Taylor Marr. "With home prices and demand surging, many sellers figure they can sell their home quickly without having to give away any of their profits."
A lack of homeowners wanting to put their homes on the market is also causing iBuyer activity to remain slower than it was in 2019.
---
Boulder County COVID Testing & Blood/Plasma Donation
---
The Stazio Ballfields off 63rd and Stazio reopened for drive-up COVID-19/other tests. It can be very efficient, quick, and easy to pre-register online.
Donate COVID-19 Plasma & Blood: Boulder County is in great need of plasma and blood; if you've already had COVID-19, your donation is even more valuable; join our team members Kevin and Andy in giving regularly. Learn more here to help our community.
---
More Real Estate News
---
CoreLogic: House Prices up 8.2% Year-over-year in November
Why the Fed's inflation push could turn from friend to foe for the market this year
Chicago Fed President: It will take years for inflation to get to 2%
Home Solar Is Growing, but Big Installers Are Still Losing Money – The New York Times
---
The Fun Stuff: Best Snow News Bloopers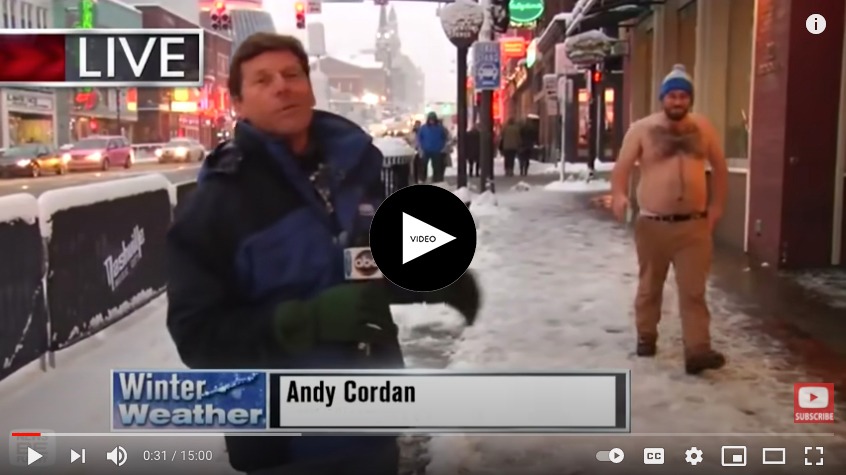 ---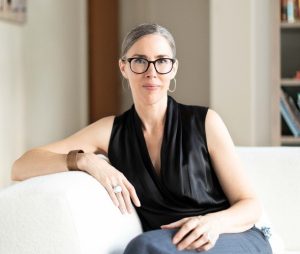 CATHERINE BURGESS
Associate Real Estate Broker
303.506.5669
[email protected]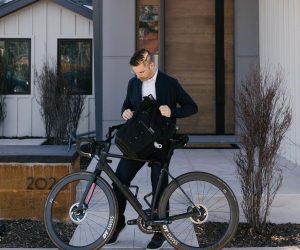 ANDY BURGESS
Associate Real Estate Broker
303.301.4718
[email protected]

© Compass 2020 ¦ All Rights Reserved by Compass ¦ Made in NYC
​​​​​​​Compass is a licensed real estate broker and abides by Equal Housing Opportunity laws. All material presented herein is intended for informational purposes only. Information is compiled from sources deemed reliable but is subject to errors, omissions, changes in price, condition, sale, or withdrawal without notice. No statement is made as to accuracy of any description. All measurements and square footages are approximate. This is not intended to solicit property already listed. Nothing herein shall be construed as legal, accounting or other professional advice outside the realm of real estate brokerage.