Dear friends,
Boulder County real estate had another steady week.
​​​​​​​Before we get serious, here is our weekly brain candy: Our summer weather is surely bringing you back to that age-old question, "What would it be like to bellyflop into a pool of Jello?" Answers in the video below.
​​​​​​​For those of you interested in something more timely, here is a hilarious explanation of how germs spread
​​​​​​​BOULDER REAL ESTATE MICRO DATA:
Boulder County Stats 5/24-5/31/20
Last week we had 120 new listings come on the market, 62 price changes (compared to 121 the same week last year, reflecting our lower levels of inventory). 103 properties went under contract last week, fewer than the previous week, more than the week before that, and a huge amount more than when we bottomed out at 43 under contract in the middle of April.
Our overall sell-through rate last week was 85%. When it is under 100%, our overall inventory is increasing; when it is over 100%, overall inventory is decreasing.
Keep in mind that solds are a lagging indicator. The national news focuses on solds, but that information reflects what was happening 30-45 days ago; under contracts reflect current market conditions. In Boulder County, solds are on the rise, reflecting May 2020 market improvements.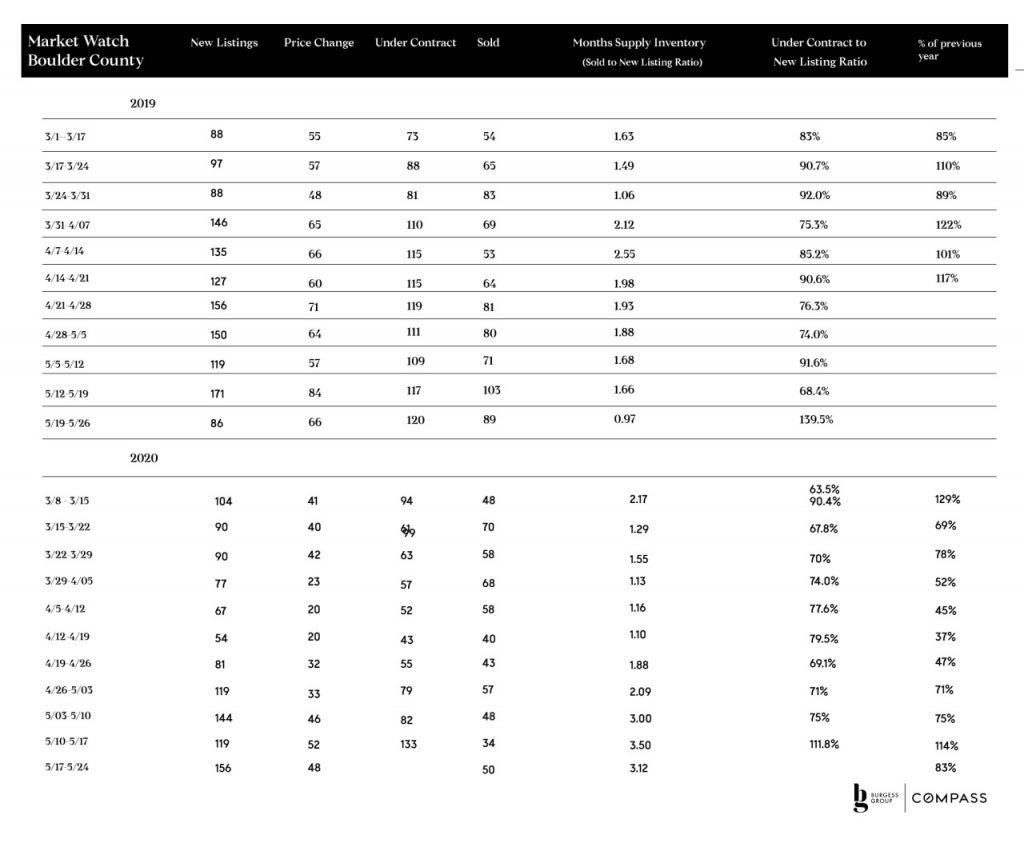 Across the board, we're seeing good activity, with the most activity in the $500-1mm band.
From a price band perspective, we had a slight increase in inventory in the 0-$500k range, with a 107% sell-through rate. $500k-$1mm saw a small decrease in inventory and under-contracts.
$1-1.5mm saw 10 new properties come to market and 10 properties go under contract, with a 100% sell-through rate, showing this segment coming to life. $1.5-2mm had less activity last week than the previous two weeks. $2mm+ had an increase over the two previous weeks.
(*Sell-Through Rate is the Under Contract to New Listing Ratio.)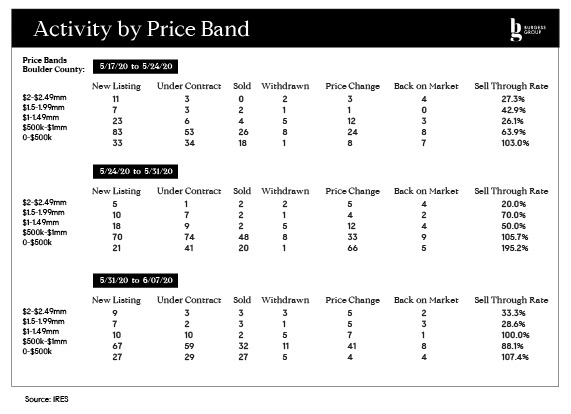 ​​​​​​​Showing Activity in Recovery
According to Showingtime, which coordinates most Boulder County showings, our showing activity has come back to nearly the same level as 2019.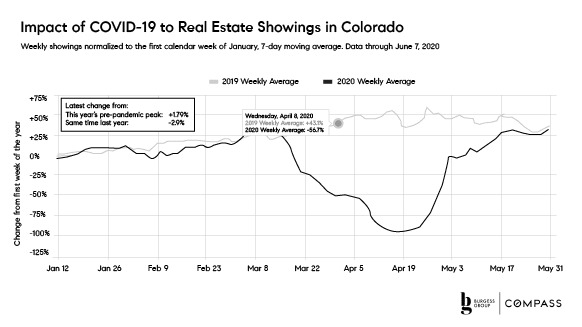 Local Real Estate In A Nutshell
Over the past 6 months median prices went up about 5%, with a slight .7% decrease in under contracts.
These two things together mean that buyers are very aware of price right now, and in order to sell, sellers need to come to market priced correctly, with good showing condition and strong marketing, to get buyers in the door and making an offer.
MACRO DATA:
Home Purchase Applications Spike As Mortgage Rates Fall
Nationally, we saw an increase in mortgage applications for the 8th week in a row, reflecting continued pent-up buyer demand. Last week mortgage applications were up 13% over the same week in 2019, see video below.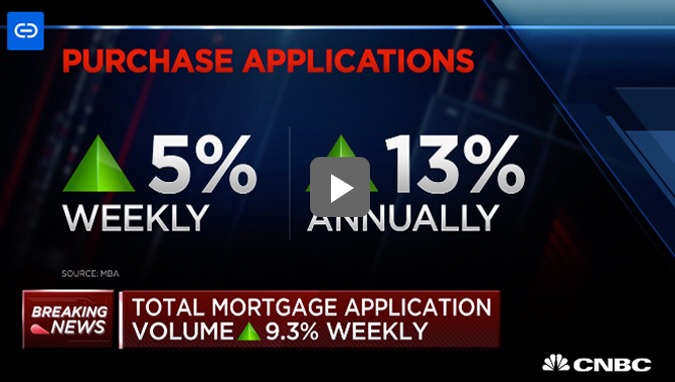 ​​​​​​​J&J moves up start of coronavirus vaccine human trials to July
Here's what negative interest rates from Fed would mean for you
Rent Payment Tracker Finds Most People Paying Rent in June
As small businesses rehire and rebuild, the road to full recovery is a long one
---
Wishing you health. Call us with questions.
​​​​​​​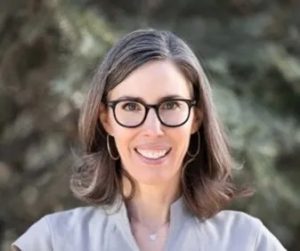 CATHERINE BURGESS
​​​​​​​Broker ®
303.506.5669
[email protected]