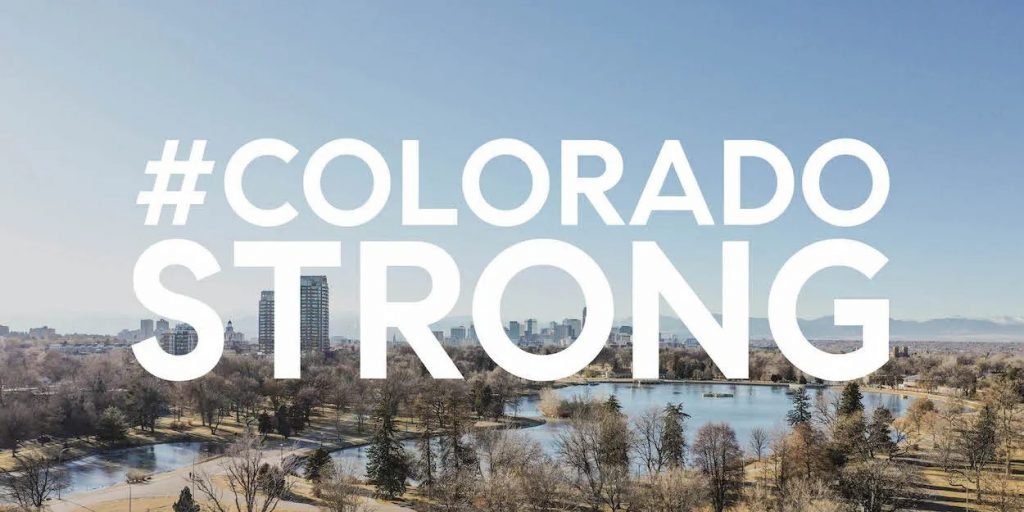 Dear friends,
Here's a tribute to the many kindnesses people are doing for each other around the world. How can we positively impact the world around us right now?
Here is our local resources directory.
​​​​​​​BOULDER REAL ESTATE MICRO DATA:
Boulder County Stats: 4/19 – 4/26
Last week, 81 new properties came to market, a significant uptick from the week prior, indicating consumer confidence and that we may have seen the bottom of our new inventory curve.
There was also a significant increase in price changes, indicating sellers getting more realistic and wanting to sell; this is promising also a promising indicator for consumer confidence.
56 properties went under contract, creating a 69% sell-through rate, just 7-9% less than 2019 and 2018 for the same week. So, our under contract rate is again holding pretty steady.
Given that we've just had the showing moratorium lifted on vacant properties, let's be attentive to how many under contracts we have next week.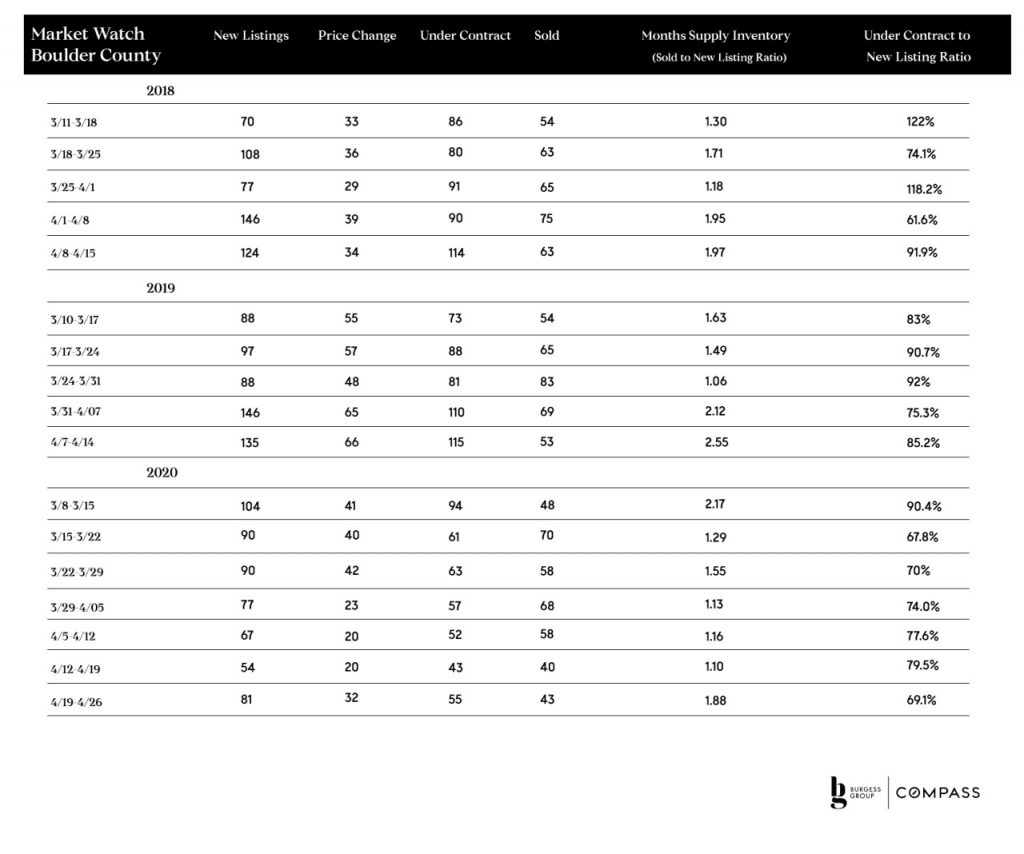 From a price band perspective, we had fewer new listings come to market in the 0-500k range, which previously had been very active, though still with a 147% sell-through rate. In other words, if you have entry-level properties that you need to sell, now would be a good time to come to market.
We saw a big jump in new inventory in the $500-1mm range, with a 64% sell-through rate. $1mm-1.5mm had the same number of properties come to market, but an increase in under-contracts. The $1.5mm+ market is seeing more inventory come to market, with little buyer activity right now.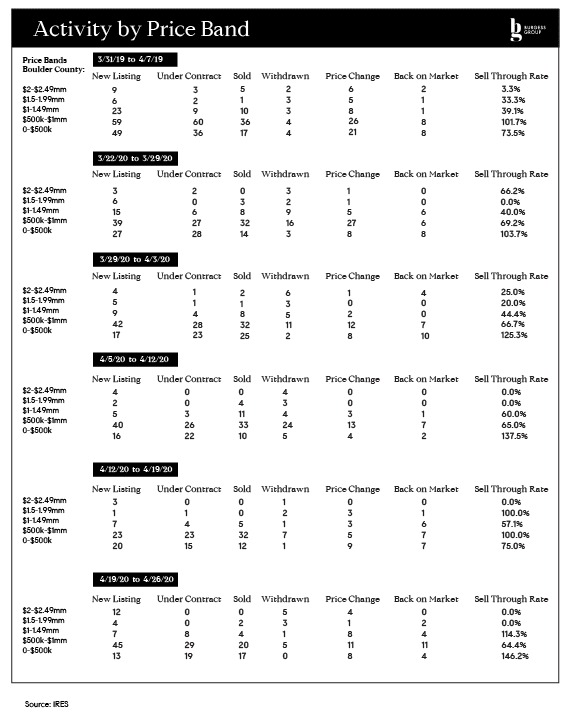 Local Real Estate In A Nutshell
Our increases in inventory may indicate that our Boulder County new inventory has bottomed out and is on the upswing. We are seeing good balance in the $1.5mm and lower market, with plenty of buyer demand accompanying the increased inventory. We will have to keep watching to see what happens balance-wise with the $1.5mm+ market.
MACRO DATA:
​​​​​​​Buyers Shift From City To Suburbs
Click the Image Below For Robert Reffkin's Interview
New Mortgage Applications Up
CNBC reports that nationally mortgage applications have increased week-over-week.
Buyers Purchase Through Virtual Showings
Though vacant-home showings are now permitted again, local, out-of-state and out-of-country buyers are also purchasing through virtual showings. Using excellent videos/technology helps buyers understand homes remotely. Click the image above or here for an example of a virtual tour for our new listing at 7865 Arlington Dr, Boulder CO 80303.
We've helped many clients purchase remotely using Facetime tours etc during the past decade. For detailed, personalized suggestions of best practices for remote purchases, please call us at 303.506.5669.
More National News
The Fed's massive response to the coronavirus crisis in one chart
New Listings (Year Over Year): Mike DelPrete illustrates that new listings are on the rise in some markets, while others may still be bottoming.
Q1 2020 Homeownership and Vacancy Rates: Pre-crisis vacancy rates were just reported and are super low. It may be a good time to be a landlord.
Local pediatric occupational therapist Karina Black can help your students succeed online.
Do they need support creating goals, developing new habits and establishing routines for successful online learning?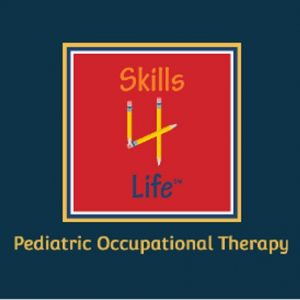 Skills4Life therapists will help your student:
• Plan and prioritize daily & weekly goals
• Be accountable
• Develop solid organizational systems
• Create daily structure/manage time efficiently
• Learn scholastic self-advocacy
• Learn efficient note-taking​​​​​​​
---
Wishing you health. Call us with questions.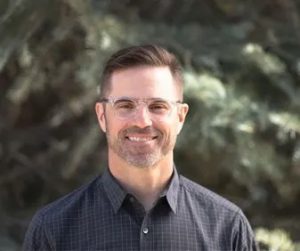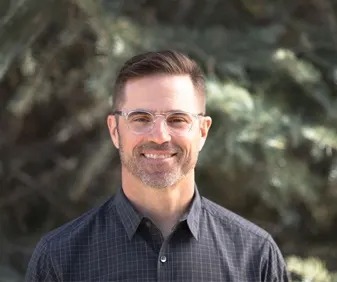 ANDY BURGESS
Associate Real Estate Broker
303.301.4718
[email protected]

© Compass 2020 ¦ All Rights Reserved by Compass ¦ Made in NYC
Compass is a licensed real estate broker and abides by Equal Housing Opportunity laws. All material presented herein is intended for informational purposes only. Information is compiled from sources deemed reliable but is subject to errors, omissions, changes in price, condition, sale, or withdrawal without notice. No statement is made as to accuracy of any description. All measurements and square footages are approximate. This is not intended to solicit property already listed. Nothing herein shall be construed as legal, accounting or other professional advice outside the realm of real estate brokerage.